Our roundup of fun and free/low-cost things to do with kids in Manhattan this September includes the annual Medieval Festival, a belated Children's Day at the Seaport, and family-friendly concerts and fall fairs.
Sept. 11
A Day of Remembrance
The Young People's Chorus of New York City returns to St. Patrick's Cathedral Sept. 11 for its annual concert to commemorate the many lives lost on 9/11.
Families can also observe 9/11 by participating in the Brooke Jackman Foundation Read-a-thon on Sept. 8, taking a Memorial Tribute Tour at Ground Zero, and watching the Table of Silence Project.
Fall into Festivals
Sept. 22 marks the first day of autumn, and New York is wasting no time in celebrating the arrival of crunchy, colorful leaves, yummy apple cider, and best of all: sweater weather. As the air turns crisp, head to these seasonal festivals:
Worth the Trip
Sept. 21-22: Take the trek north to Tarrytown for the popular Fall Crafts at Lyndhurst, where you can shop for one-of-a-kind jewelry, furniture and home décor pieces, and functional art work. The two-day craft fair will host Arm-of-the-Sea Puppet Theater and other children's activities.
One Busy Weekend
Sept. 22-23: If you can hit all the fall fairs on Sept. 22 and 23, you deserve a prize (maybe a massage for your aching feet?). There's the Broadway Autumn Fair in Union Square, the 11th annual Jerome-Gun Hill BID Fall Festival in the Bronx, the Mid-Autumn Moon Festival Family Day at Lower Manhattan's Museum of Chinese in America, and the Central Park Autumn Fair on the Upper East Side.
So Much Fun, It Even Rhymes
Sept.29: Finally, conclude the month with the Union Square Autumn Fair. With more than 200 American and international merchants and a variety of cultural displays, it's the perfect place to bid September adieu and get prepared for October and all the delights it will bring.
Starts Sept. 23
Music for Ears of All Ages
The BYOK (Bring Your Own Kid) fall season at 92YTribeca has begun, and every Sunday from Sept. 23 through Nov. 11 will feature a musical act to impress both kids and parents. The clever lyrics combined with bubbly music will keep everyone happy, whether you're planning to drink a mimosa or from a juice box at family brunch after the show.
Sept. 23: Lunch Money, an energetic group from South Carolina, will sing celebratory songs about childhood.
Sept. 30: Elska (pictured), a modern pioneer, will transport the audience to her Artic home with a blend of theater, whimsical storytelling, and musical performance.
Sept. 30
Seaport Celebration
Drawing more than 30,000 kids and parents from across the tri-state area, this mega event was originally meant to take place in June but was rescheduled due to weather. Now, Children's Day at the Seaport will take place rain or shine. The popular fest will include musical performances, walk-around characters, hands-on art projects, story time events, and theater performances to entertain even the smallest Seaport lover. The day will conclude with a fireworks display and a family-friendly concert on the Seaport's Pier 17 stage. FREE!
Sept. 30
Manhattan Enters the Middle Ages
The 28th annual Medieval Festival brings the Middle Ages to Manhattan in an event that averaged 60,000 visitors last year and is perfect for casual costume appreciators and budding history buffs alike. Fort Tryon Park in Washington Heights is transformed into a medieval town with banners, flags, and authentic music and dance. Magicians, mimes, jugglers, and jesters perform, and costumed vendors demonstrate and sell a variety of themed crafts including jewelry, clothing, and traditional collectibles. The festival is located next to The Cloisters museum and gardens, a branch of The Metropolitan Museum of Art, so if your brood has the energy, you can indulge in even more historical exploration with a museum collection that comprises about 3,000 works of art dating from the 9th to the 16th century.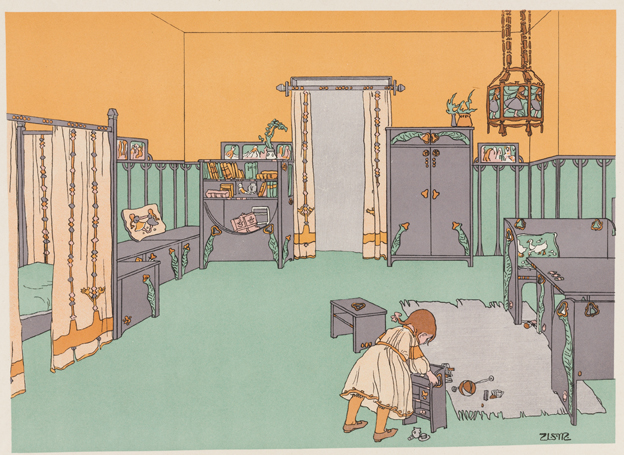 "Design for children's room" (1903) by
Mariska Undi is one of the many pieces
of artwork in MoMA's exhibition
Through Nov. 5
Not Your Average Coloring Book
Inspired by Ellen Key's book Century of the Child, the Museum of Modern Art presents an exhibit of the same name, displaying an overview of 20th-century design for children. The exhibit focuses on the material world of children and designs including playgrounds, clothing, toys and games, nurseries, and furniture. MoMA Studio: Common Senses (opens Sept. 24) is a multi-sensory component of the exhibit that includes workshops, activities, and projects that combine light, nature, food, textiles, and technology into interactive experiences for all ages.
More Fun
To find even more family-friendly activities in Manhattan and the NYC area, go to our full, searchable calendar of events
For the best weekend events delivered to your email, sign up for our free newsletter