During a benefit in Manhattan, generationOn presented its 2013 Outstanding Leadership in Youth Service Awards to Chelsea Clinton, Julie Fisher Cummings, and Bank of America. It also presented 6 young people with the 2013 Hasbro Community Action Hero Awards.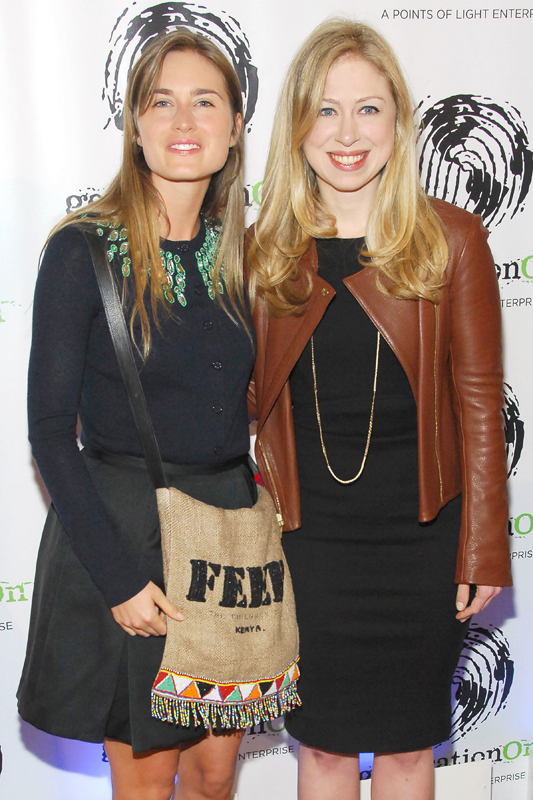 2013 honoree Chelsea Clinton (right) with 2012 award winner Lauren Bush Lauren, president and co-founder of FEED Project
At its annual benefit held May 15 at 583 Park Avenue in Manhattan, global youth service movement generationOn recognized Bank of America, Chelsea Clinton, and Julie Fisher Cummings for their commitment to youth service.
Six young leaders, ages 8 through 17, also received the fourth annual Hasbro Community Action Hero Awards for creating positive change in their communities and around the world through exceptional service. They were recognized for embodying generationOn's mission, which is to inspire, equip, and mobilize youth to take action that changes the world and themselves through service.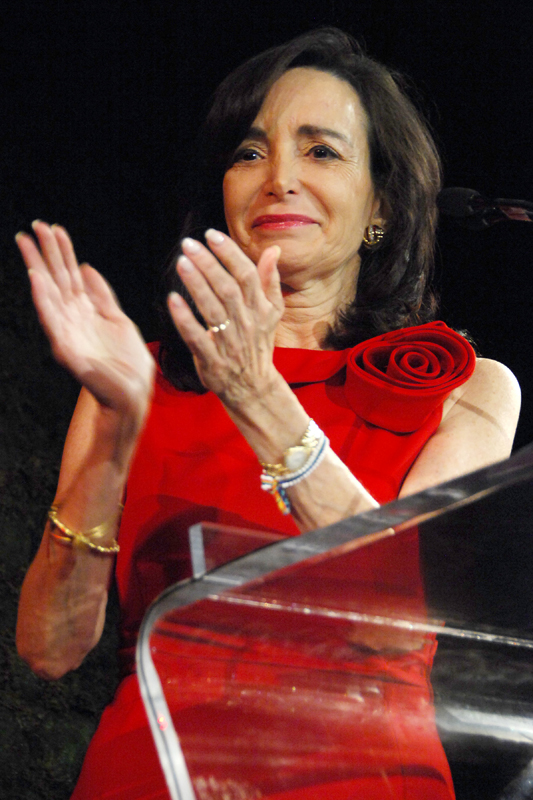 2013 honoree Julie Fisher Cummings
"When young people are inspired and mobilized to use their skills, ideas, and resources toward a greater good, they learn the invaluable lesson that you're never too young to make a difference, and our future grows brighter," honoree Chelsea Clinton said during the event.
The annual benefit serves as an opportunity to honor those who are committed to youth service and also helps generationOn raise resources to continue to champion youth volunteering. The event's 350 or so guests included America Ferrara, Al Roker, and Lauren Bush Lauren, who helped generationOn raise just shy of $800,000 toward its mission.
2013 Hasbro Community Action Hero Award recipients:
- Yash Gupta of Irvine, California, is a junior in high school who created Sight Learning, a nonprofit organization with the goal to provide eyeglasses to students in need of them. Yash has since collected $350,000 worth of eyeglasses and impacted 15,000 lives by helping to provide eye exams primarily in Mexico, Honduras, and Haiti.
- Carter Jenkins of San Juan Capistrano, California, is a sophomore in high school who created Students for Safe Water, a nonprofit with the goal of bringing latrines to families in Nicaragua. Through his dedication and passion, Carter raised $54,000, which allowed him to install 22 latrines in a village of more than 400 people. He also helped bring clean water to more than 300 people in Saba Honduras through the installation of new wells.
- Stephanie Jennis of Montville, New Jersey, is a junior in high school and the founder of Pathways for Exceptional Children, a nonprofit organization that has trained 15,000 youth mentors in the state of New Jersey to work with children with disabilities. When she was just 7, Stephanie realized that her brother, who was disabled, was not invited to play with friends or attend birthday parties in the way that she was. He was lonely. She decided that this was unacceptable, and began developing arts and sports programs that encouraged interaction between students of all abilities.
- Zachary Morgan of Watson, Louisiana, is a second-grader who, with the help of his mom, created Zach's Lidz for Kidz, which aims to "put a hat on your head, a smile on your face and hope in your heart." To date, Zachary has collected more than 1,000 new, kid-sized baseball caps, which he donates to children receiving chemo treatments through a partnership with his local hospital.
- Grace Anne Remey of Tucson, Arizona, is a third-grader who worked with her mother and a teacher to write and illustrate Lion's Pride: A Tail of Deployment, a story told from the perspective of a young lion cub whose father has to deploy far away. As a "military kid," Grace Anne wrote the tale to help other kids cope with the stress and anxiety caused by a parent's military deployment.
- Katie Stagliano of Summerville, South Carolina, is an eighth-grader who started Katie's Krops, a nonprofit organization that brings kids together to produce locally grown, healthy food for an area soup kitchen. The organization has since donated over 7,500 pounds of food and served more than 3,000 meals to families in need. To date, Katie has empowered more than 1,000 youth to give back through sustainable agriculture and there are now more than 60 Katie's Krops gardens across the United States.
For more information on generationOn's awards programs, visit generationon.org.