Upper East Side Spanish language program for children I'm Bilingual! recently added cultural programs to its curriculum. The program also plans to offer a summer program.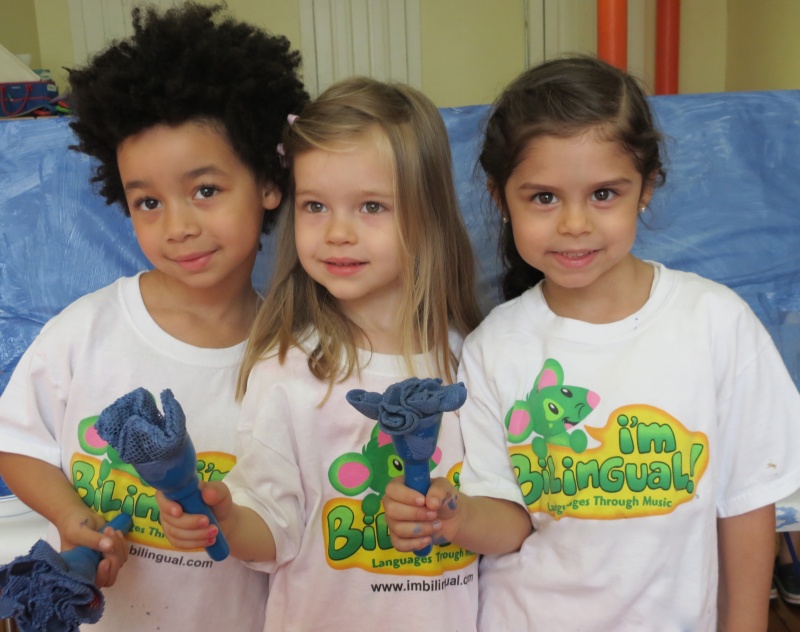 From left: Lola, Serena, and Anne learn Spanish vocabulary while painting.
I'm Bilingual!, a Spanish language and immersion program for children ages 6 months to 5 years, recently introduced authentic language and cultural programs to its already impressive curriculum. Through music, movement, art, dance, and food, children learn the Spanish language by becoming immersed in Spanish culture.
Fiestas will now be offered through the program, giving children the real-life experience of an authentic Spanish party. The fiestas will be available on select Saturdays to both children, and their parents. Together, families can enjoy Spanish-style drumming, music, dance, and food. Kids will have the opportunity to create a piñata, in addition to learning how to break the piñata in the Spanish tradition.
I'm Bilingual is also introducing Spanish Fun!, its new summer program. The program is offered in two sessions—two weeks in June, and one week in July. Through this program, children will become immersed in the Spanish culture and language for 10-13 hours a week. The program is offered for children ages 2-5, and as with all the I'm Bilingual programs, the instructors are all Spanish-speaking natives. The interactive activities will include, music, dance, theater, and Spanish story time.
"Having the children hear traditional stories from Spain is really important," says owner Yolanda Borrás. "These stories help children put what they're learning into context which really benefits their comprehension."