To celebrate Madeline's 75th anniversary, the New-York Historical Society is hosting the exhibit Madeline in New York: The Art of Ludwig Bemelmans. The exhibit includes works of art, the original manuscript, and special artifacts.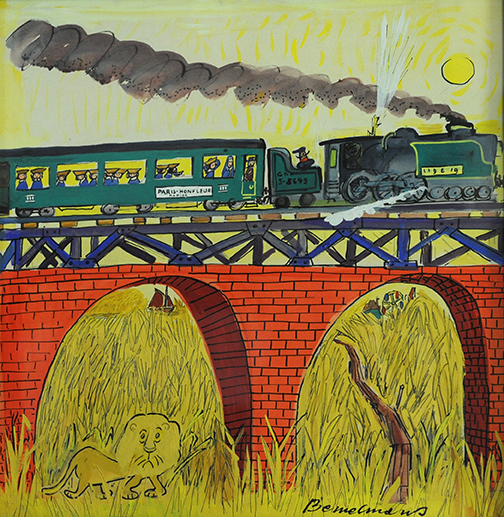 "Said the lion, 'we'd better go back.'" From Madeline and the Gypsies, 1959. Gouache. From the collection of Judy Koch. ©Ludwig Bemelmans, LLC
Organized by the Eric Carle Museum of Picture Book Art, Madeline in New York: The Art of Ludwig Bemelmans is a celebration of the 75th anniversary of the publication of Bemelmans' renowned children's book Madeline. The exhibit, on display at the New-York Historical Society on the Upper West Side from July 4 through Oct. 19, features the original Madeline manuscript along with a series of original paintings, illustrations, and drawings on loan from private and existing collections, as well as from Bemelmans' own family. An insight into the life of a man with many talents, the exhibit also displays rare artifacts such as a letter from Jackie Kennedy describing her appreciation of Bemelmans' work and Bemelmans' own paint box.
The exhibit relays Bemelmans' life in New York City as being an adventure of sorts, especially upon his arrival to America from Europe in 1914. While the stories in Madeline tell the tales of a witty Parisian schoolgirl, the inspiration for them came from the city in which Bemelmans was thriving—New York City. In many ways Madeline was a way to preserve the Europe that he once knew and the childhood that he wished for all children to have—one full of adventures and friends.
While the Madeline books are geared toward children, adults find enjoyment in them because they "are so nuanced and full of wonderful and profound philosophy," says exhibition curator Jane Bayard Curley. The exhibit provides guests, both young and old, with an experience that is sure to rekindle their fondness of everyone's favorite Parisian schoolgirl.
In addition to the Bemelmans exhibit, the New-York Historical Society is offering a series of Parisian style afternoon teas complete with Madeline readings on various dates from July through October.