Beehives & Buzzcuts, a children's salon known for making haircuts and manicures a memorable experience for kids, now offers classes for families to take together. Families can learn music, yoga, Mandarin, art, and more at the Gramercy salon.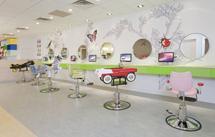 Karolyn Massey decided to leave the corporate finance world to open Beehives & Buzzcuts, the children's salon known for transforming a simple haircut or manicure into a memorable experience, when she noticed that her young niece, who likes to be pampered, struggled to fit in manicure and pedicure chairs at salons and spas designed for adults.
This fall, Beehives & Buzzcuts offers families a plethora of new classes to choose from. The classes are all aimed to give families a chance to learn an activity, bond with each other, and get jazzed up all at one convenient location. Massey says that Mommy and Baby Yoga, Baby Development, Music for Aardvarks, Music Together, Mandarin Seeds, and Art are just a few of the classes that were added to the fall schedule.
Along with haircuts for boys, hairstyles for girls, manicures, and pedicures, the salon offers themed birthday parties for kids. The 90-minute party includes invitations, decorations, music, pizza, a birthday cake, and goodie bags, with themes that range from pirates and princesses to rock 'n' roll runaways.
The Salon also invites seniors to come and join in on the festivities by offering them a seniors' discount from 10am-2pm. "Beehives & Buzzcuts is fun not just for children but for their parents as well," Massey says.