Students of Yorkville Community School, located on East 88th Street, gathered on May 14 to celebrate Children's Book Week by helping to declare their school and the street where it stands a literary landmark.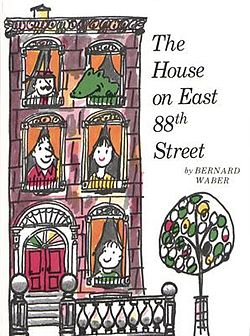 The street was made famous by the late children's author/illustrator Bernard Waber in his book The House on East 88th Street. The 1962 book, published by Houghton Mifflin Harcourt Publishing Company, introduced the character Lyle the Crocodile to the world of children's literature. The story is about the Primm family who move into a Victorian brownstone only to find a performing and friendly crocodile named Lyle living in the bathtub.
A United for Libraries bronze literary landmark plaque was unveiled during the ceremony and later mounted on the exterior of the Yorkville Community School, which is similar to the school that the Primm children attend in Waber's story. A costumed character of Lyle the Crocodile was in attendance at the event.
Praised for his ability to relate to the joys, anxieties, and humor of childhood, Bernard Waber (1921-2013) was the creator of more than 30 books for young readers. In 1952, Waber and his wife moved from their native Philadelphia to New York, a city "they loved at once." For years, Waber created his books while working for Time, Inc. at both Life and People magazines. In addition to his eight books about Lyle the Crocodile, Waber is the creator of the beloved Ira Sleeps Over (1975) and Courage (2002). Waber's most recent work, Lyle Walks the Dogs (2010), was illustrated by his older daughter, Paulis Waber. Ask Me, a previously unpublished story by Waber, will be illustrated by Suzy Lee and published in 2015.
Find a guide to more literary landmarks in NYC at nymetroparents.com/nycreads.