The newest installment of this the Gazillion Bubble Show in NYC features more tricks, more laughs, and most importantly -- more bubbles! Our theater editor gives you a behind-the-scenes look at this popular show and the family who works magic with bubbles.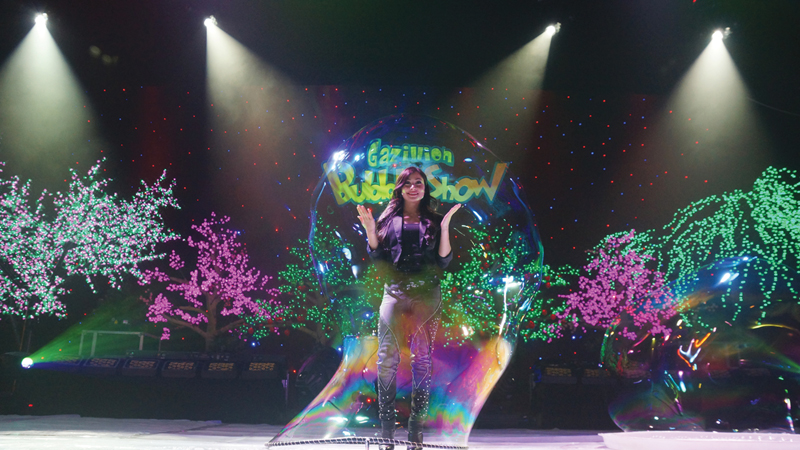 Their faces are rapture personified, as wave upon wave of bubbles bombard the tiny and the tall at New World Stages' Stage 2, home of the Gazillion Bubble Show. It's a sold-out Friday night and the smallest attendees are on their tippy-toes, reaching up and out to catch/burst the transparent spheres that surround them.
I look around: The little ones aren't the only ones at the mercy of the barrage. Dads, moms, teens, grandparents—the entire audience, in fact, has fallen under the spell of cascading bubbles. The air is filled with oohs, ahhs, and giggles. Suddenly I realize I'm part of this awestruck chorus…I'm just as smitten as everyone else and, as Martha Stewart would say, "It's a good thing."
Bubblemasters by Birth
Orchestrating all this fabulousness is 22-year old Melody Yang, a member of what has become a bubble dynasty, founded by her father Fan Yang—the world's foremost bubble master—who has expanded his reach by sharing his bubble innovations with his wife Ana, brother Jano, son Deni, and of course, the baby of the family, Melody.
Fan, who launched the original New World Stages show seven years ago, inducted Deni and Melody into the rarefied world of bubble artistry years earlier, when they were 4 and 3, respectively.
"We started out doing simple things: ping pong bubble and bubble within a bubble—easy tricks that didn't take a lot of thought," recalls Melody, making light of two exceptional bubble illusions.
Shortly thereafter, she and Deni began their showbiz career. "We were a team competing in talent shows all over Europe," she says, citing gigs in France, Monaco, Italy, and Germany, where she performed before she hit her teens.
Fast-forward to the present day, and we have The Next Generation—a subhead referring not only to Melody and Deni's position in the family lineage, but also to the innovations the two introduced into the show. Having seen the original production, I can assure you the new version has upped the techno ante many times over, from laser lights to cutting-edge music selections to the final bubble count. Which is not to say Fan's legacy is blurred inside the revised format—rather, it has been intensified, with his signature giant bubble habitat doming countless recruits on theatrical stages and television shows. (FYI, he picked up his 16th Guinness World Record when he encased an 8,800-pound elephant in a bubble.)
And it all comes down to science, starting with Fan's "secret formula" bubble solution that makes it possible to transform a modest soap bubble into a momentary piece of exquisite art.
On with the Show…
"The thing about the show is, it's unpredictable…. Every performance is different because every audience reacts differently," says Melody, who—in addition to generating endless otherworlds of bubble creations—has to win over her audience during each performance. Early on, she develops a sweet, somewhat quirky rapport that is totally endearing—especially to the kids. I know this for a fact, because sitting next to me is Bella, recently turned 6 and determined to become one of the "chosen ones" to make it onto the stage. (Four kids are picked for the first interactive "kids in a bubble" segment. Later, a single child is selected to take part in a fantasy narrative co-starring Melody).
When scanning the audience for volunteers (amid madcap shouts of "Pick me!" coupled with waving arms and copious bouncing up and down), Melody seeks out kids who appear happy and outgoing. "Not shy," she says, adding that sometimes even the most excited child can turn bashful once they're onstage. "I love working with kids because they're so unpredictable."
I am happy to report that Bella (aisle seat, big smile, cute outfit) made the cut. And, like all the youngsters chosen at my performance, she was a natural—even during the quickie Q&A when she blanked on "Where do you live?"
Postscript: It's been three months since her Bubble debut, and Bella is still bedazzled by the experience. According to her grandmother, her favorite new pastime is recreating the show on the porch, casting herself as Melody.
The Details
What: Gazillion Bubble Show: The Next Generation
Where: New World Stages, 340 W. 50th St. (between Eighth and Ninth avenues), Manhattan
When: Wednesday at 11am and 2 pm; Friday at 7pm; Saturday, at 11am, 2pm, and 4:30pm; Sunday at 12pm and 3pm
Running Time: 60 minutes, no intermission
Tickets: $49.50-$69.50; Bubble Zone VIP Seats are $99.50 and include "incredibubble seats," VIP pass, a Gazillion Bubble toy, 8" x 10" photo of the performer with autograph opportunity, and discount on additional merchandise.
Age Range: The very young on up, and all must have tickets to enter the theater. To accommodate children ages 2 and younger, "lap seats" can be purchased at the box office for $20 (cash only).
Photo Op: Following the show, kids and adults can have their photos taken (alone or together) inside a big bubble. The cost is $20 and the pictures are distributed in the lobby in about 15-20 minutes. (Check out the website's "Me in a Bubble" Gallery for ideas.)
Before You Go: Visit gazillionbubbleshow.com/nyc to purchase tickets, watch videos, play "The Bubble Game," and shop the Bubble Store (offering a pretty extensive collection of motorized bubble blowers, including a number of Disney tie-ins (Toy Story, Nemo, Winnie the Pooh, The Little Mermaid, etc.) and Sesame Street characters. (Note: There is also a pretty comprehensive bubble boutique at the theater.)
A Bubble-istic Birthday Bash
Like most kid-centric productions, the Gazillion Bubble Show offers birthday packages for large and small groups of pint-sized revelers. The GBS version, however, comes packed with a galaxy of goodies unlike those offered anywhere else in the city:
• Stage appearance for the birthday child
• A free bubble toy for the birthday child, given out during the stage appearance
• Meet and greet with the performer, with photo and autograph opportunity for the whole party
• Goodie bags for all children
• Free "Me in a Bubble" photo for the birthday child
• Bubble-themed gift for the birthday child
• 50 percent off "Me in a Bubble" photo vouchers for all guests
• Discounted ticket rate for group (separate from the party cost)
Small Package (up to 12 guests): $250
Medium Package (up to 25 guests): $350
Large Package (more than 25 guests): $400
Note: Pricing does not include sales tax or gratuity.
For more information, call 866-642-9849 or visit gazillionbubbleshow.com/nyc.
Celeb Sightings at the 'Gazillion Bubble Show'
Julia Roberts with her children Hazel and Phinnaeus
Tom Cruise and daughter Suri
Al Pacino
David Letterman
Chris Rock
Stephen Colbert
Halle Berry
Rosie O'Donnell
Al Roker
Oprah Winfrey
Brian Stokes Mitchell
Audra McDonald
Kathie Lee Gifford
Jon Stewart
Regis Philbin
Kelly Ripa
Ellen DeGeneres
Liev Schreiber and son Alexander