Wondering if you should take your kids to see Old Hats? Read on for our theater editor's review of this Off Broadway show that combines vaudeville comedy, live music, and modern technology for two hours of mostly family-friendly fun.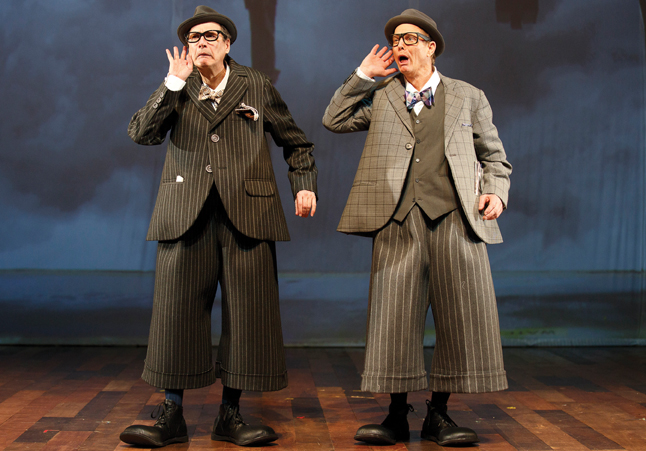 "Clowning is a balance between sheer terror and great inspiration."
—David Shiner (left)
Photo by Joan Marcus
Anyone who's ever watched a kid discover something new, cool, or outrageous will instinctively understand just how fascinating—and yes, transformative—a show like Old Hats can be to youngsters whose sole exposure to clowns and clowning has been birthday party entertainers (central casting Bozo and Ronald McDonald impersonators) or maybe those bloodthirsty horror-flick clowns armed with razor sharp teeth, manic eyes, and nightmarish cackles.
In Old Hats, kids are exposed to something far more potent and memorable than red noses, orange wigs, and white greasepaint. They get a master class in the art of clowning from the best of the best: veteran physical comedy raconteurs Bill Irwin and David Shiner. And they get to laugh their heads off—a major plus shared by the adults in the audience.
Last seen performing together on Broadway in their breakout collaboration Fool Moon in 1993 (which won them a Tony Award for Unique Theatrical Experience), Irwin and Shiner are relentless innovators who feed off each other's quirks and craft to create priceless bits of old-school tomfoolery augmented by waves of 21st-century techno lunacy.
(Observational sidebar: Parents who bring a Sesame Street connoisseur to the show may experience an impromptu cry of recognition when their young fan realizes that Irwin is, in fact, none other than Mr. Noodle.)
Mixing slapstick with artistry—their bodies can go from rigid to boneless in the blink of an eye—Irwin and Shiner are able to animate the inanimate, wage battle against uncooperative furnishings and props, and trigger uncontrolled laughter with a raised eyebrow or sly smile. What's more, they are fearless when it comes to merging the traditional with the silly and the silly with the subliminal, all the while indulging in their favorite game of one-upmanship. "The one constant when David and I are working is competition," Irwin says. "It's like a fuel source—you can almost always make wheels turn with its power."
A Comedy of Foils
During a Wednesday matinée of the show earlier this spring, the central lobby of the Pershing Square Signature Center is brimming with all sorts of theatergoer groupings—standing, sitting, leaning, shopping, snacking, and/or chatting. They are gathered here because: A) They like the idea of a non-conventional afternoon of theater; B) They read the reviews for Old Hats (raves all); C) They know and love all things Irwin and Shiner; or D) They cannot resist the sartorial lure of baggy pants, jumbo shoes, and eclectic headwear.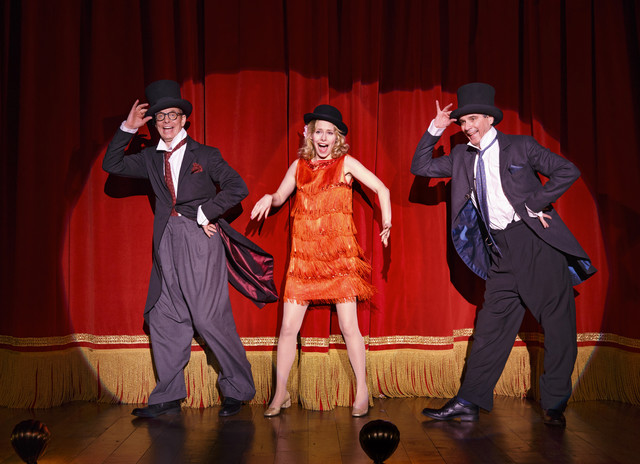 And there's one more reason: Nellie McKay. In the current issue of Signature Theatre's "Signature Stories" (a really nifty publication you can pick up for free in the lobby), the adorable and ironic McKay is described as "…a singer, songwriter, ukulele player, pianist, stand-up comedienne, and actress…. with a vintage voice straight out of the Jazz Age." She is also the perfect yin to Irwin and Shiner's (by contrast only) Tweedledum/Tweedledee yang.
Backed by her four-piece ensemble (bass, percussion, saxophone, and drums), McKay and company initially provide musical interludes between the comedy sketches. The songs, by the way, are her own compositions and are scene-stealers in their own right, ranging from mellow ballads like "Driftin'" (watch for the disco ball that sweeps the audience) to her signature parodies, such as the feminist satire "Mother of Pearl." But beware: Before the performance ends, this smiling pixie with a hidden agenda will be coaxing Shiner and Irwin—who have up until now stuck to their pantomime guns—into a vocal war of words, so to speak, with Irwin angling to get through the song "Oklahoma" as Shiner pushes him aside to regale us with Hamlet's "To be or not to be…" soliloquy.
Hat Tricks, Horseplay, and Improv
Set in a vaudeville music hall—each segment's title is announced on an electronic placard: very neo-retro—the clown bits offer a collage of outside-the-box buffoonery that runs the gamut from "hat tricks" (oh, the madcap synchronicity!) to a seedy Vegas-style magic act (a favorite with the kids in the audience that features Irwin in fetching magician-assistant drag and Shiner as salacious, pony-tailed magician), to the irresistible "Cowboy Cinema" in which Shiner, playing a silent film director, plucks his cast from the audience (young kids and teens being fair game) and proceeds to put them through an ever-escalating series of wacky situations. "I love going into people's private space without being invited," Shiner says.
Meanwhile, on the cutting-edge, "Holy cow!" front, Wendall K. Harrinngton's projections are so amazing you might as well prepare in advance to scoop your jaw off the floor. They include a stage-sized ultramarine whirlpool that whisks the actors into a Doctor Who-like terra incognita and several size-altering effects in a sketch called "Mr. Business," in which Irwin gets to showcase his fascination with pocket technology—along with his Mini-Me/King Gargantua alter egos.
Our Rating: PG
Built into this most remarkable production are a few racy references (and visuals) that conservative parental units might wish to reserve for their teen offspring. In my opinion, they will most likely go over the heads of the very young (I confirmed this during an informal intermission Q&A with kids ranging in age from 5 to 9). Still, you know your kids best. Nevertheless, be afraid—very afraid—that this show might inspire your child to further his education in Clown College someday. Seriously.
Theater and Ticket Info for Old Hats
Where: The Irene Diamond Stage at The Pershing Square Signature Center, 480 W. 42nd St. (between Tenth and Eleventh avenues)
When: Through June 9: Tuesday and Thursday-Friday at 7:30pm; Wednesday at 2pm and 7:30pm; Saturday at 2pm and 8pm; Sunday at 2pm
Running time: 2 hours (one intermission)
Tickets: $75; 212-244-7529 or signaturetheatre.org
Age range: 6 and older