Pono, an outdoor learning, democratic preschool in Harlem, is partnering with Storefront Science's owner to create a curriculum that is nature- and science-focused.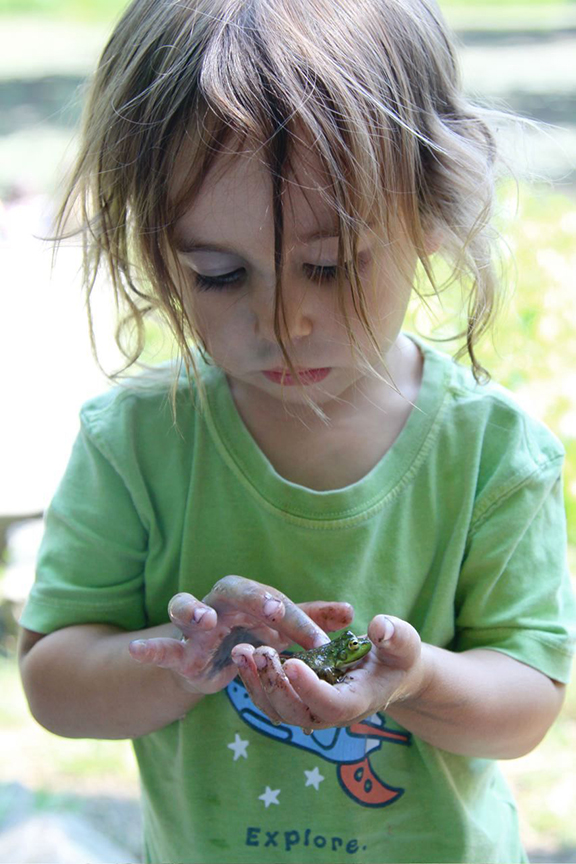 A Pono student examines a frog found on a trip to Westmoreland Sanctuary in Mount Kisco.
Pono, an outdoor-based democratic school for ages 2-5 in Harlem, will be partnering with the owner of Storefront Science, Leonisa Ardizzone, Ed.D., this fall to further expose its students to the worlds of nature and engineering. Dr. Ardizzone, who has taught lessons at the school once a week for the past year, will now be working with Pono to deliver an urban naturalist curriculum where students will go outside and study nature from a scientific point of view. In the past, Dr. Ardizzone has taught lessons on the human body, the periodic table, geology, symbiosis, atoms, insects, and electricity, all of which the children have asked for.
As a democratic school, Pono has no set curriculum or agenda. The children tell the teachers what they would like to learn about and then the teachers create a lesson plan for that topic. The children make up all the rules for the classroom and no lesson is mandatory.
The school runs four days a week, Monday through Thursday, and two of those days are spent solely outdoors. On the days that the children are out of the classroom, they go to beaches, sanctuaries, farms, museums, and aquariums—any place that is within an hour drive from the city. While inside the classroom, the students learn about topics such as musical theater, ancient cultures, fashion design, archery, ballet, and building a robot.
"Our goal is to guide the children to become balanced human beings," says Maysaa Bazna, Ed.D., founder and director of Pono.