A groundbreaking ceremony held on April 7 marked the $10 million renovation and expansion of the Fort Washington Collegiate Church in Washington Heights.
Fort Washington Collegiate Church, located at the corner of 181st Street and Fort Washington Avenue in Washington Heights, is scheduled to commence a $10 million renovation and expansion project on April 15. The project is fully funded by Collegiate Church Corporation, the parent organization of Fort Washington Church, and Fort Washington member contributions.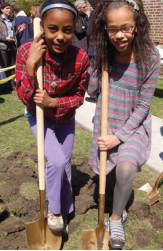 Lucia Antonio (left) and Jairyn Arias pose with their shovels at the Fort Washington Collegiate Church groundbreaking ceremony on April 7. Courtesy Danielides Communications
A groundbreaking ceremony to launch the project occurred during worship Sunday, April 7 in the church's garden. New York City Councilmen Robert Jackson (D-District 7) and Ydanis Rodriguez (D-District 10) — along with church leaders and representatives from the architect and construction companies — addressed the crowd and participated in the "turning of the soil" portion of the ceremony.

"We've been a part of the Washington Heights community since 1909; and, by the grace of God, we've never been stronger, or had a greater impact in this part of New York City," said Rev. Charles Morris, senior minister at Fort Washington Collegiate Church since August 1997. "For years we have welcomed various community groups to use the church building without charge, and as we break ground for a greatly expanded, fully renovated, entirely accessible church facility, we will continue our commitment to provide a safe and inviting place for people to gather."

The construction will take an expected 14 months to complete and make the Fort Washington property, church and building fully wheelchair accessible. The scope of work also calls for additional program/meeting rooms, an elevator, interior modifications to the sanctuary, landscaping as well as a new gathering space, kitchen and bathrooms.

During construction, some of Fort Washington's daily operations and activities will relocate to the basement of Holyrood Episcopal Church, on the corner of 179th Street and Fort Washington Avenue.

"The church is first and foremost people," Morris said. "People need a place to gather; a place to worship, learn and grow; a place that is safe and accessible; a place where all are welcomed and offered the opportunity to step closer to God."

An all-glass pavilion where congregants can gather before entering the sanctuary will be the most significant difference to the exterior of the church and building on 181st Street. According to the construction project owner's representative Jorge Amparo of TurnKey Consulting Group, LLC, the addition will have a contemporary look "similar to the Apple Store."

About Fort Washington Collegiate Church
Since 1909, Fort Washington Collegiate Church has been the beacon of diversity, hospitality and grace in Washington Heights. The church has been, and continues, to be used by various community groups, including the Concerts in the Heights and Rites of Passage, as well as provides various outreach services to residents, including its monthly Thrift Sale, annual Thanksgiving Dinner and Community Christmas Party. The church on 181st Street and Fort Washington Avenue is home to the Washington Heights Business Improvement District tree lighting, which attracted 1,000 residents last holiday. Fort Washington Collegiate Church aims to welcome, love and nurture all who seek comfort, peace, spiritual guidance and growth, regardless of race, sexual orientation, or social and economic status.
About the Collegiate Church of New York
Established in 1628, The Collegiate Church of New York has old, deep roots in a great city, yet we've embraced a thoroughly modern perspective on spirituality and community in a greater world. Founded in the tradition of Reformed Protestantism, we respond to the spiritual needs of people today by embracing diversity, affirmation, openness and justice. We are a single historic church with four city-wide ministries. Each is unique in approach and character, but unified in our core values of inclusion, self-exploration and positive thinking. As a spiritual community we encourage people to search, discover and flourish. Friends feel welcome to seek their own answers, look inside themselves and explore their spiritual selves.