RePlay Music Studios, a West Village studio that offers music programs for preteens and teens, is offering two more sessions of its rock band summer day camp, and will offer after-school programs and lessons in Manhattan.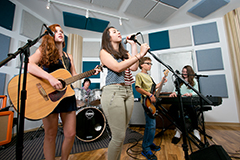 At Replay Music Studios, kids are placed in bands and coaches help them collaborate, write, and perform.
RePlay Music Studios is offering a new summer camp this year. Replay Music Studio's Rock Band Summer Camp has two sessions left: Aug. 18 and Aug. 25.
The camp is for preteens and teens ages 8-18 who want to "express themselves in a musical way that is fun and empowering," says owner John Rubin. The weeklong camp runs Monday-Friday from 1-5pm and, at the end of the week, the campers perform at a club in Tribeca.
RePlay Music Studio is also gearing up to continue offering its after-school programs—Discovering Rock and Band Coaching—and lessons. Discovering Rock is targeted toward kids who have either never played in a band before or are relatively new to their instrument. It is 1 hour a week and has a curriculum that is "flexible and individualized," Rubin says. Band Coaching is a more intensive option. It is 1½ hours a week and includes a 90-minute jam session every Friday night. As a part of this program, students receive a 25-percent discount on individual lessons. Both after-school programs are concluded with a showcase at the end of the semester at Rockwood Music Hall on the Lower East Side.
After-school lessons are one-on-one and focus on students learning a specific instrument. Instructors aim to occur weekly. All lessons and after-school programs are for ages 8-18 and use a high-quality video and audio recording system so that students and parents can view their progress.