Rosie Pope introduced and discussed her new book, "Mommy IQ: The Complete Guide to Pregnancy," at an NYC launch event at Destination Maternity.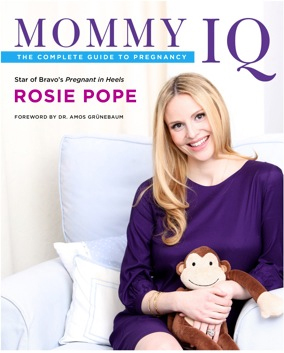 Rosie Pope, fashion designer and star of Bravo's Pregnant in Heels, presented the inspiration behind her new pregnancy tell-all book, Mommy IQ: The Complete Guide to Pregnancy, at Manhattan's Destination Maternity store on Oct. 3.
Pope, a London-born mother of three, is the creative force behind the chic Rosie Pope Maternity line and MomPrep, a parenting studio for prenatal and postpartum education. Her passion lies in all things mommy, and her mission is to bring a stylish and fun flair to the world of motherhood.
Now, Pope has compiled all of her experiences and advice into one source. Her new book, Mommy IQ, guides women through the course of pregnancy and the first postnatal years. "When you find out that you are expecting, you are immediately bombarded with millions of books—this book for this and that book for that," Pope said at the event. "No pregnant woman wants to spend all of that time reading this stuff, so I compiled everything that worked for me into one resource. It's got a little bit of everything."
Pope wrote Mommy IQ during her third and most recent pregnancy. "It's very important that it was written during the pregnancy as opposed to after it," Pope said. "Experienced mothers often forget some of the most important details that moms-to-be want to know."
The stylish mompreneur said she asked her doctor all of the tough, embarrassing questions her fans didn't want to ask. "Every little thing," she laughed. Pope's book is drenched in medical research and lays rest to myths that expecting mothers spend time researching and stressing over.
The book is divided into chronological sections, beginning with conception and carrying readers all the way through their pregnancy, one month at a time. Pope explained that the conclusion of the book is what sets Mommy IQ apart from most books of its genre. In the closing, she guides readers through the first 14 days that follow the baby's arrival. "It's the thing that most authors don't include, and those days are the toughest," Pope said. "It's a period of huge adaptation, and you need guidance. You need to know that you're not the first mother to feel this way."
For more information on Pope and her many endeavors, visit rosiepope.com.