Ten fun and low-cost things to do with your family in Manhattan this November, including the Macy's Thanksgiving Day Parade and Balloon Inflation, holiday tree lightings and gift markets, the return of Harry Potter, and the 2012 New York Chocolate Show.
Discovery Times Square
Opens Nov. 3
The young wizard Harry Potter captured our attention first in books, then in movies, and then in an exhibition that gave aspiring wizards the chance to get even closer to the magical world of Hogwarts. Now Harry Potter: The Exhibition is back in Manhattan, and we mere Muggles will be able to live alongside the boy who lived, if only for a few hours. The exhibition includes more than 200 authentic props and costumes from the Harry Potter films, including some never-before-seen artifacts from the final film, Harry Potter and the Deathly Hallows: Part 2. You'll see iconic items such as Harry's original wand and eyeglasses, the Marauder's Map, Gryffindor school uniforms, and fancywear from the Yule Ball, and the interactive aspects of the exhibition will appeal to children of all ages, even those who don't know the difference between a Muggle and a Mandrake. Toss a Quaffle at Quidditch, say hi to Buckbeak and Acromantula, and if you're lucky, you'll get sorted by the Sorting Hat.
Foot Locker Five Borough Challenge
Staten Island to Central Park
Nov. 4
Running the ING New York City Marathon is a challenge in itself, but some people turn to running as a way to overcome a different sort of challenge. For the past 12 years, Foot Locker has united people for whom this is the case by hosting its Five Borough Challenge. Footlocker chooses five runners, one from each borough, to compete in a "race within a race." On Nov. 4, the challengers will run the first 13 miles of the marathon together, then break away and run on their own. The runner who finishes in the fastest time will become the Foot Locker Five Borough Challenge Champion and will win a Tiffany trophy along with city-wide bragging rights. Manhattan's 2012 challenger is Tony Forte. Two years ago, Forte weighed more than 300 pounds, but through a healthier diet and a newfound love of running, he lost 140 pounds. This will be his first marathon. Follow Forte during the race-day broadcast, or cheer him on from the sidelines: The marathon starts in Staten Island and runs through Brooklyn, Queens, the Bronx, and into Manhattan, where it ends in Central Park. FREE!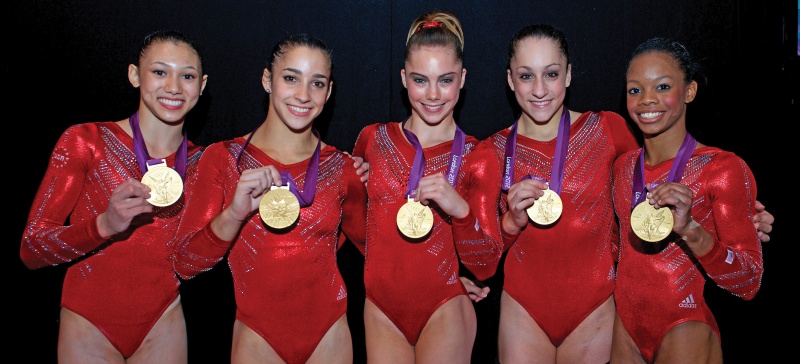 Kellogg's Tour of Gymnastics Champions
Nov. 10 at Prudential Center in Newark, NJ
Nov. 18 at Barclays Center in Brooklyn
See the entire gold medal-winning women's 2012 U.S. Olympics gymnastics team perform on the Kellogg's Tour of Gymnastics Champions. The Tour will also include 2008 Olympic all-around champion Nastia Liukin, 2008 Olympic team silver-medalist Chellsie Memmel, members of the men's and women's 2011 World Championship team, along with past Olympians and U.S. medalists in acrobatic, rhythmic, and trampoline gynmnastics.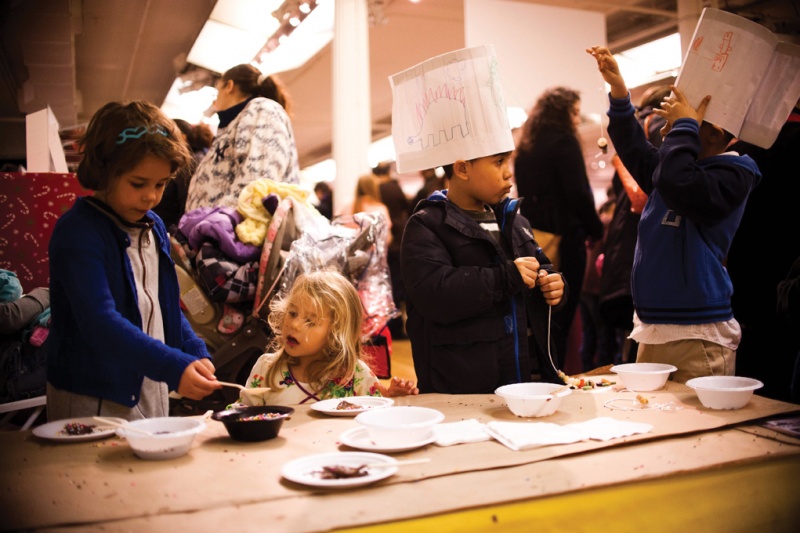 New York Chocolate Show
The Metropolitan Pavilion, Chelsea
Nov. 9-11
If a room filled with chocolate sounds like your biggest fantasy, imagine how your child will feel when you announce you're attending the 15th annual New York Chocolate Show. A dream for chocolate-lovers both young and old, the show features more than 45 national and international chocolate companies showcasing confections to sample and purchase. Chic enough to impress the most worldly foodie, diverse enough to satisfy the chocolate-lover who has seen it all, and vast enough to convince a child they've entered the fabled land of Willy Wonka's Chocolate Factory, the annual show caters to everyone and promises not to disappoint. And if you're worried a room filled with chocolate may not be quite enough to keep your kids entertained, fear not—there will also be a Kids Zone complete with chocolate crafts and book readings.
Radio City Christmas Spectacular
Radio City Music Hall, Midtown
Opens Nov. 9
This year's Radio City Christmas Spectacular: The Rockettes Celebration! celebrates 85 years of the Rockettes in New York, and who could imagine the holiday season in Manhattan without it? The show features dazzling dance numbers, beloved favorites, and impressive special effects including the world's largest indoor LED screen and a 3D scene. The plot takes audience members on a journey battling "humbugs," gingerbread men, and an ice monster who have stolen all the Christmas toys. A new scene in honor of the 85th anniversary features a costume retrospective of the most interesting and unique Rockettes costumes throughout the decades.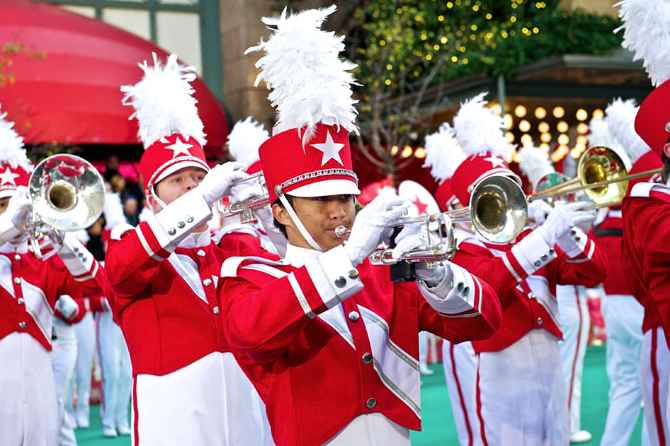 Macy's Thanksgiving Day Parade
Balloon Inflation: Nov. 21 on the Upper West Side
Parade: Nov. 22, marches from 77th Street and Central Park West to Macy's Herald Square
Like football, cider, and crunchy leaves, the Macy's Thanksgiving Day Parade is a staple of the fall season. Now in its 86th year, the event delights kids and grown-ups alike, and whether you decide to brave the crowds and the cold to see the parade live or want to watch from the warmth of your own living room, it's the perfect addition to your turkey-filled long weekend. The parade this year will include balloons featuring Hello Kitty, SpongeBob, and Kermit the Frog, floats, marching bands, and special performances by Spirit of America Dance and Stage Door Manor, among others. FREE!
Holiday Tree Lightings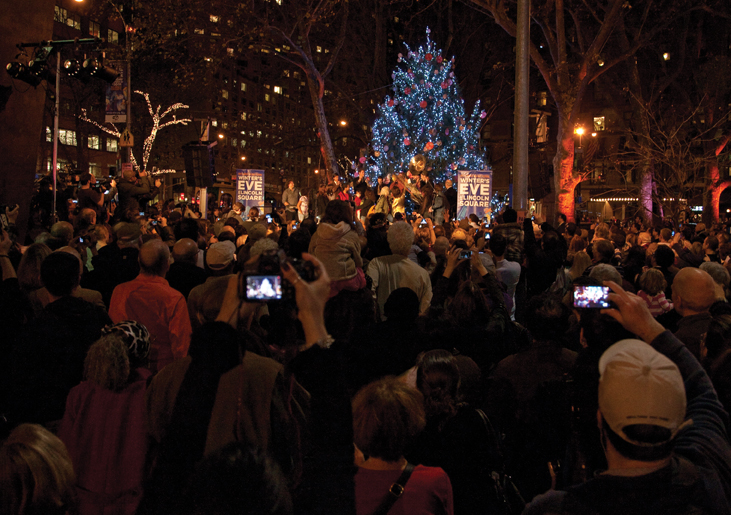 Winter's Eve at Lincoln Square
Dante Park, Midtown
Nov. 26
Kick off the season with more than 20 live performances, 30 restaurants offering tastings, and of course, the tree lighting. FREE!
80th Rockefeller Center Tree Lighting
Rockefeller Center, Midtown
Nov. 28
30,000 energy-efficient LED lights are illuminated at sundown. The tree will be on view until Jan. 7, 2013. FREE!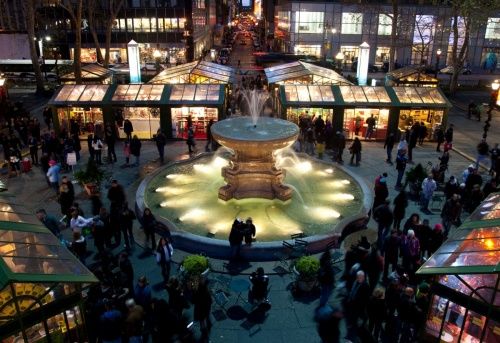 Holiday Markets
It's that time of year again! Stroll the city's pop-up gift markets to find something for everyone on your list (and don't forget to grab some hot cider and other sweet treats while you're there!). Our top picks are in Bryant Park, Columbus Circle, Grand Central, and Union Square – get the full details here.
More Fun
Find indoor and outdoor ice-skating rinks in NYC and beyond
Search for more fun family activities in Manhattan and the NYC area in our full calendar of events