Treat House, a gourmet rice crispy treat bakery, opened to sell its desserts on the Upper West Side. Treat House is a business that gives back to the community by donating to the Food Bank for New York City.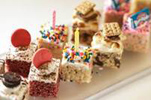 Daniel and Eli Russell, two Upper West Side elementary school kids, needed to raise $50 each for a charitable school project. They enlisted their parents, entrepreneurs Jennifer and Chris Russell, and poured the contents of their pantry into a curbside bake sale. Out came inspired crisped rice treats with unique flavor combinations, from Dark Chocolate Chili to Bubble Gum. When customers came back for seconds and thirds, the former Moomba co-founder and 20-year NYC restaurant veteran and his pre-school teacher wife realized that the neighborhood may be ready for a new concept.
Treat House, the first crisped rice treat emporium, opened in August with treats starting at $2.25. The menu was created with award-winning pastry chef Wendy Israel, whose experience includes The White Elephant Resort in Nantucket, The W Hotel in New York, and executive pastry chef of Jumeirah Essex House, as well as a past relationship with the Russells from Moomba and TanDa.
From kid-friendly bubble gum, s'mores, and birthday cake to sophisticated caramel fleur de sel, red velvet, dark chocolate chili, and yuzu lemon, 12 seasonal varieties will be offered in the shop in addition to TreatPops, ice cream bars, and homemade flavored marshmallows.
And just as they did when they began with their kids on the street, Treat House will be giving back to their community. Ten cents of every treat purchased will be donated to Food Bank For New York City, a hunger-relief organization working to end food poverty throughout the five boroughs and providing food for 400,000 free meals a day for New Yorkers in need.
Treat House is located at 452 Amsterdam Ave., between 81st and 82nd streets, and is open Monday-Friday, 7am-9pm, and weekends, 8am-10pm. For more information, visit treathouse.com.