Unified Parenting, located on the Upper West Side, offers nanny and parenting workshops, parenting webinars, and consultation services for common parenting issues to make sure your child's caregivers are all approaching child care the same way.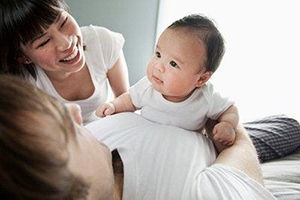 Unified Parenting believes all of your child's
caregivers have the same approach to child care.
When a child has multiple caregivers—mom, dad, grandparents, and nanny—he can receive mixed messages as to what is expected of him. Unified Parenting believes each caregiver that interacts with the child needs to have the same set of skills and speak the same language so they are all using a mindful and similar approach to child raising. "We know that's one of the biggest sources of conflicts in families, that kids get different messages from different people," co-owner Andrea Grossman says. "You add a nanny into the mix who adds a whole other approach and that's yet another dynamic for parents to contend with."
Unified Parenting's parenting and nanny essentials workshops are designed to run parallel to each other so everyone learns the same practical skills such as helping children regulate their emotions, transitioning between activities, and separation. Caregivers also gain insight by looking at how they were raised and how their upbringing affects their parenting and caregiving, both good and bad.
"We want people to understand what they bring to the table," co-owner Beth Kastner, Psy. D., MPH, says. "we want parents to gain insight into their own behavior so they can successfully support their children through the developmental stages."
Webinars, including structured vs. unstructured activities and effective discipline strategies, and consultation services such as real-time coaching for toilet training, temper tantrums, and sleep issues are also offered.