Kids at Art, an Upper East Side kids' art studio, will offer new art summer camps this year for children ages 2 and older. The art studio also offers art birthday parties.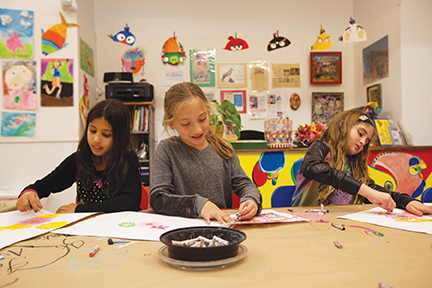 Three girls create art with oil pastels at Kids at Art.
An art studio on the Upper East Side that offers classes to kids year-round will be offering a new summer camp program. Kids At Art offers a nurturing, non-competitive environment for kids to create in media such as painting, drawing, and sculpting.
Kids At Art will offer half-day workshops as well as a full-day option for children attending either by the day, half-day, or week. The camp will be offered to kids ages 4½ and older from June 9 to Aug. 29. A four-week program of 45-minute sessions on Wednesdays will also be offered for children ages 2 to 4 years old. Occasionally the camp will feature an artist who will assist children in other crafty projects, such printmaking or other fine arts.
The classes and summer programs feature plenty of instructors and reasonable class sizes to ensure that every child receives individual attention. "We have a beautiful, newly renovated studio that offers a bright, happy space for the kids," says owner and professional artist Wendy Miller.
Kids At Art also hosts birthday parties in the studio. Multiple 90-minute party options range from mural painting to combination karaoke and art parties with a live DJ. Parties include projects, balloons, invitations with the birthday child's photo, and more.