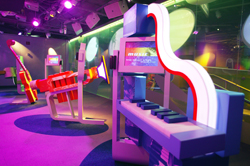 While the word "museum" might not initially set your tot's eyes (or yours, for that matter) aglow with excitement, you both might be surprised at how unstuffy a day at the museum can be.
The locations below in and around Manhattan offer exhibits that cater to the younger crowd, which means they're specially designed to be interactive, colorful, and fun, as well as educational. Some may build on your child's school curriculum while others might introduce something totally new, but each specializes in creating an environment that brings learning and playing together for children-and, of course, their grown-ups are welcome too!
Also see our complete 2011 Guide to Children's Museum Exhibits, including Westchester County; Rockland County; Fairfield County, CT; and Nassau and Suffolk Counties on Long Island.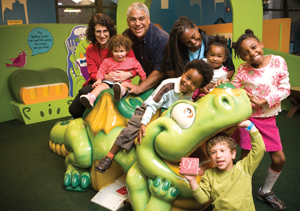 MANHATTAN
American Museum of Natural History
Central Park West at 79th Street
212-769-5100
Open 10am-5:45pm daily. Suggested admission: $16; $12 students and seniors; $9 children 2-12. Kids' site: www.amnh.org/ology/anthropology.
The Butterfly Conservatory: Celebrating its 13th year at the museum, this exhibit invites visitors to mingle with up to 500 fluttering, iridescent butterflies among blooming tropical flowers and lush green vegetation in 80-degree temperatures. Open through May 30.
Brain: The Inside Story: Explore how the brain - a product of millions of years of evolution - produces thoughts, senses, and feelings; experience how the brain is continually changing at different stages of life; and discover how new understanding of the workings of the brain may help scientists repair and reverse declines in brain function Open through August 15.
Highway of an Empire: The Great Inca Road: A photography exhibition featuring more than 50 striking photographs that document the 25,000 miles of roads and trails the Incas built six centuries ago in South America. Open through September.
Children's Museum of Manhattan (CMOM)
The Tisch Building, 212 West 83rd Street (between Broadway and Amsterdam)
Open Tuesday-Sunday 10am-5pm (closed Mondays, except February 21). $10; $7 seniors, free children under 1.
The Wizard of Oz: In this exhibit based on the beloved classic movie, kids can create a tornado in Dorothy's bedroom, explore Munchkin houses, visit the Emerald City, and meet Dorothy's friends the Scarecrow, Cowardly Lion, and Tin Man. Open through May 8.
PlayWorks: Children ages birth to 4 years old can feed alphabet letters to Alphie, the talking dragon, drive a fire truck, and more, all while exploring language, art, science, and imagination.
Adventures with Dora and Diego: Children ages 2-6 join Diego on a series of high stakes animal rescue missions where they can help save armadillos, build a bear's nest, and get ready for a fiesta at Dora's house.
Gods, Myths and Mortals: Discover Ancient Greece: Children ages 6 and older can climb a giant Trojan horse, escape the Cyclops, sing with the Sirens, and examine ancient artifacts as they learn about the myths, legends, and values of the Ancient Greeks.
182 Lafayette Street (between Broome and Grand Streets)
212-274-0986
Open Wednesday-Sunday 12-5pm; Thursday 12-6pm (closed Mondays except February 21). $10 admission.
Art Within Reach: from the WPA to the Present: This art exhibit explores the connections between growing up in New York City during the Great Depression versus today. Features 19 Depression-era children's paintings along with 19 new paintings created by children in CMA's Young Artists' Residency program. Open through June 5.
SONY Wonder Technology Lab (SWTL)
56th Street and Madison Avenue
212-833-8100
Open Tuesday-Saturday 10am-5pm, Sunday 12-5pm. Admission is free but reservations are highly recommended (especially during school vacations); a limited number of same-day tickets are available on a first come, first served basis.
The SWTL is a four-story technology and entertainment museum for all ages. It houses a wide variety of permanent, interactive exhibits, including Virtual Surgery, where visitors can "feel" what it's like to perform open-heart surgery; WSWLTM Production Studio, where visitors can explore the various roles associated with television production; GameBuilder, where visitors can create their own computer racing game; and Wonder Of Music, where visitors explore the process of making music and perform in front of a virtual audience.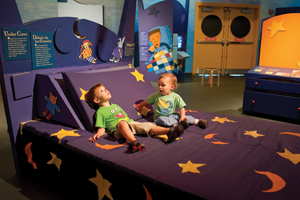 BROOKLYN
145 Brooklyn Avenue (at St. Marks Avenue), Crown Heights
718-735-4400
Open Tuesday-Sunday 10am-5pm. Open 10am-5pm February 19-27. $7.50, free children under 1. Explore the museum's collection of more than 30,000 objects at home by visiting Collections Central Online: www.brooklynkids/emuseum
Night Journeys: An Adventure in the World of Sleep and Dreams: Try out headrests from different cultures, learn about charms that ward off nighttime evils, re-enact bedtime rituals, and learn about dream interpretation in other parts of the world. Open through May 1.
Neighborhood Nature: Children can take on the role of field scientist when they observe the life forms and document the environment of a freshwater pond, saltwater beach, urban woodland, and community garden.
Totally Tots: This early learner exhibit is for kids ages 5 and under, and includes the Baby Hub for those under 18 months, and Water Wonders, Art Studio, Building Zone, and Little Theater for those 18 months old and up.
World Brooklyn: Visitors can take a trip through Brooklyn (or at least, a child-sized model of the city), learning about its diversity through the stories of real people and places.
200 Eastern Parkway, Prospect Heights
718-638-5000
Open Wednesday 11am-6pm; Thursday-Friday 11am-10pm; Saturday-Sunday 11am-6pm. Suggested contribution: $10; $6 students and seniors; free children under 12.
Body Parts: Ancient Egyptian Fragments and Amulets: View 35 sculptures and objects that represent individual body parts as envisioned by the Ancient Egyptians. Open through October 2.
Norman Rockwell: Behind the Camera: See Rockwell's famed photography, as well as some of his paintings, drawings, and related tear sheets, which offer a deeper look into the artist's working process. Open through April 10.
123 Smith Street, Boerum Hill
718-797-3116
Open Saturdays 12-7pm. $2 admission.
Above & Beyond: This exhibit features a three-year retrospective of the art of William and Kathleen Laziza, founders of the museum.
Corner of Boerum Place and Schermerhorn Street, Brooklyn Heights
718-694-1600
Open Tuesday-Friday 10am-4pm; Saturday-Sunday 12-5pm. $6; $4 children 3-17 and seniors.
Steel, Stone & Backbone: Building New York's Subways 1900-1925: This ongoing exhibit presents a look at the building of New York City's first subway line, including how it was built and by whom, through photos, artifacts, and videos.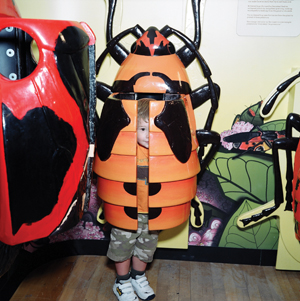 STATEN ISLAND
Staten Island Children's Museum
Snug Harbor Cultural Center, 1000 Richmond Terrace, Staten Island
718-273-2060
Open Tuesday-Sunday 12-5p; (closed Mondays, except February 21). Open 10am-5pm during public school recesses. $6; free children under 1.
Bugs & Other Insects: Children can explore the world of insects when they crawl through a human-sized ant hill, try on an exoskeleton, watch butterflies being born and bees working in their hives, and build bug inspired crafts.
Block Harbor: Visitors can explore and pretend to sail a pirate ship.
Great Explorations: Learn about extreme environments as you explore a rainforest canopy and cave, drive a dogsled in the tundra or dive to the ocean floor, build an igloo, cross a river, walk on snow shoes, or host a radio show.
Ladder 11: Pretend you're a firefighter as you ring the bell, slide down the pole, don firefighter gear, and more.
Portia's Playhouse: Kids can put on skits in this authentic theater using props, costumes, and sound effects on a real stage.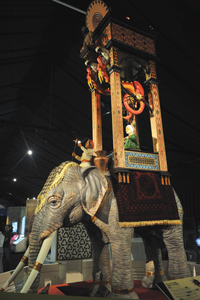 QUEENS
73-50 Little Neck Parkway, Floral Park
718-347-3276
Open 10am-5pm daily. Monday-Friday: outdoor visiting only; Saturday-Sunday: farmhouse tours available (hayrides when weather permits). Free admission. The museum strives to preserve Queens' agricultural and horticultural past while heightening awareness of present-day sustainable agricultural and horticultural practices. Offers school programs for students in grades pre-K to 9, from September to June. Contact the education department for information and reservations: 718-347-3276 x 302, or [email protected].
47-01 111th Street, Flushing Meadow-Corona Park
718-699-0005
Open Tuesday-Thursday 9:30am-2pm; Friday 9:30am-5pm; Saturday-Sunday 10am-6pm (Open 9:30am-5pm on Monday, February 21). $11; $8 children 2-17, students, and seniors.
In addition to more than 450 hands-on, permanent exhibits, the Hall of Science hosts traveling exhibits, including:
1001 Inventions: Highlights the scientific legacy of Muslim civilization in our modern age. The exhibit reveals the forgotten history of men and women from a variety of faiths and backgrounds whose contributions to the advancement of scholarship and technology during the Middle Ages helped pave the way for the European Renaissance. Open through April 24.
Ever wonder how these exhibits come together, or what formula the museum's follow to find the perfect balance between learning and fun? Check out Children's Museums: Behind the Exhibits and get the answers, straight from exhibit developers in the New York metro area.