A list of fun kids' birthday party places in Manhattan, including restaurants, gyms and sports facilities, and other places in NYC that host birthday parties for children. You'll also find caterers, party supply stores, and kids' party entertainers like magicians, clowns, and face painters in New York City, including those on the Upper East Side, Upper West Side, East Village, West Village, Midtown, Harlem, and beyond.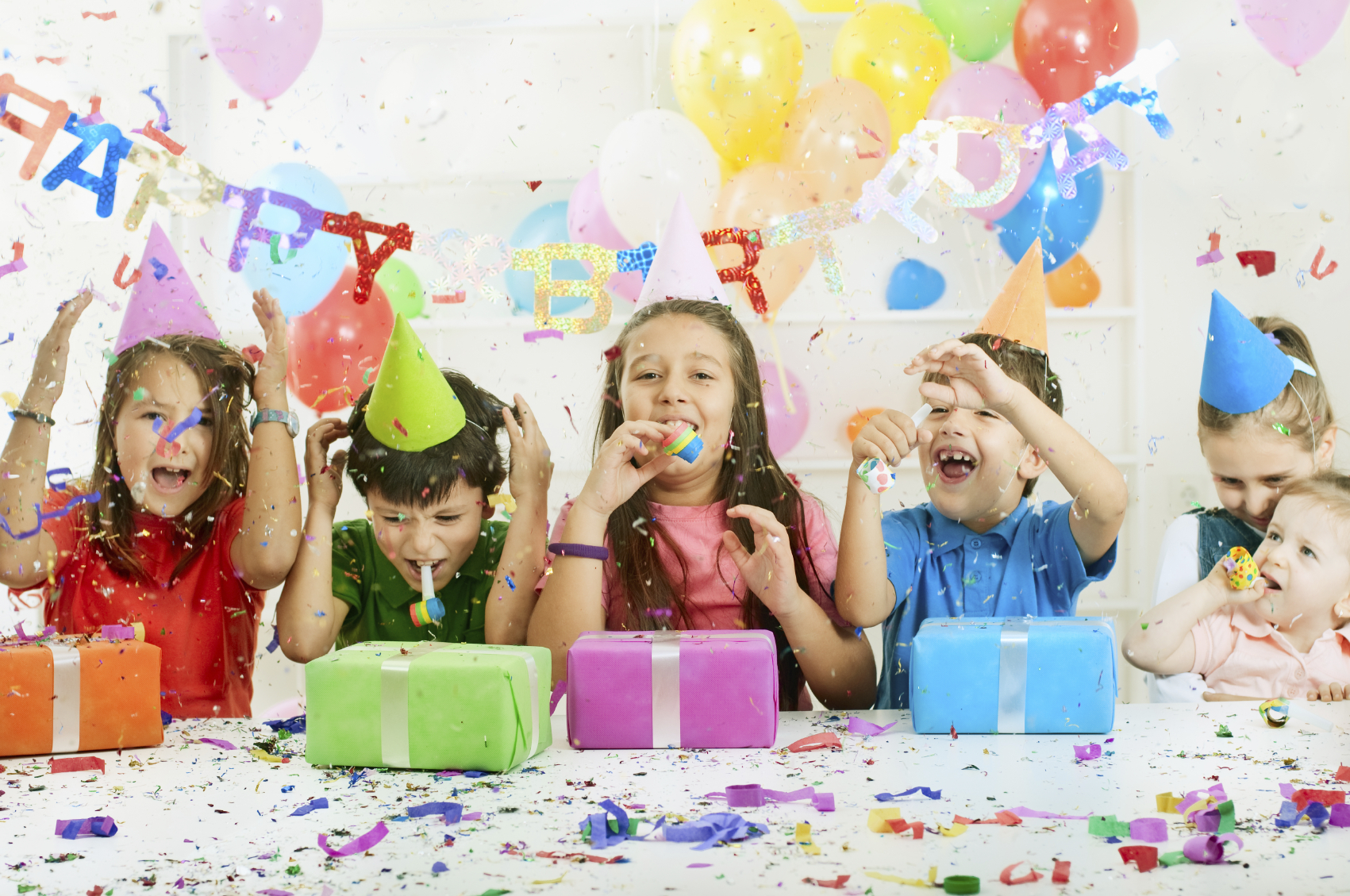 AMERICAN MUSEUM OF NATURAL HISTORY
Central Park West at 79th Street, New York
212-769-5200
Email sleepovers@amnh.org

Be among the lucky few to experience A NIGHT AT THE MUSEUM, New York City's most enchanting sleepover program. Imagine roaming the halls of the American Museum of Natural History after everyone else has gone home! Grab your flashlight and head out on adventure. You'll stand beneath a fearsome T. Rex, explore live-animal exhibitions,, and watch an IMAX film before falling asleep under the 94-foot-long blue whale. To check dates and availability, visit amnh.org/sleepovers, email sleepovers@amnh.org, or call 212-769-5200.

APPLIKÉ COUTURE
422 E. 75th St. (bet First & York avenues), New York
212-249-1491

Attention all Fashionistas! At our Designer-for-the-Day parties, your birthday girl and her friends will imagine, choose, create, and wear, all while they celebrate! With two heat-press machines, over 30 appliqués, custom rhinestone letters, and six different party packages, our one-of-a-kind, birthday parties are as unique as the girls themselves. Whether in our store or at a private location, the red carpet awaits. Visit us @ applikecouture.com. Open Monday-Saturday.

BLUE MAN GROUP
Astor Place Theatre, 434 Lafayette St., New York
800-BLUEMAN
Email melissak@blueman.com

Blue Man Group is great for birthdays, or any special occasion! This unique theatrical experience is a form of entertainment like nothing else, guaranteed to be an outing your group will never forget. Birthday party packages are available, and include name of birthday child on the LED screen at the beginning of the show and small merchandise item for each guest. The birthday child receives one 14 x 22 Blue Man Group poster.

CITY ICE PAVILION
47-32 32nd Place, Long Island City
718-706-6667

Have your next birthday party on the ice at City Ice Pavilion! Our basic party package starts at $20 per child, which includes party room, pizza, and beverage, skate rental and admission, plus invitations. Add a half-hour skating lesson for an additional $5 per child. And the birthday child is free! For more information, please contact Cathelyn Cheow at City Ice Pavilion, 718-706-6667, or email ccheow@cityicepavilion.com.

DAVE'S CAST OF CHARACTERS
914-235-7100

Make your party a special one! Dave's entertainment services include over 100 costumed characters: from princesses and superheroes to pirates and tea parties—there's something for everyone. We feature DJs, clowns, magicians, facepainters, balloon sculptors, and food carts. Spectacular inflatable attractions include: Wild One and Kong's Revenge obstacle courses, Cliffhanger Slide, and Mickey Park. Water fun includes the Big Kahuna and the gigantic Polar Plunge slides. Our new Photo Booths provide memorable keepsakes. Enjoy Bouncers, the Spiderman Velcro Wall, Gladiator Joust, Sports Inflatables, robots, racecars, and more.

DAVE'S CAST OF CHARACTERS
914-235-7100

Make your party a special one! Dave's entertainment services include over 100 costumed characters: from princesses and superheroes to pirates and tea parties, holiday parties for Halloween, Thanksgiving, and Christmas. We feature DJs, clowns, magicians, face painters, balloon sculptors, and food carts. Spectacular inflatable attractions include: Wild One and Kong's Revenge obstacle courses, Cliffhanger Slide, and Mickey Park. We have loads of indoor inflatables for when the weather gets cold. Our new Photo Booths provide memorable keepsakes. Enjoy Bouncers, Carnival Games, Gladiator Joust, Sports Inflatables, robot rides, racecars, and more.

FDNY FIRE ZONE
34 W. 51st St. (50 Rockefeller Center, bet. FiIfth & Sixth Avenues), New York
212-698-4520

Combine safety and fun for a one-of-a-kind "edutaining" experience. Celebrate your child's next birthday party at the FDNY Fire Zone, a guided, state-of-the-art, multimedia experience promoting fire safety. Children can climb aboard a real fire engine, try on bunker gear, and attend a presentation in a recreated fire scene. Recommended for children ages 5 and older. Great for families and school trips! For additional information, please call us. The official store in the FDNY Fire Zone has FDNY clothing, photos, hats, and souvenirs for sale. Proceeds benefit the FDNY Foundation.

FIELD STATION: DINOSAURS
One Dinosaur Way, Secaucus
855-999-9010

MAKE YOUR BIRTHDAY DINO-MITE! Forget dingy bowling alleys and concrete "family entertainment centers." Toss away those cardboard party hats and leftover skeeball tickets. At Field Station: Dinosaurs we're saying good-bye to boring, uninspired birthday parties, and inviting your child into an outdoor Paleozoic world of mystery and learning. Every party includes a knowledgeable party planner designated to your group, birthday cake, an optional barbeque lunch, and VIP seating at one of our two live shows – "Dinosaur Whodunit?" or "Dragons to Dinosaurs." The number of birthday parties is extremely limited; call 973-748-4317 to check availability.

GLAMIFY SPA PARTIES
Serving all of the tristate area,
917-494-6518
917-494-8789
Email info@glamifynyc.com

We bring the events to you. Pampering all ages and any occasion. Ready for a relaxing and pampering day with your friends? We create a fun spa experience, complete with sparkling mini manicures and pedicures, makeup, facials, and so much more! We bring the party to your location and host an awesome spa-themed birthday party for girls of all ages. Girls love our fabulous Glam Spa Bashes! They are great for birthdays, holidays, camp events, graduations, or any occasion. Call a Glamify event planner to design your birthday or event!

HUDSON RIVER PARK'S PIER 62 CAROUSEL
Hudson River Park's Pier 62 @ 23rd St. and the Hudson River,

The Hudson River Park's Pier 62 Carousel has been created using 33 hand-carved wood figures of Hudson River Valley animals and one chariot, allowing for up to 36 passengers per ride. The carousel building has been designed with a green roof, and opens out to a large sprawling lawn and tree-lined pathways. Hours are 11am-7pm, weather permitting. The cost is $2 per ride. One supervising adult accompanying a child under 42 inches may ride for free. KidzKarnival Sunday October 27. For details, visit hudsonriver.org.

JODI'S GYM
244 E. 84th St.,
212-772-7633
25 Hubbels Drive, Mount Kisco
914-244-8811

Kids run, jump, climb, tumble, slide, bounce and giggle to their hearts' delight at Jodi's Gym, where action-packed parties have won children's hearts for 32 years. Our bright, spacious facility is every child's dream. Teachers guide the children on bars, beams, rings, slides, tunnels, space bouncer, tumble track, and more. Next, it's off to a separate area for refreshments that we are happy to supply. Teachers set up, serve, and clean up. At Jodi's, the whole place is yours! You sit back and enjoy.

JOFFREY BALLET SCHOOL
434 Sixth Ave., 3rd, 4th, & 5th Floors, New York
212-254-8520

The Joffrey Ballet School is the home of Baby Ballerinas, Hip Hoppin' Street Jazz, Demi Soloists, and so much more. The world-renowned program is a world-renowned good time for you and your child. We have over 60 years of excellence to share with your family. The dance classes begin at the age of two, with live music and performances that will create memories to last a lifetime. Our theme-based birthday parties are fantastic, with cakes by the "Cake Boss," and sprinkles of joy from the school faculty. Come grow with us...joffreyballetschool.com.

KARMA KIDS YOGA
104 W. 14th St. (bet. 6th & 7th Avenues), New York
646-638-1444

Karma Kids Yoga, New York's only yoga studio dedicated just to children, offers classes for babies, toddlers, kids, tweens, teens, and families, plus Community Yoga, CircusYoga, GLOGA Yoga, free StoryTime Yoga, Pajama Yoga, Yoga Birthday Parties, and more! Recently opened: our second studio space next door, offering Prenatal Yoga and Prenatal Pilates classes, as well as a Mom & Baby Pilates class for parents. In celebration of Halloween, attend Spooky StoryTime Yoga, emphasizing fun holiday poses. Wear a costume and expect Halloween surprises, including...Glow-in-the-dark Yoga! on Wed., Oct. 30th at 11:30am…free to all!

KATHLEEN SCARBOROUGH
14 Jumel Terrace, #3, New York
240-277-8540

This year, give a birthday present that lasts a lifetime! Kathleen Scarborough is a professional violinist and violist who has taught children (and adults!) of all ages for over 20 years. She has just moved to New York from metro Washington, DC, where she had a large private studio of violin and viola students. She plays and teaches classical, folk fiddle, and jazz violin—there's something for everyone's interests and ability levels. Pleass contact her at kathleenscarborough@yahoo.com, or call 240-277-8540 for more information and birthday package deals. Website coming soon!

THE LITTLE GYM
777 White Plains Road, Scarsdale
914-722-0072
2121 Broadway, 2nd Floor (between 74th and 75th streets)
Upper West Side, Manhattan
212-799-1225
207 E. 94th St. (between Second and Third avenues)
Upper East Side, Manhattan
212-787-1124
28 Franklin Turnpike Waldwick, NJ
201-445-4444

A private party at The Little Gym is a perfect way to celebrate your child's next birthday. The 1½-hour parties are supervised by our trained, professional staff from beginning to end. Gymnastics, games, obstacle courses, trampoline, sports, and music are tailored to your child's interests. Parties at The Little Gym mean exclusive use of the gym and party room. At The Little Gym, your child's birthday bash will be the easiest party you'll ever throw!

MY GYM CHILDREN'S FITNESS CENTER - LINCOLN CENTER AND HARLEM LOCATIONS
22 W. 66th St. and 258 Saint Nicholas Ave.,
212-724-3400
Upper West Side
22 W. 66th St., (bet. W. Central Park & 65th Street Transverse)
Harlem
258 St. Nicholas Ave.
New York, NY 10027
212-724-3400
Email lc@mygym.com
harlem@mygym.com

My Gym has spent over 30 years building children's self-esteem and nurturing a love of fitness and activity. A variety of age appropriate programming including gym, yoga, theatre, dance, music and art, are offered in our clean, safe, and fun environment for children ages 6 weeks-13 years (programs vary by location.) Member benefits include unlimited practice & plays as well as exclusive savings on parents' night out and birthday parties! With a new program every week, children are constantly challenged and stimulated in new and exciting ways!

PARTYPOOPERS
New York City & Surrounding Areas,
212-224-9955
Email info@partypoopers.com

PARTYpoopers, NYC's veteran kids' birthday party planners, is now offering Manhattan's only lasertag parties in an historic downtown location. As always, parties are customized, private, and tons of fun. They're still doing their famous "Pirates on the Peking" parties at the South Street Seaport, but if you simply want expert help planning your party, Poopers is the way to go. From full-service, seamless events, whimsical décor, top-notch entertainment, creative themes, one-of-a-kind venues, fanciful favors, and outrageous cakes, to party-consultation and staffing, Poopers makes the kids smile, and makes your life that much easier.

POLE POSITION RACEWAY - INDOOR KARTING
99 Caven Point Road, Jersey City
201-333-RACE (7223)

Give your friends and family something to rave about with a birthday party at Pole Position Raceway. Just two miles from the Holland Tunnel in Jersey City, it's the most authentic and exciting activity for birthday celebrations and private events. Our party packages include racing in electric karts with speeds up to 45mph on our state-of-the-art tracks, pizza, arcade games, and use of our party rooms. We can add catering, trophies, and unique options to any group event. Create a special memory with world-class racing at America's #1 chain of indoor electric kart tracks.

THE SCHOLASTIC STORE
557 Broadway (between Prince & Spring Streets), New York
212-343-6166
Email thescholasticstore@scholastic.com

We provide the magic. You make all the memories. Our party planner will assist you with all of your party needs. Our party hosts will make this the easiest, most fun party you can imagine. Basic party includes: party planner, two party hosts, online invitations, craft activity, music and dancing, story time, cupcakes, juice, and games! Choose from a variety of themes, including "Clifford's BIG Birthday Bash," "Fabulous Fashions," and "Wacky Science," with prices and special features to match every budget.

SCITECH KIDS
1841 Broadway, Suite 712A, New York
212-804-7055

SciTech Kids has birthday parties down to a science! Pick from an array of science party themes and packages that include science experiments and demonstrations that are interactive, engaging, and educational. In our Signature Mad Science party, watch kids perform cool, chemical reactions while wearing lab coats and goggles. Customize your science celebration with add-ons such as the Dry Ice Spectacular. Other themes include Slime Goo, Bouncing Bubbles, and CSI Investigation. The party package starts at $700. Contact SciTech Kids for a perfect party for your budding scientist.

THE RISE OF THE JACK O'LANTERNS
Old Westbury Gardens, 71 Old Westbury Road, Old Westbury
516-333-0048

Those lucky enough to have a birthday or special occasion in October are in for a real treat! Experience the overall effect of viewing thousands of illuminated pieces of art on a long and winding trail on the majestic grounds of Old Westbury Gardens with friends and family. Some of this year's all-new themes include: At the Movies: A Tribute to Tim Burton; Optical Illusions; Pop Stars; Video Games; The Walking Dead; Outer Space, and many more. Tickets are for specific dates and times, and must be purchased in advance. Visit therise.org.

TRIBECA PERFORMING ARTS CENTER
199 Chambers St., New York
212-222-1460

Tribeca PAC's Family Series offers great programs for the entire family. These performances offer parents and kids of all ages the opportunity to enjoy a wide variety of theatrical events including plays, musicals, puppetry, concerts, and dance, and are great for Birthday Parties! In addition to presenting and producing, BMCC Tribeca Performing Arts Center has an active rental service that brings exciting and unusual events to the Tribeca scene. The beautiful facilities are professionally equipped, and can accommodate a wide range of performing arts, as well as educational seminars.