Cookie Party | Party Packages

Cookie Party invites you and your friends to join us for a fun, creative and interactive baking experience! Our concept is simple, The planning process is easy and you and your guests will enjoy the experience as much as your child. We offer an all-inclusive package, in a one party environment.
Party-time is one-and-a-half hours. (10 Child Minimum)
The Cookie Party Recipe Includes:
Cookie party invitations
Decorative Party Room with signage
Cookie party tableware and paper products
Cookie Partiers Then:
Personalize their own baking apron
Learn to roll, cut and design their own cookie
Decorate their cookie with icing and several toppings, creating their own unique design
Interactive game played with prizes for each child
Pizza, Juice and Tower of Happy Birthday Cupcakes served
Each party goer receives a goodie bag in addition to their baked cookie creation to take home.
The Cookie Party is $279.00 for the first 10 party goers- each additional party goer $21.95.

Through our exciting partnership with Toys"R"Us, we are happy to offer a special goodie bag upgrade!
Purchase a $5.00 Toys"R"Us gift card for each child, and they'll also receive a $5.00 off coupon redeemable at any Toys"R"Us location.

* Parties are peanut/tree nut free
* Additional pizza available for parents at a cost of $18.00 per pie.
* Cookie Party packages do no include tax or gratuity for the hostesses.

CALL 973-585-6066 TO BOOK YOUR PARTY TODAY!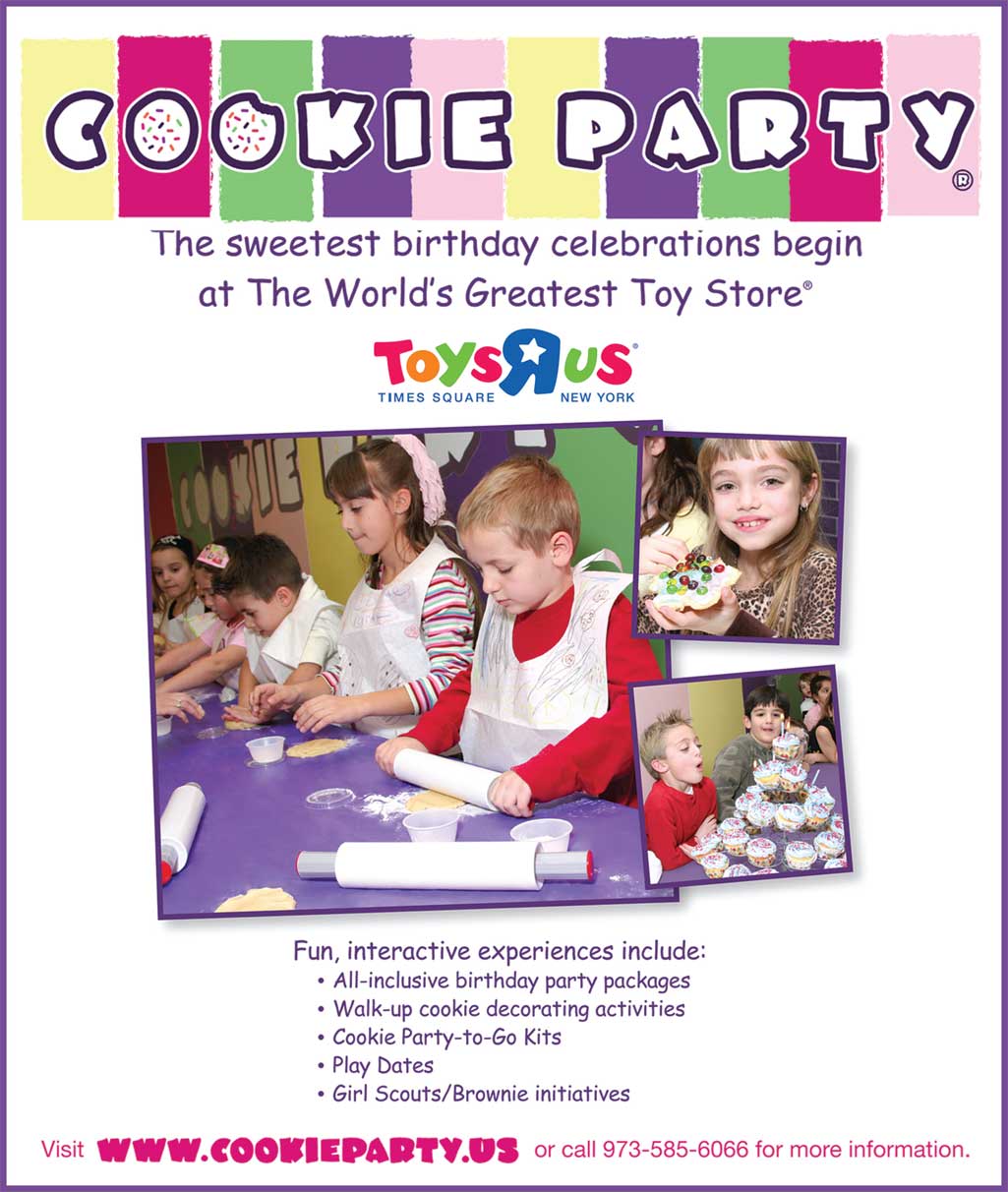 Want to learn more about this business? Send them a direct inquiry.
BIRTHDAY PARTIES
Cookie Party, a family-owned business currently operating two locations in New Jersey, has now opened in the World's Greatest Toy Store - Toys"R"Us Times Square. Cookie Party is a fun, creative, and interactive party experience for kids, offering baking party packages, play dates, cookie decorating, and Girl Scout and Brownie initiatives, as well as Cookie-Party-To-Go Kits as a take-home activity. Additionally, customers can enjoy a specialty bakery that showcases an assortment of family recipes made fresh, from our kitchen to yours.
UPDATE YOUR MICROSITE