Kids In Sports mission is to teach children the fundamentals of sports in an organized, safe, fun, friendly and supportive environment. Emphasizing sportsmanship, teamwork, respect and communication, our program serves as a building block for young athletes. To learn more or to register for one of our programs, visit www.kidsinsports.com or call 212.744.4900.
Classes
Kids In Sports classes are held in Manhattan and Greenwich, CT. With our unique and diverse offerings, you are in charge of your child's schedule. We offer many different multi-sports classes, teaching children ages 12 months to 12 years the basics of basketball, football, soccer, baseball, floor hockey, and volleyball. Want to create your own sports class with friends? Call us!
Camps
Join us for spring break camp, holiday day camps, and summer camp. Sign up by the week for spring break and summer camp. Athletes of all levels play baseball, basketball, floor hockey, football, soccer and a host of cooperative games inside and outside.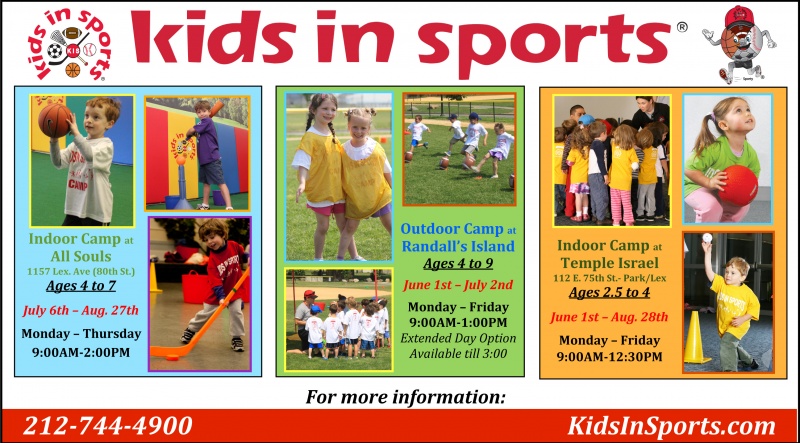 Pre-School Alternative
Our Pre-School Athletes Program is a 2-hour drop off program designed for children ages 2.5 through 3.5 years old. The first hour consists of our multi-sport program in which we cover all of the major team sports on a rotating basis. The second hour of class is the preschool alternative component. During this time the children will be given a snack provided by Kids In Sports. We will also do an arts and crafts project, story time, puzzles, and games. This is a time that really encourages socialization among the children through cooperative learning. We also focus on developing listening skills and sharing among our friends in the class. The Pre-School Athletes Program is designed as a stepping-stone in preparation for separation when children begin Pre-K.
Birthday Parties
Choose your day and location and let Kids In Sports build your athlete's dream party. Birthday girls and boys pick their favorite sports and the captivating coaches keep the children engaged. We design the party to suit your child's sports interests and abilities. Always the most talked about party of the year.
Franchising Opportunities
Kids in Sports is now offering franchises to enable others with a passion for working with children, teaching and sports to establish a business that is rewarding and fun to own and operate. To learn more, visit www.kidsinsportsfranchising.com