Downtown Day Camp Now Serves K - 8th Graders!
K - 8TH GRADERS: Celebrating its 19th season this year, Downtown Day Camp is thrilled to announce four new camp programs. In addition to our ever popular K-4th Grade Division offering swimming lessons, organized field sport instruction, arts, crafts, karate, tennis, drum classes, song shows and more, we now have the following 5th - 8th Grade Options: General Camp, Sports Camp, Performing Arts Camp in partnership with TADA! Youth Theatre, and our Belleayre Mountain Sleep-Away Camp! These programs have been added to help provide the types of enriching activities 5th-8th grade children need. The choices are designed to cater to the interests of campers as they mature and learn more about what activities they really enjoy.
Our Downtown Community Center has 30,000 square feet of air conditioned activity space. The Center includes a 75 foot pool for swimming lessons, two large art rooms, a movement/dance studio, and specialized age-appropriate activity rooms. The camp will continue to use the Battery Park City and Pier 40 Ball Fields for outdoor sports and take trips! Please see our website for a description of all activities and a registration form! Hurry, because grades and sessions fill up fast.

Belleayre Mountain Nature Camp (a one-week sleep-away program) is in a beautiful Catskill wonderland only 125 miles north of NYC. Children enjoy fresh air, magnificent foliage, and clean lakes and rivers. The emphasis is on environmental education while participating in great outdoor activities right at their doorsteps. Join friends and familiar Manhattan Youth staff members for a fantastic nature adventure week at Belleayre! See our website to find out about this exciting one-week option, where children do sports, art, swimming, woodworking, hiking, fishing, and participate in nature and team building programs. Bob Townley, Manhattan Youth and Downtown Day Camp's Founder and Executive Director, is leading the upstate camp week personally. Campers will never forget the great time they have with Bob upstate!
downtowndaycamp.com or 212-766-1104 x 250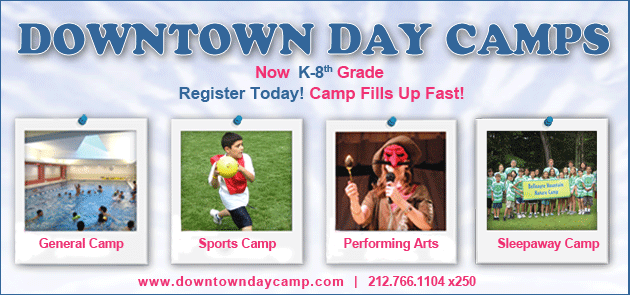 Want to learn more about this business? Send them a direct inquiry.
BIRTHDAY PARTIES
Looking for a great space where kids have room to play? Celebrate your next special occasion at the Downtown Community Center! The beautiful new 15 million dollar facilities and P.S. 234 next door are our home bases in Tribeca, boasting a 75-foot pool for swim lessons, two art rooms, a dance/karate studio, cooking room, and more. We cover all types of celebrations. Visit our website or contact us via email or phone.

At camp since the beginning in 1992, Russ has been a teacher, childcare administrator and recreation specialist for two decades. Heading up our leadership team of experienced teachers and administrators, Russ is responsible for the professional, positive and collaborative atmosphere our campers enjoy. He earned his M.A. and Ph.D. degrees in education from New York University, and is famous for his pleasant manner, people skills and sense of humor.
Read More About Manhattan Youth & The Downtown Community Center
Featured After School Activities Listings for 8/17/2010
Are you in search of an after school children's program? Look for gymnastics classes, dance programs, (including ballet, tap, modern and jazz), art classes, martial arts programs - including karate, judo, tae kwon do and more, sports programs, swimming classes, horseback riding and more kids activities. These children activity providers serve New York City including Manhattan, Brooklyn and Queens. These after school classes are found in Westchester, Rockland, Fairfield Counties, and Long Island, both Nassau and Suffolk Counties. You can find many children's programs listed below and hundreds on nymetroparents.com.