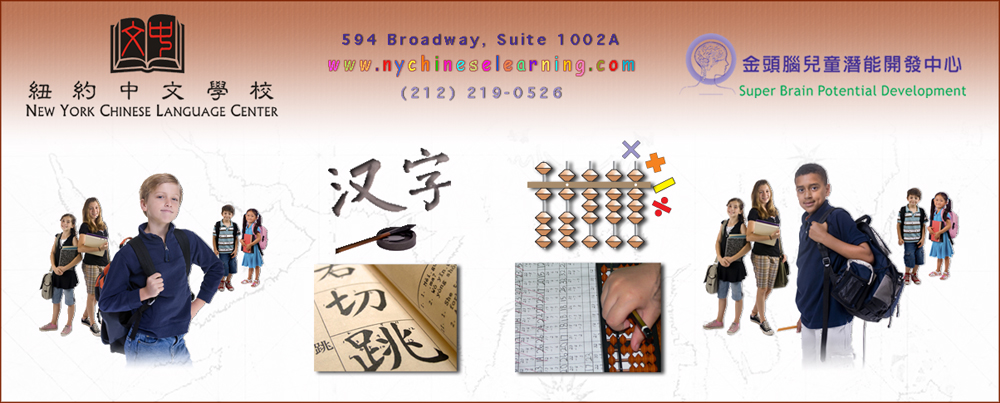 MANDARIN CHINESE PROGRAM
In NYCLC, Chinese teachers with many years of preschool educational experience are employed to guide children's Chinese teaching.
Teaching with a combination of listening, speaking, reading and writing skills along with traditional and simplified Chinese characters, NYCLC will enable your child to appreciate the beauty and wisdom of how Chinese characters were created and be able to write the characters that are customary to local needs. Teaching of related Chinese culture will also be included in this class.
Carefully arranged curriculum not only complies with everyday living, it also helps children in early preparation for Chinese class in school to improve academic performance.

ABACUS MENTAL ARITHMETIC PROGRAM
Partnering with Super Brain Potential Development Inc., who has had years of experiences teaching Abacus Mental Arithmetic courses, NYCLC is now offering this exciting program at our center as well.
The secret behind Abacus-Mental Arithmetic:
By utilizing the abacus, during the process of seeing, hearing, moving with hands and calculating with the mind, the functions of the various body parts of the child will be coordinated which in turn stimulate the balanced development of the right and left brain.
Moreover, by transforming the abacus to mental arithmetic, the speed of calculation will increase from double to ten times faster, reaching the optimal condition for the development of the entire brain. It enhances the image reflection of the right brain for the child to reach the calculation speed of a math genius.
Register for both programs now to receive a 10% discount.