Since 1984, the award-winning TADA! Youth Theater has produced original musicals performed by kids aged 8-18 for family audiences. TADA! offers a free year-round youth development program and exciting Musical Theater classes, plus Arts Education residencies in schools and community centers throughout the NY Metro area. Through TADA!'s high-quality work, young people gain confidence and learn commitment, responsibility, communication and teamwork - skills that are critical to their success both in school and in life.

Register for fall classes and camps today!
FREE Fall Open House:
Saturday, September 17, 2011 from 10am-2pm at TADA!
Students will participate in a mini sample class session starting at the top of each hour followed by a Q&A session with TADA! Teaching Artists and administrators. Please RSVP by sending an email with your name, email address, and phone number as well as your child's name and age to: education@tadatheater.com
TADA! classes in Musical Theater skills are offered for toddlers through 8th Graders. All TADA! classes meet weekly and are team-taught by two of New York's best Teaching Artists and culminate with a Sharing in the last session. In keeping with our philosophy, each class provides learning for a range of ages. TADA! works to build self confidence and challenges each child to be the very best they can be. Class Sharings will be recorded and a free v-link of the video will be emailed to all registered families.
When school's out, TADA! is in. Explore the world of acting, singing, and dancing in a special 1-day camp that focuses on core elements of Musical Theater through theater games, comedic improv, and dramatic play as well as mastering cool dance moves and singing your heart out. Families are invited to watch the last 15-30 minutes of the day. 9am - 5:30pm; Grades 1 - 5.
Thursday, September 29, 2011 (Rosh Hashanah)
Friday, September 30, 2011 (Rosh Hashanah)
Monday, October 10, 2011 (Columbus Day)
Tuesday, November 8, 2011 (Election Day)
Friday, November 11, 2011 (Veteran's Day)
Not yet open for registration:
Monday, January 16, 2012 (MLK Jr. Day)
Thursday, June 7 (Chancellor's Day)

Become a part of the TADA! Family:

ORIGINAL PRODUCTIONS
Join us for an original family musical on our Mainstage located at 15 West 28th Street. Our intimate 90-seat theater is home to fantastic shows in on weekends in the Winter and Spring and Tuesdays-Saturdays in the Summer. Plus, catch our Sneak Peek of the upcoming Season in November! Ticket prices start as low at $8 per child. Special group rates for our productions to non-profit and educational organizations for groups of 20 or more people are also available. For more information and schedules, visit http://www.tadatheater.com/currentseason.asp

TADA!'S RESIDENT YOUTH ENSEMBLE
At the heart of TADA! is the Resident Youth Ensemble, TADA!'s FREE year-around pre-professional training and youth development program. The Resident Youth Ensemble empowers New York City children and teens (ages 8-18) through theater training and performance opportunities, as well as youth development activities. TADA! serves 70 young people and their families each year. Children are invited to join the Ensemble through an audition process that determines talent, skill and interest, but no previous experience is necessary. For more details, visit http://www.tadatheater.com/auditions.asp.

CLASSES & CAMPS
Join us for a variety of classes in acting and Musical Theater for toddlers through 8th graders. For three semesters during the school year, classes are team-taught by New York's best teaching artists and culminate in a sharing for families and friends.

TADA! also offers camps in Musical Theater all summer long and special Week-Long and 1-Day Camps during most school breaks. Kids can even create and perform an original mini-musical in as little as 5 days!

To register, visit http://www.tadatheater.com/narrativeclassesandcamps.asp

ARTS EDUCATION PROGRAMS
Each year over 35,000 kids and 500 teachers are trained in or exposed to musical theater, drama and playwriting through TADA!'s efforts. With programs in schools and community centers throughout NYC & beyond, TADA!'s education programs and theater classes are our most extensive outreach effort and several of our residencies have been recognized by grants from the National Endowment for the Arts (NEA), the New York State Council on the Arts (NYSCA) and the NYC Department of Youth and Community Develoment (DYCD). We work to fit within every budget and help find funding when necessary. To find out how to bring TADA! After-School programs or Arts Education In-School residencies to your community, contact education@tadatheater.com.

...AND MORE
Visit our website at www.tadatheater.com to find out about our Birthday Parties, how we can perform at your public or private event, and more.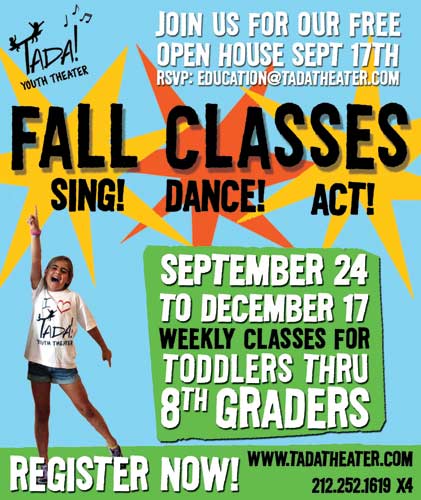 Want to learn more about this business? Send them a direct inquiry.
AFTER-SCHOOL
TADA! Fall Classes meet weekly from Sep. 23-Dec. 14, and are team-taught by two professional Theater Artists, experienced and trained in arts education. Fall and winter classes culminate with a Sharing in the last session. In keeping with our philosophy, each class is based on ensemble-building techniques that facilitate an equitable and active learning environment for a range of ages and abilities. TADA! works to build self-confidence and challenges each child to be the very best they can be! TADA! Youth Theater, tadatheater.com.

Rod's professional experience includes working as an Arts Education Program Director for numerous theaters and arts organizations, such as Canada's prestigious Shaw Festival, where he developed arts education programs and theatre-related workshops for school groups and adult audiences. "TADA! provides every interested student the opportunity to explore and perform theater together in an educational, supportive and cooperative environment, while deepening self-esteem, developing teamwork, and building positive communication skills." -- Rod Christensen, Director of Education.
Read More About TADA! Youth Theater
Summer Activities in Manhattan
Do you need great summer activities for kids in Manhattan, NYC? Use our guide to find kids classes, Manhattan summer camps, summer programs, activities near Manhattan, and family excursions close by. Find all of your summer activities for kids in Manhattan, from the Upper West Side, the East Village, Midtown Manhattan, SoHo, Chelsea, and more.
Ask the Expert: Should I Enroll My Shy Child in Musical Theater Classes?
The education director of TADA! Youth Theater in Manhattan answers why it might be a good idea for parents to enroll a shy child in musical theater classes to help their development, why parents' support is essential in nurturing an artistic child, and the importance of "failing forward."
UPDATE YOUR MICROSITE