SEE OUR MOST RECENT BIRTHDAY PARTY GUIDE FOR NASSAU COUNTY, LONG ISLAND
---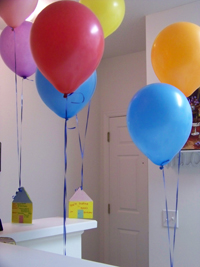 Check out our 2010 children's birthday party guide for Nassau County, Long Island, including all the resources a parent needs to throw a fabulous celebration! Consult our comprehensive guide for fun party ideas, party venues and spaces, caterers, magicians, clowns, and more in the Nassau County area.
ADVENTURELAND
2245 Route 110, Farmingdale
(631) 694-6868
www.adventureland.us

Adventureland Amusement Park, family owned and operated since 1962, has been the birthday party mecca of the Long Island area for 47 years. That's generations of family birthday party fun! Adventureland caters to birthday parties of all ages and sizes -from 10-500 people. We have spacious and VIP private party rooms. We cater to most requests. All parties include use of amusement park rides, and a hosted lunch or dinner. Call the Adventureland birthday party doctor with question and reservations: 631-694-6300. For VIP birthday party rates of 75 or more, call 631-694-6868.

ARTY'S PARTIES
(516) 705-6507
www.artysparties.com

Arty's Parties is a family owned and operated children's entertainment company that brings smiles to little faces! Our experienced and reliable staff will create unforgettable memories at your special event. Our services include colorful, silly clowns; friendly magicians who use live animals; musical puppet shows; clean and safe inflatable rides; along with delicious cotton candy, popcorn, sno-cones and much more! All customers have the flexibility to customize a package to meet their budget. Arty's Parties is dedicated to customer satisfaction and ensuring your day will be tons of fun!

BABY BIRD PRODUCTIONS
www.babybirdproductions.com
Email [email protected]
KIDS' BIRTHDAY T-SHIRTS; childhood milestone t-shirts (like baby's first steps, my first tooth, and many more); alphabets; I love my family; twins; holidays; and other cute designs on bibs, baby bodysuits, t-shirts, jerseys, sweatshirts, mugs, totebags, and more. For babies, kids and the whole family. Baby Bird Productions also has matching items for parents and kids, lovely children's wall art, and original children's stories by author and artist Barbara Freedman-De Vito.

BOUNCEU
101 Carolyn Boulevard, Farmingdale
(631) 777-JUMP (5867)
www.BounceU.com/cities/farmingdale.ny

The hottest trend in family fun and private birthday party excitement! Impeccably clean, BounceU boasts safe and controlled fun with gigantic inflatables, enormous slides, obstacle courses, and more! Parents can join the fun, because the staff sets up, cleans up and packs up! Customers are raving...it's the greatest place on Long Island to host birthday parties, team parties, youth group functions; even field trips. Our mission is to "create a memory that will last a lifetime." Call now to reserve your next private party or join us at our famously fun open bounce sessions.

THE CANDY STORE ON MAIN STREET
41A Main Street, Port Washington
(516) 708-9581
www.thecandystoreonmainstreet.com

Every child's wish to have their birthday party in a candy store is now available to Long Island parents. You are in good hands with The Candy Store on Main Street. Every child's party is planned to the finest detail and mentored by our professional staff. We can provide many extras to enhance your party including Goodie Bags, a Chocolate Fountain and Piñatas. We also make custom baskets for any occasion.

CHILIBEANS PARTY PLACE
103 Meade Street, Hempstead
(516) 680-3024
www.chilibeans.com

A private party wonderland for infants, toddlers, and young children! Fabulous playrooms. Affordable party packages. Exciting add-ons include crafts, the Story Lady, and music fun. Invitations, balloons, party leaders, juice boxes, water bottles and all paper goods included. No charge for the birthday child or adults. Bring in your own refreshments if you wish. Visit our website for more information and pictures.

61 New Hyde Park Road, Garden City
(516) 328-2253
Email [email protected]
Parties at The Cupcake Corner are fun, creative and unique. We offer a wide variety of activities for your children to enjoy. Kids can choose from scrapbooking, ceramic painting, bracelet making, or afternoon tea with storytelling. All parties also include cupcake decorating with tons of yummy icing and colorful candy; pizza and juice; invitations; decorations; party favors; gift for the birthday child; and music/dancing. Nails, tattoos, and a candy station are also available at an additional cost. Call now to book your party.

CYNSATIONAL PRINTS
Contact Cynthia
(917) 304-6361
Email [email protected]
Cynsational Prints is a family operated business since 2004. We specialize in printing of T-Shirts and canvas bags. Our biggest joy has been the satisfaction of parents, who've trusted us to provide t-shirts as favors for their children's parties. We also do printing for family reunions, summer camps, and company advertisement. For Mother's Day, we sell printed Mother's Day T-shirts with matching bags, something our friends and customers have taken delight in.

DAVID FUNN
(516) 334-6636
www.davidfunn.com

Children love David FunN! David FunN has been entertaining children and adults for more than 25 years, and he can entertain your group too! Children's birthday parties are his specialty, featuring a live bunny, magic wands and plenty of FunN. David also has sophisticated presentations for mature audiences, featuring mind reading, ESP and close-up mini illusions. David FunN also entertains at corporate events, bar or bat mitzvahs, social groups, outdoor functions and birthday parties.

FANCY FACES BY KATHY
(516) 313-5047
www.fancyfacesbykathy.com
Email [email protected]
Fancy Faces by Kathy has been called the "Best Face Painter we've ever had" by almost every client they have worked for. Kathy and her staff of very talented artists do parties for kids and adults, for corporate or organization picnics, fairs, and business events such as grand openings. Since starting the business in 2004, Fancy Faces has branched out to include balloon animals, glitter and henna tattoos. This past summer, they added airbrushed tattoos. Complete party entertainment packages available. New for 2010: Sign in boards and special occasion cakes.

FERNELLA'S JOOLS AUTOGRAPH PILLOWS
(917) 749-5906
www.fernellasjools.com
Email [email protected]
Choose from Camp, Friends, Peace, 2010, personalized or customized designs! Keep your children's summer memories alive with autographs from favorite friends. Wonderful birthday gifts to remember everyone who was at your party! Different size pillows, colors and shapes available. High quality, 100% cotton pillow with 100% polyester filling appliquéd with recycled felt! Each pillow comes with a black or silver sharpie marker.

FUN4UFACES
(516) 568-2812
www.Fun4UFaces.com
Email [email protected]
Andrea Colletti has taken her love of the art and children, combined them and started her own entertainment company, Fun4UFaces. Painting masterpieces on faces and bodies all over Long Island and the New York metro area, Andrea paints for corporate events, children's parties of all kinds, adult events, fundraisers and festivals. Andrea creates living art that can last up to a week or can be washed off immediately. Andrea maintains a roster of additional artists that can offer additional items to make your party memorable. For your next event, contact Fun4UFaces at www.Fun4UFaces.com.

GOVERNOR'S COMEDY CLUB
90 Division Avenue, Levittown
(516) 731-3368
www.GOVS.com

If you are looking for a FUN WAY to celebrate your event, Governor's Live Comedy Shows have been making kids laugh for many years! Our Summer daytime shows are perfect for PARTIES AND SMALL GROUPS to celebrate together. Our shows can be geared to specific age groups, and include comedians, magicians, jugglers, ventriloquists, and other acts. All packages include unlimited soft drinks. Lunch or snacks are available at reasonable package prices. Shows usually start around 1:00, and run for about 90 minutes. Please book early to get your preferred dates.

INTERACTIVE MUSIC WITH PAUL HELOU
(888) 467-7687
www.paulhelou.com

Book an interactive musical event/party with Parents' Choice Award-winner Paul Helou! With a warm and welcoming spirit, Paul is up on his feet with his guitar, picking up on clues and cues from his participants/audience and engaging children through energetic music, movement, improvisation, and storytelling. Kids love to be part of Paul's "marvelous and interactive" performances and workshops! For sound and video samples, go to www.paulhelou.com or call 1-888-467-7687 (improvs) for more information.

ISLAND ROCK GYM, INC.
60 Skyline Drive, Plainview
(516) 822-ROCK
www.IslandRock.net

Island Rock offers the most exciting and talked about birthday parties on Long Island. At our state-of-the-art, 9000-square-foot climbing facility, children will have an hour and a half of climbing time; enabling them to fully explore their inner monkey. Our expert and courteous staff will show participants "the ropes" and guide them in this terrific and active party. Food and refreshments are included to replenish the climbers. Recommended for ages 6 and up. For the party experience of a lifetime! Smiles and amazing memories guaranteed!

JUST FABULOUS & OUTRAGEOUS EVENTS
(631) 486-5130
www.jfabparties.com

Just Fabulous & Outrageous Events creates trendsetting events, exciting private parties and catered affairs for boys, girls, teens and adults. Whether you're planning a small party or big event, the private and trendy party room offers full-service catering and customized menu planning for any budget. This uniquely designed atmosphere offers two intimate lounge areas, a spacious dance floor with lighting and a sound system, large-screen TVs, two bar areas, and seating for 85 guests. Teens get special treatment with "outrageous events" for sweet 16s and bar/bat mitzvahs. Dare to be Different!

KIDZ PARTY FUN
(718) 644-6518
Email [email protected]
Kidz Party Fun-WE BRING THE PARTY TO YOU! We customize your party package! Themed Party Packages include your favorite Disney princess, Spiderman, Barbie ballerina, clown or mascot character of your choice. Services include face painting, balloon sculpting, tattoo art, arts & crafts, musical games/dancing and more! DJ services & Magician are also available by request. Affordable rates to suit any budget! Book your party today!

Serving Long Island, NYC, Westchester, and beyond
(516) 338-0552
www.LilChefs.com
Email [email protected]
LilChefs.com Special Events has been voted "Best Children's Party Place 2008 & 2009." Customized cooking parties inspire children to spice up family kitchens all over Long Island, NYC, Westchester, and beyond. Popular themes include: Pizza Making Party, Dress-Up Tea Party, and "I Love Lucy" Chocolate Factory. Children four-plus create delicious dishes, decorate chef outfits, play food related games, and learn the essentials of food preparation, safety and hygiene. All 2.5 hour parties include custom invitations, photography and video. Parties can be hosted either at home or at a partner location.

LITTLE CHEFS LTD.
33 Jackson Avenue, Syosset; (516) 496-0754
9 Soundview Market Place, Port Washington; (516) 767-7633
www.littlechefs.com

Established in 1995, Little ChefsTM has the perfect recipe and delicious ingredients to make a cooking party the most wonderful and exciting, memorable experience. It creates 1½-hour parties to serve everyone's taste. Party menus offer creative and fun themes. Additional packages include a Little Chefs personalized and painted apron; decorating take-home Lucite cookie boxes; make-your-own ice cream sundaes; dips into fondue fountains; or fill your personal loot bag. Call or visit for more information on very special birthday parties, creative cooking classes, and Scout and camp programs.

LITTLE SEEDS OF GARDEN CITY
311 Nassau Boulevard, Garden City South
(516) 280-8735
www.littleseedsofgardencity.com

Little Seeds of Garden City takes the hassle out of planning a fun and festive birthday party. Our comprehensive birthday party package provides everything you need to pull off a great event. Optional add-ons and theme choices allow you to personalize the party to fit your child's personality. Theme choices include: Princess, Pirate, Fireman, Costume Party, Girl Spa Party as well as custom personalized themes. Add-ons include Face Painting, Photography, Computer Game Parties, Puppet Show Theater, Outdoor Bouncey Castle and more. Book your child's birthday party at Little Seeds and we'll take care of the details.

N.Y. PARTY ZONE
1270 Broadhollow Road (Route 110), Farmingdale
(516) 694-0079
www.nypartyzone.com

N.Y. Party Zone is an exciting, interactive, indoor party facility. Ride the brand-new, child-safe Crazy Cow mechanical bull, climb a giant, 28-foot volcano, speed down an exciting tropical inflatable slide and challenge yourself on amazing obstacle courses. Choose from many fully-licensed themes with popular characters (or ideas such as Wild West, Luau, Treasure Hunt and more). Enjoy your party in an air-conditioned room where the birthday child sits on a giant inflatable throne. Having a party at home? All the rides are available for rental. Call us today!

NOT JUST ART
183 South Street, Oyster Bay
(516) 922-8300
www.notjustart.com

Lovely, creative parties for babies and beyond! A memorable way to celebrate birthdays and other special occasions with family and friends. Not Just Art's relaxed, child-friendly environment and approach accommodates a wide range of ages and needs. More than a dozen music, art, and science parties for ages 1-12 years. Staffed by teachers, each party is a unique and personalized experience! Parties can be customized for play groups, scout troops, and other special events.

6230 Jericho Turnpike, Commack
(631) 499-0276
www.petden.com

The Pet Den's Pet Zoo on Wheels is designed to entertain and educate children and adults alike. This exciting concept will bring unique exotic animals to your location. Our friendly, knowledgeable staff will present these tame and playful pets to your group, allowing them to learn hands-on about the wonderful world of the animal kingdom. Programs can be tailored to meet the needs of any function. For more information, visit our website.

Q-ZAR
151 Voice Road, Carle Place
(516) 877-7200
www.qzarny.com

Q-Zar is a fully interactive entertainment center, with over 40 video games, party areas and most advanced laser tag arena and equipment. Q-Zar is host to birthday parties, youth groups, camps, group outing corporate events, and many more.

SHAOLIN SELF-DEFENSE CENTERS
1230 Hicksville Road, Seaford
(516) 799-5425 (KICK)
www.seafordkempo.com

Karate Birthday Parties! Looking for a different idea for your child's birthday? How about a karate party at Shaolin Self-Defense Centers? A fun-filled, 1 ½ hours includes a Karate intro, Karate drills, and games. We provide pizza and soda or juice, plus each child receives a karate head band. You provide the cupcakes and we'll do all the work. For more information, check our website at www.seafordkempo.com or give us a call at 516-799-KICK.



SPORTIME
Bethpage Multi-Sport (516) 731-4432
Bethpage Tennis (516) 933-8500
Lynbrook (516) 887-1330
Manhattan (212) 427-6150
Massapequa (516) 887-1330
Roslyn (516) 484-9222
Syosset Tennis & Multi-Sport (516) 364-2727
www.SportimeNY.com

Does your child love sports? Treat your child to the greatest sports birthday party ever, at SPORTIME! The birthday child spends his or her birthday playing soccer, hockey, basketball, baseball, or a multi-sport combination of his or her favorites. SPORTIME also offers tennis, dance, rock climbing and pool parties at selected locations. All you need to do is bring the cake! Visit us online at www.SportimeNY.com and click on "PARTIES" to find out more.

STAR TRACK INC.
148 Allen Boulevard, Farmingdale
(631) 293-6654
www.startrackinc.com

Star Track has been serving the industry for over 34 years. We are the last of the "Mom & Pop" businesses that value our customers' needs first. Our warehouse has over 7,000 items in stock. We carry a huge selection of party supplies, featuring: penny toys, face paint; summer fun toys, magic tricks, inflatables, lite-ups, DJ give-aways, leis and clackers. If you're looking for favors for your children's birthday party, communion, sweet 16, bar/bat mitzvah, carnival, school/class party, or block party, Star Track is the place to check out!

TELL SOMEONE
(631) 696-5522
www.tellsomeoneinc.com

Tell Someone "The Most Creative Way to Express Yourself" is a full service party planning and entertainment company. We specialize in party characters, table and chair rentals, equipment rentals, face painting, magic and balloon art. We provide waiter/waitresses, bartenders and grill people. We also offer singing telegrams, gift deliveries, business promotions and fundraising. Our goal is to provide you with superior customized service, so your party can be as carefree as possible.

TOTALLY GLAM GIRLS CLUB
We bring the Glam to you throughout the NY Tri State Area
(646) 623-9454
www.totallyglamgirlsclub.com

Be a glam princess or pop star diva for your birthday with the "Totally Glam" Girls Club. Our parties include manicures, pedicures, facials, hair and makeup pampering treatments, along with a pink carpet runway fashion show, dancing, games and prizes. Our Glam Squad will bring all the glitz and glam to you. The birthday girl will receive all sorts of club membership goodies, and all of her guests will take home a goody bag. Our parties are for girls ages 4-14. Call now to book your bash, and we'll see you on the pink carpet!

VITAL CHILDREN'S THEATRE
2162 Broadway, 4th Floor
(212) 579-0528
www.vitaltheatre.org

Give the gift of theatre! Celebrate a birthday with Vital Theatre Company. Groups of ten or more save 20% on "Isabelle and The Pretty-Ugly Spell" at 76th Street and Broadway and our hit production of "Pinkalicious, The Musical," running at the Bleecker Street Theatre. Our cast will then sing Happy Birthday to your child from the stage after the show!

WHAT'S COOKING?
30 E. Main Street, Oyster Bay
(516) 922-COOK (2665)
www.whatscookingny.com

What's Cooking?, recently featured on the Martha Stewart Show and in Newsday, hosts tasty, customizable parties. The birthday child is made to feel extra special by our friendly staff. Activities include: cookie, cupcake, pretzel, pizza and chocolate making. Pajama, flowerpot, dinner parties, princess tea parties and firehouse tours available. Bubble wrap stomping is a big hit! Homemade cakes, personalized chef aprons and hats, ice cream and candy bar, chocolate fountains and party favors are available. Register now for our new Spring Session of cooking classes, ages 2-15. Inquire about our weekly summer camp.

WOOD KINGDOM
111 Milbar Boulevard, Farmingdale
(631) 845-3804
www.woodkingdom.com

Wood Kingdom has the best birthday party for your active child. Kids climb, slide and play in completely renovated party rooms and enjoy a magic show, all in an exclusive indoor party playground. Wood Kingdom takes care of everything so you can relax; all you need to do is take the kids and a camera. Finally, a party where you can feel like a guest! Available seven days a week. Call today for reservations and information. Remember, your party playground is exclusive to you and your guests.