Fans of the Air Show at Jones Beach are anxiously awaiting the arrival of this year's annual "Welcome Summer" event. For the past eight years, the Air Show, sponsored by Bethpage Federal Credit Union and the New York State Office of Parks, Recreation and Historic Preservation, has brought thousands of people to Long Island to watch as military jets show off heart-pounding maneuvers over the shimmering blue water. This year's show will be no different, but it will bring added excitement as it helps to celebrate America's Centennial of Naval Aviation.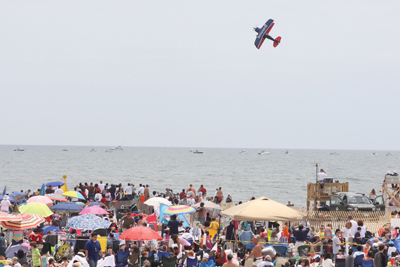 A stellar line-up of world-class performers are scheduled to participate, including the A-10 Thunderbolt II, which has deep roots in Long Island ­and in particular the Republic Airport in Farmingdale. Also performing are the U.S. Air Force's F22 Raptor, U.S. Army Golden Knights Parachute Team, Canadian Forces Snowbirds, 106th New York Air National Guard Air Flight Rescue Demo HC-130/HH-60, World War II B17 Flying Fortress, World War II B25 Mitchell Bomber, World War II B29 Super Fortress, and several civilian aerobatic performers.
Attendees can expect a sky abuzz with the thrilling roar of speed-defying jets that flip, twirl, and barrel their way through clouds and sky. Skytypers and skydivers will hold the attention of the whole family (pets are not allowed). The sponsors recommend arriving early to get the best spots; bringing chairs, beach gear, and ear plugs, especially for the little ones; and wearing beach attire, with some warm clothes on hand in case the temperature drops. Concession stands offer a variety of food choices to help round out a delightful family day.
Details
What: Bethpage Federal Credit Union Air Show
Where: Jones Beach State Park, Wantagh, NY
When: May 28-29, 10am-3pm
How much: $10 vehicle fee
For more information: 631-321-3510; www.jonesbeachairshow.com
Also see: Nassau County, Long Island, May Calendar Highlights
Our Online Calendar, for even more upcoming family events on Long Island and in the New York metro area