Brandon Feuerstein, 11, of Long Island, won the 6th Annual Astoria Federal Savings Essay Contest, which asked kids what they would do in the future with the money they start saving today.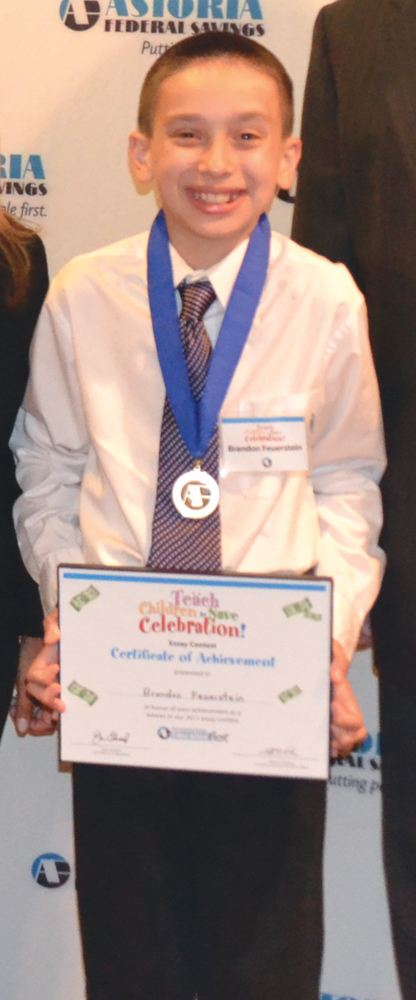 This summer, Astoria Federal Savings issued its sixth annual essay contest, asking local children to complete the sentence "If I save a lot today, in the future I could..." Eleven-year-old Brandon Feuerstein of Plainview responded that, with his savings, he plans to build a theater in New York City called Stars of Today, to help people with disabilities and special needs achieve their dreams of being involved in the theater. "I will not judge these kids by how they look," wrote Feuerstein, who attended the theater program at the Usdan Center for the Creative and Performing Arts this summer. He added that he hopes his future students will become "legendary and star on Broadway!"
Feuerstein's noble aspirations earned him the grand prize in a competition that drew more than 1,300 entries from kids ages 5 to 12 throughout Long Island, Brooklyn, Queens, and Westchester. Feuerstein received a new laptop computer, as did Plainview-Old Bethpage Middle School, where he attends. The school's principal, John McNamara, and Feuerstein's fifth grade teacher, Carole Green, were presented the laptop at a ceremony for the essay contest winners in late August.
"We were thrilled to see so many children participate in the contest, and their essays were really unique and impressive," says Brian Edwards, Astoria Federal Savings' senior vice president and director of marketing. "This contest is a great way to get children to think about their goals for the future and also what it will take to get there."