While the word "museum" might not initially set your tot's eyes (or yours, for that matter) aglow with excitement, you both might be surprised at how unstuffy a day at the museum can be.
Check out the locations below in Nassau County, Long Island, for exhibits that cater to the younger crowd, which means they're specially designed to be interactive, colorful, and fun, as well as educational. Some may build on your child's school curriculum while others might introduce something totally new, but each specializes in creating an environment that brings learning and playing together for children-and, of course, their grown-ups are welcome too!
Also see our complete 2011 Guide to Children's Museum Exhibits.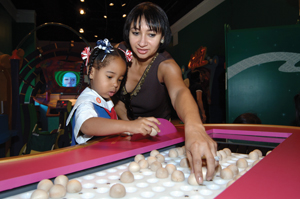 Long Island Children's Museum
11 Davis Avenue, Garden City
516-224-5800
Open Tuesday-Sunday 10am-5pm. $10; $9 seniors; free children under 1.
Cyberchase: The Chase is On!: Based on the award-winning PBS KIDS GO! math and mystery cartoon "Cyberchase," this exhibit invites children to join the CyberSquad on an action-packed adventure to thwart Hacker, the TV show's nefarious villain, using math and reasoning skills just like Matt, Jackie, Inez, and Digit. The exhibit presents math in an engaging, visually rich environment, allowing visitors to make use of their critical thinking skills and approach math with an investigative, positive attitude.
The museum also has about 15 standing galleries open with exhibits and activities for young children.
Nassau County Museum of Art: The Art Space for Children
1 Museum Drive, Roslyn
516-484-9338
Open Tuesday-Sunday 12-4:30 pm. $5; $4 students, seniors, and children ages 4-12; free children under 4.
Let's Have a Bite! A Banquet of Beastly Rhymes: The exhibit features whimsical animal characters, including the baboon, Baker Betty; the somewhat nasty-tempered koala, Lala; and the rattler, Rory. Open through May 8.
1526 North Plandome Road, Plandome
516-627-9400
A science activity center located on the Leeds Pond Preserve, this museum offers hands-on science workshops for children. All programs and workshops are by preregistration only.
Ever wonder how these exhibits come together, or what formula the museum's follow to find the perfect balance between learning and fun? Check out Children's Museums: Behind the Exhibits and get the answers, straight from exhibit developers in the New York metro area.