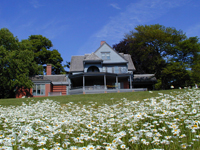 Summer on Long Island conjures up a lot of images, but the White House is probably not one of them. When Theodore Roosevelt was president, however, his home on the North Shore was known as the "Summer White House" and from 1902 until 1908, he hosted many world-famous leaders there.
Sagamore Hill
is maintained by the National Park Service and is the only presidential site on Long Island (known as the Theodore Roosevelt Birthplace National Historic Site). A beautifully-preserved example of a 19th-century home, this was actually the Roosevelt family's full-time residence (he and second wife Edith raised six children here).
   Kids are enthusiastically welcomed at Sagamore Hill; even pets are allowed (on a leash). If you need some help sparking an interest in a visit, you might remind your children that Teddy Roosevelt appears in Night at the Museum 2 (Robin Williams reprises his role as Rough Rider TR in the movie sequel that opened last month). No matter what your reason for the trip, the entire family can spend a wonderful day learning more about Roosevelt and simply appreciating the gorgeous property.
Natural Beauty
   Roosevelt started coming to Oyster Bay on summer vacations with his family in the 1870s, and loved the area so much, he decided to settle there. His house is situated on 83 stunning acres that include forested areas, meadows, salt marsh and beach. The grounds are open daily from dawn to dusk, and entrance is free. A half-mile loop trail takes you from the Old Orchard Museum (originally the home to one of Roosevelt's sons) to the Eel Creek saltmarsh. A field guide is available from the Visitor Center that helps the family identify some of the plants and animals you might see along the way. There are picnic areas available, and families are encouraged to take their own lunches.
Historic Home
   Entrance to the Roosevelt Home is only allowed by guided tour. Especially on weekends, it is strongly suggested that you arrive early because tours can sell out one to two hours in advance. Tours run every hour on the hour from 10am until 4pm. The home is not air-conditioned, so be sure to dress appropriately for the weather. Good walking shoes are always recommended since there is so much to see outdoors. Unfortunately, the home is not handicap accessible, but a video can be viewed that shows the interior of the house and is narrated by Roosevelt's daughter, Ethel Roosevelt Derby.
Junior Rangers
   Given Roosevelt's devotion to conservation efforts, it is no surprise that Sagamore Hill offers families the opportunity to enjoy its scenic grounds in various ways. Aside from the paths and trails, beach and picnicking, children ages 15 and under are invited to become Junior Park Rangers. An activity book tests kids' observation skills, challenges them with a history hunt at Old Orchard and rewards successful participants with badges and even a special patch. A special tradition at the park takes place on Sundays, when children assist in taking down and folding the majestic United States flag that flies in front of President Roosevelt's house.
If You Go
Where: Sagamore Hill, 20 Sagamore Hill Road, Oyster Bay
When: Visitor Center and Bookstore: Wednesday through Sunday, 9am-5pm; the park operates seven days a week, generally from Memorial Day through Labor Day
The Roosevelt Museum at Old Orchard: Wednesday through Sunday, 10am-5pm; extended schedule as above.
The grounds are open every day from dawn to dusk. Sagamore Hill is typically closed on Thanksgiving Day, Christmas Day and New Year's Day.
How much: Tours of the Theodore Roosevelt Home: $5 adults (tickets available at the Visitor Center); free for children under 15. Sometimes, if the park is particularly busy, the first floor of the home is opened for viewing at 4:15pm, and the abbreviated tour is $3.
Roosevelt Museum at Old Orchard: free
Nature trail, beach, walks and activities on the grounds: free
Parking: free
How to get there: If using a GPS navigation device, use the address 12 Sagamore Hill Road, Oyster Bay, NY 11771 (the site of the Visitor Center at the entrance to the park). Sagamore Hill is accessible from the Northern State Parkway (Exit 35N) or the Long Island Expressway (I-495) Exit 41N. After exiting, take Route 106 North for six miles into downtown Oyster Bay; then turn right onto East Main Street and travel two miles. Turn left onto Cove Neck Road and proceed 1.5 miles to Sagamore Hill. Visitors using the Long Island Railroad (LIRR) would take a taxi from the Oyster Bay or Syosset stations.
For more information: 516-922-4788 or
www.nps.gov/sahi
(Photo Credit: NPS photo courtesy Sagamore Hill NHS)