Check out some great family events, including kid-friendly shows and Father's Day activities, happening in Nassau County, Long Island this June.
One Bad Apple
Mix Snow White, a queen, a witch, and seven crazy dwarfs and you get a hilarious twist on the classic tale of Snow White and the Seven Dwarfs. Children will laugh long and hard at the comedic actions of the characters as they bumble along in their misadventures. A perfect family outing. June 3-5; show times vary. $10. Theatre Three, 412 Main Street, Port Jefferson, NY. 631-928-9100.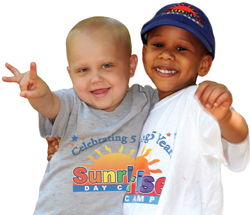 Rise and Shine
A brisk three-mile walk can benefit children with cancer when you participate in the Walk to Help the Sun Rise fundraiser on June 5. Proceeds support Sunrise Day Camp, the first day camp in the nation designed for children with cancer ages 3-16 and their siblings. Kids attend the camp free of charge and enjoy a summer filled with fun, friendship, and activities. The walk takes place rain or shine on the Henry Kaufmann Campgrounds, 75 Colonial Springs Road, Wheatley Heights, NY.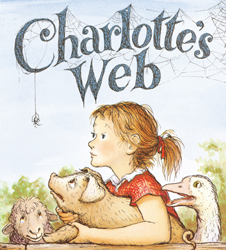 A Tale of Two Friends
The endearing children's tale Charlotte's Web plays June 5 at 2pm at Landmark on Main Street. This Theatreworks production is based on E.B. White's story of the friendship between a pig named Wilbur and a little gray spider named Charlotte. Children will be intrigued by this tale, featuring endearing farm animals, selfless love, and the true meaning of friendship. $18. 232 Main Street, Port Washington, NY. 516-767-6444.
Fun with Dad
It's Dad's day. Do something fun! Here are some suggestions for your family:
Kids Workshop: Build a valet organizer just in time for Father's Day. The class is offered the first Saturday of each month for children ages 5-12. This month it's on June 4, 9am-12pm. FREE. Home Depot, 600 Hempstead Turnpike, Elmont, NY. 516-488-8500.
Pirate School With Billy Bones: Join Billy Bones as he teaches lessons on how to act like a swashbuckling buccaneer. Kids will get a chance to participate. Watch out for magic, bubble-play, and puppetry with eccentric props and slapstick antics. June 12 at 2pm. $4 with $10 museum admission; $8 theater only. Long Island Children's Museum, 11 Davis Avenue, Garden City. 516-224-5800.
Father's Day Picnic: Celebrate Dad with a special two-hour picnic workshop filled with yummy delights and take-home tasty treats. The Father's Day menu includes sliders, oven baked steak fries, cornbread, sports sugar cookies, root beer floats, and "Dad's Day Dessert Tie." June 17, 5-7pm. $45 adults; $49 kids. What's Cooking?, 30 East Main Street, Oyster Bay. 516-922-2665.
Father's Day at the Museum: Fathers and grandfathers are invited to visit the Heckscher Museum admission-free on their special day. June 19, 11am-5pm. FREE for fathers and grandfathers; $8; $6 seniors (62+); $5 ages 10 and over; FREE under 10; reduced fees Town of Huntington residents. The Heckscher Museum, 2 Prime Avenue, Huntington. 631-351-3250.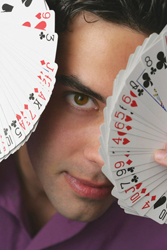 Now You See It...
Don't blink! Master Magician Michael Carbonaro has astounded audiences everywhere. Young people may remember him from the Disney show The Wizards of Waverly Place, and adults may recall seeing him on Jimmy Kimmel Live. Look long and hard at objects because now you see them, but in the twinkling of an eye, they could disappear - or even levitate. Wow! How did he do that? His performances are magical, musical, and always fun. When audience members become the magician's helpers, who knows what could happen? Catch the show on June 18, 11am and 2pm. $9. CM Performing Arts Center, 931 Montauk Highway, Oakdale. 631-218-2810.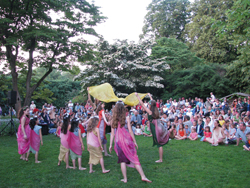 Midsummer Magic
This Midsummer Night is sure to conjure up fairy dust and gossamer dreams. Bring a blanket and a picnic dinner, relax, and enjoy the magical aura and charm of the night at Old Westbury Gardens. Music and dance performances are sprinkled throughout the grounds. June 25, 6-9pm. $15; $12 in advance; FREE children 17 and under when accompanied by an adult. Old Westbury Gardens, 71 Old Westbury Road, Old Westbury. 516-333-0048.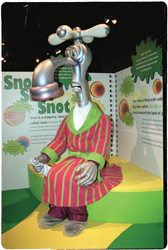 Like It or Snot
Where does all that gunk come from? Kids can't help but be intrigued at the inner workings of their bodies. Oozy, gooey, yucky stuff that is often impolite to talk about. But not here. Grossology: The (Impolite) Science of the Human Body is a new exhibit at the Long Island Children's Museum that allows kids to explore the mysterious ways the body works to keep us healthy. Burps and boogers, BO and snot will all be up for discussion at "Gross Me Out Gala," on June 29, 6-9pm. $8 with $10 museum admission. Long Island Children's Museum, 11 Davis Avenue, Garden City. 516-224-5800.
Also see: A 'See-Worthy' Festival in Port Washington
Our Online Calendar, for even more upcoming family events on Long Island and in the NYC area