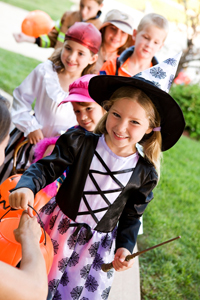 Check out all the Halloween events happening in Nassau County, Long Island, this October. We've compiled a list of our favorite activities for families, from pumpkin-filled parties to spooktacular shows and frighteningly fun festivals.
Celebrate the holiday as it was marked more than 130 years ago during 1880 Long Island Halloween. Visitors can enjoy ghost stories, magic lantern shows, jack-o'-lantern carvings, and a tour of haunted buildings. Entertainers such as the local grave digger at the cemetery will tell tales. October 23-24, 30-31. 10am-4pm. $10; $7 seniors over 60 and children ages 5-12. Old Bethpage Village Restoration, 1303 Round Swamp Road, Old Bethpage. 516-572-8400. www.nassaucountyny.gov/parks.
The 'Celebrating Children' Halloween Party will include dinner, Halloween activities, games for children, and a children's costume parade. Hosted by and benefiting The Education and Assistance Corporation. October 28, 6-8:30pm. $75; $25 children ages 6-14. Crest Hollow Country Club, 8325 Jericho Turnpike, Woodbury. 516-692-8000. www.cresthollow.com.
Join a special Halloween Boo Bounce open bounce session and receive a BounceU "Trick Or Treat" Bag with each paid admission. October 29; check website for times. $12.95 per child. Call or go online to reserve your spot. BounceU Farmingdale, 101 Carolyn Boulevard, Farmingdale. 631-777-5867. www.bouneu.com/cities/farmingdale.ny.
Take a Spooky Walk Through the Woods at Tanglewood Preserve, sponsored by the Center for Science Teaching and Learning. The wooded paths on the preserve will be transformed for Halloween with eerie lighting, special effects, and characters stationed along the way. A friendly haunted walk is also available for younger children. October 29, 7-9:30pm. $10 children; $5 adults; admission includes Halloween craft activities and entry to the Amazing Animals exhibit. Tanglewood Preserve, 1 Tanglewood Road, Rockville Centre. 516-764-0045. www.cstl.org.
Rein at the Garden City Hotel will host a Children's Halloween Costume Breakfast on October 30. Guests will be greeted by classic characters and costumed servers. Children may decorate pumpkins while a master garde manger demonstrates jack-o-lantern carving techniques. The menu will include tasty trick-or-treat surprises such as scary ghost pancakes, spider punch, pumpkin bread, and spookily inspired cupcakes, all served in a Halloween-decorated environment. Reservations encouraged. 9:30am-12:30pm. $27.95; $13.99 for children under 12; FREE children under 2. The Garden City Hotel, 45 Seventh Street, Garden City. 516-747-3000. www.gardencityhotel.com.
Guests at Halloween Family Fun Day can enjoy a costume contest, DJ, goo making with Mad Science, gourd decorating, and more. October 30, 11am-3pm. FREE. Broadway Mall, 358 B Route 106 & 107, Hicksville. 516-939-0679. Check www.broadwaymall.com for updates on activities.
Show off your costume, decorate your own goody bag, go gallery trick-or-treating, get your face painted, listen to eerie music, and make some creepy craft projects to take home at LICM's 9th Annual Ghostly Gala. Special guests will appear in the LICM theater. October 30, 6-9pm. $9; advance ticketing required. Long Island Children's Museum, 11 Davis Avenue, Garden City. 516-224-5800. www.licm.org.
During Old Westbury Gardens' Scarecrow Celebration and Masked March, visitors can learn about plants that have perilously barbed bark, fruits that reek unpleasant smells, and more icky wonders of the natural world. Arrive early to watch pumpkin carvers in action. Halloween costumes are encouraged. October 30, 12-3pm. $10; $8 seniors; $5 ages 7-17; FREE children 6 and under. Old Westbury Gardens, 71 Old Westbury Road, Old Westbury. 516-333-0048. www.oldwestburygardens.org.
Visit the Queens County Farm Museum on Halloween weekend for a Halloween Haunted House and Hayrides. In addition to these spooky attractions, Halloween treats, mulled cider, pumpkins, and apples will be sold. October 30-31; starts at 4pm. $4 per person for the haunted house; $2 per person for hayrides. Queens County Farm Museum, 73-50 Little Neck Parkway, Floral Park. 718-347-3276. www.queensfarm.org.
At the Halloween at the Beach: Bayville Car Show, prizes will be awarded to the vehicle best decorated for Halloween as well as the best adult and children's costumes. October 31, 8am-4pm. $5; free children under 12 and adults in costume. Charles E. Ransom Beach, off Bayville Avenue in Bayville. 516-624-6160. www.nyautofest.com.
Have a Halloween Cooking Party and make special treats like holiday pretzels and chocolate candies. Add a little structure, learning, and fun to a special day. October 31, 11am-1pm. $40. Kitchen Time's Party Place, 691 Broadway, Massapequa. 516-795-4980. www.kitchentime.net.
Also see our roundup of Halloween Articles, featuring crafts, recipes, resources, advice, and even more family activities (including our annual guide to pick-your-own pumpkin farms in your area!)
Find more Family Events in Nassau County, Long Island, in our Online Calendar