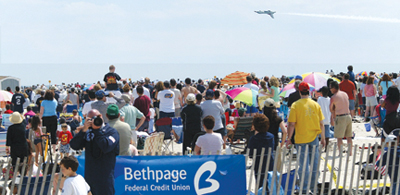 Kicking off the summer season at Jones Beach, the U.S. Navy Blue Angels' screeching silver jets and other vintage planes will light up the sky this Memorial Day weekend for the 7th Annual Bethpage Federal Credit Union Air Show. Soaring, spinning, and screaming, these planes will perform over the Atlantic Ocean in an unforgettable aerobatics display.
Sponsored by Bethpage Federal Credit Union, the Air Show at Jones Beach features acts that defy the imagination. The first Air Show was held in 2004 in a unique collaboration with the New York Office of Parks, Recreation and Historic Preservation's Long Island region.
"Each year, Long Islanders are treated to one of the largest air shows in the country, headlined by some of the most elite pilots in the world. Their commitment to excellence, pride and precision is an inspiration to us all," says Linda Armyn, senior vice president, Bethpage Federal Credit Union.
Info
Where: Jones Beach State Park
When: Saturday and Sunday, May 29 and 30, 10am-3pm.
How much: The Air Show is free to the public but a $10 vehicle fee is required for entry to the park.
For more information: New York State Parks Department Regional Office, Recreation Department, at 631-321-3510 or visit www.jonesbeachairshow.com or www.lovebethpage.com
Bethpage Federal Credit Union has strong ties to aviation history, as it was founded in 1941 by former employees of Grumman Aerospace, now Northrop Grumman Corporation. The Blue Angels' inaugural flight in 1946 used Grumman Hellcats, built on Long Island. Formed by Admiral Chester Nimitz after World War II, the Blue Angels went on in other Grumman aircraft such as the Bearcat, Cougar, and Tiger. Now, the Blue Angels are back to thrill the whole family in an event that celebrates Long Island's aviation history and honors the pilots who have protected Americans.
Along with the Blue Angels, this year's scheduled performers include Canadian Forces F-18 Demo Team, United States Army Golden Knights Parachute Team, A-10 East Demo Team, United States Air Force Heritage, 106th New York Air National Guard Air Flight Rescue Demo HC-130/HH-60, Sean D. Tucker-Team Oracle, American Air Power Museum Warbirds, Warbirds Over Long Island, Red Bull Helicopter, and more.
Don't forget the earplugs!
For more Memorial Day weekend events in Nassau County, visit our Online Calendar.