The Ringling Bros. and Barnum & Bailey will bring their "Fully Charged" circus to the Nassau Coliseum March 16-20, featuring high voltage family fun.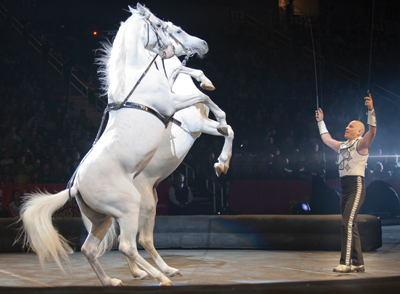 Send in the clowns and a host of other zany circus performers and animals! Ringling Bros. and Barnum & Bailey is presenting Fully Charged, its brand new, 141st edition of the Greatest Show on Earth.
Children of all ages will marvel at Tabayara, an animal trainer who rides stallions as they gallop at full speed, leads elephants in a choreographed dance, and stands eyeball to eyeball with no less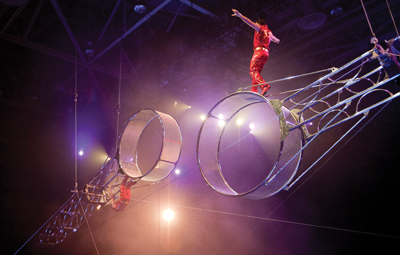 than a dozen ferocious tigers as he invades their cage.
Jaws will drop as the strongman duo of Dmitry and Ruslan gives the word 'manpower' a whole new meaning. Together the brawny pair will lift large, cumbersome telephone poles that weigh up to half a ton, then twirl them above their heads while acrobats balance on top.
High-energy acrobatic performances by the Fernandez Brothers will bring gasps of awe and amazement, as will Brian Miser, the Human Fuse, who rockets through the air from his self-made human crossbow at 65 miles per hour. Through it all, audiences will be applauding the high-voltage fun and side-splitting performances the circus offers.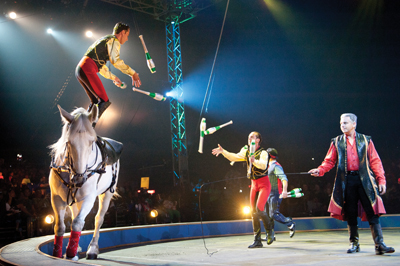 Show Details
What: Ringling Bros. and Barnum & Bailey Circus
When: March 16, 7:30pm. March 17-20, times vary.
Where: Nassau Coliseum, 1255 Hempstead Turnpike, Uniondale
How much: $15 and up
For more information: 516-794-9300; www.nassaucoliseum.com or www.ringling.com
Also see: Nassau County Calendar Highlights: March Family Events
Our Online Calendar, for even more family activities on Long Island and in the New York metro area