Even when you've planned and prepared till the cows come home, hosting your child's birthday party can have its moments of stress - especially when a guest becomes unruly or disruptive, threatening the fun for everyone. We've compiled advice from party experts in the Nassau County, Long Island, area on the best way to deal with a rude party guest, so you'll be prepared to save the day when the time comes.
Party Poopers, No More!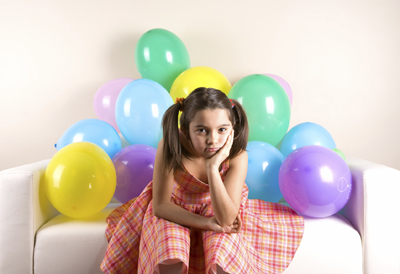 Even when you've planned and prepared till the cows come home, hosting a birthday party for kids can have its moments of stress. Remember that the occasion is marking another of your child's milestones (one year older, one year wiser, and one more candle on the cake!) - so don't let something as inconsequential as a whiny or unruly child ruin your day, and especially your child's.
All your prep will go far in creating an environment conducive to fun and peace: Pick age-appropriate activities and party places, know your guests (and their parents' expectations), etcetera, etcetera. And then be prepared for anything. As Natalie Swatz, a restaurant manager with 10 years of party entertaining experience under her belt, says, "Not every four-year-old likes hot potato or balloons. By having clear plans in place, you've certainly won half the battle."
To prepare you for the other half, we asked her and other local experts - who've seen it all - for their advice:
How can parents deal with a young guest who is being disruptive at their child's party?
"If the parent of the rowdy child is not present at the birthday party, the host of the party has every right to reprimand that child by asking him/her to discontinue the action or take a 'time-out.' The host is responsible for the safety of each and every child at the party-therefore, the host should do what she feels she would do if it were her own child misbehaving. If the child does not cooperate, the host might need to contact the parents of that child and ask them to return to the party.
Parents should be expected to attend a party for children between the ages of one and five. And, in my opinion, there should be at least one parent for every five kids, at any age. As a teacher, I find that by the time they are six or seven years old, children are able to follow directions given by others. This is usually the age when children become more easily managed.
My suggestion: If you have the space for parents, order them a pizza pie and have them stay to monitor their child's behavior. Hosts have enough to worry about during their child's special day!"
-Artemis Corsini, owner, Arty's Parties, Massapequa
"The responsibility for keeping kids engaged and having a good time falls to your venue and/or the party host(s). In my experience, engaged kids rarely get unruly or rowdy. Kids are easily managed at parties at any age if there are enough activities to keep them busy.
As the host parent, you should always bring a guest list with phone numbers with you if you know that parents will be dropping their children off. This is important in case of an emergency. If a child cannot seem to stay engaged and is creating a situation where the birthday child is not enjoying him/herself, then don't hesitate to call that parent and ask that the child be picked up early.
In terms of chaperones, I recommend having at least two if children are being dropped off."
-Michele Anselmo teacher, Center for Science Teaching & Learning (CSTL) Education Initiatives, Rockville Centre
"If as a host parent you know the disruptive child well, you should be able to take him off to the side to ask if everything is all right. Mention in a nonjudgmental way that you have noticed he is not behaving as well as he usually does. If the child won't open up to you, encourage him to call his parents to discuss the situation or to request an early pick-up. Have your cell phone with you, dial up the parents, and allow the child to express himself freely. If the host parent does not know the child well, try to distract him or re-direct his energies, give him some task to make him feel special, or assign another parent to shadow him.
Regarding parent chaperones: For parties with guests ages 2-4, each child should have one parent attending the event to help them with the activities, to calm them down, or to encourage them to participate. A good parent-to-child ratio for kids ages 5-6 can be one adult for every three to four kids. For parties with guests ages 7-12, two or three parent chaperones should be there, with one acting like a lifeguard at a pool, to keep an eye on everything. Parent chaperones should be given specific assignments to help facilitate the party.
Parties should be designed in segments, with each activity lasting about 20 minutes, to keep the kids interested and focused. Choose activities that are not heavily competitive and do not lend themselves to aggressive behavior. For example, piñatas can become a survival-of-the-fittest activity where the bigger kids scoop up more of the candies and the younger ones are left with less candy and more frustration and hurt feelings. Musical chairs sounds like fun but can get physical, and the pushing and shoving can cause problems. Avoid these types of games to ensure a smooth party."
-Paula Gottlieb Herman, special events planner, LilChefs.com Special Events, serving the greater tri-state area
"As birthday parties are trending out of the house and into party venues, there is potential for parents to drop off their child, leaving the host parent responsible for them. The most important way to avoid an overly rowdy or unruly party guest is to do your research on the venue and its birthday party package. It is the responsibility of the birthday child's parent to be aware of how the party will run. Ideally, there should be no downtime during the party. If children are constantly interacting with others, they will be less likely to become unruly.
Another key to a successful party is a good staff-to-guest ratio. For every five children, you should have at least one staff member or parent to help keep the children engaged and immersed in the activity. Generally, children under five should be accompanied by an adult.
If a child does become unruly or rude, the child must be spoken to in a calm, assertive, and direct manner. Identifying the difficult behavior and refocusing the child on the positive aspects of the birthday party will allow the child to have a more enjoyable experience. The party host and venue's staff members should work together to ensure a safe, fun, and memorable party for all in attendance."
-Lynne Gerald, president, What's Cooking?, Oyster Bay
"There are so many reasons for unruly behavior (sheer excitement, inadequate sleep, overstimulation, anxiety) and often the party situation does not offer a clear opportunity to understand exactly where it stems from. Most children's party venues have specific safety and/or behavior guidelines, a.k.a. 'house rules' that staff communicate and enforce during events. These rules can often be used as a starting point for encouraging positive behavior when children are acting out.
Children need to know that there is a benevolent authority figure who is in charge of their care. If you are hosting a party on your own, it is wise to gather the children up early, greet them as a group, and establish the tone. For children ages 3-6, it is helpful to have one adult for every five children so that any behavior issues can be handled without taking attention or care away from the other guests.
Discipline should be calm, positive, and clear. Rather than engaging in a power struggle, yelling at, or otherwise punishing a child in your care, try restating the rules, redirecting a child to another area and activity, or removing them by "taking a break" with an adult.
If you are hosting a party where children are being left in your care, an emergency contact list is a reassuring piece of information to have on hand. Have a guest list ready with parents' cell phone numbers and a back-up contact number. It will set your mind at ease and also offer you a clear option should you find yourself dealing with any behavior that has escalated beyond your comfort zone."
-Mara Esposito, education director, Not Just Art, with locations in Oyster Bay and throughout Long Island
See more advice from experts in your area on how to handle an unruly party guest