Keep your kids busy in the winter with fun indoor activities like friendship bracelets. The Landyard Ladies in Nassau, Long Island host birthday parties and also offer friendship bracelet making kits that can be purchased online. It's the perfect way to bring camp home.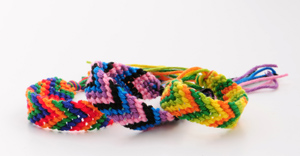 It's been around seemingly forever, but somehow the friendship bracelet has never lost its appeal. It's difficult to think of summer camp at all without thinking about all the crafts you made there, but friendship bracelets—whether made of thread, hemp, lanyard, or beads—seem to scream "summer" in a way no other craft is quite able to. An easy project to embark upon on a rainy day, as an after-school activity, or as a treat at a slumber party, the bracelet is versatile and low-maintenance, a perfect crafting combo.
If you're intimidated by the idea of improvising on this one, you may want to invest in a kit from The Lanyard Ladies, run by Heidi Cohen and Colleen Demas, two Long Island moms. The Lanyard Ladies Craft Kits come with everything you need to make the bracelets including 6 colors of plastic lacing, 8 skeins of embroidery floss, cord, metal hooks, assorted beads, and an instructional DVD, and can be purchased online ($19.95).
If you're confident without a kit but want some inspiration, The Lanyard Ladies site also features bracelet patterns and design styles that can be easily mimicked. Ready to craft? We'll make a friendship bracelet for you if you make one for us! Ah, the memories!
Want to see more of our camp coverage? We've got a helpful full-year camp countdown timeline of what you should be doing right now regarding your family's camp planning.