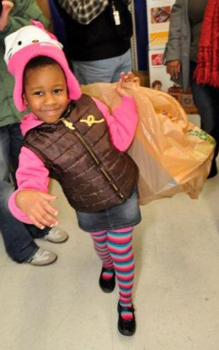 On December 17, more than 100 of Long Island's homeless and disadvantaged children enjoyed a Christmas Shopping Spree at Toys R Us in Carle Place, NY, hosted by Rose M. Walker, Nassau County Chair of Legislature's Health and Social Services Committee, Legislator Dennis Dunne, and North Hempstead Town Supervisor Jon Kaiman.
Local businessman Ernie Canadeo of EGC Group played Santa during the event and provided buses and free toys for families at homeless shelters across Long Island. The children and their families arrived at Toys R Us via buses at 12pm and were ushered into the store, where they were allowed to pick out toys for Christmas.
Due to the toughened economy some families cant afford some of the expenses associated with the holidays. Homelessness is on the rise across the region, particularly in suburban areas. According to the most recent U.S. Department of Housing and Urban Development survey, the national percentage of homelessness remained steady at about 1.6 million people, but the percentage of rural or suburban homelessness rose from 23 percent to 32 percent.