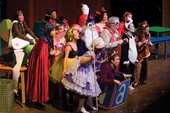 Toyland on Stage
Don't miss the holiday favorite, Babes in Toyland, complete with the "March of the Toys" and storybook characters on stage at the Tilles Center for the Performing Arts at C.W. Post Campus in Brookville, December 5 at 2pm. 720 Northern Boulevard, Greenvale. 516-299-3100. www.tillescenter.org.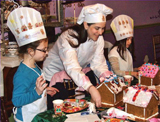 Gingerbread Creations
Kids get into the holiday spirit and immerse themselves in creating Christmas or Chanukah gingerbread houses with LilChefs.com's Special Events' Annual Gingerbread Decorating Workshop. Wearing aprons and chef hats that the lil' chefs decorate and personalize themselves, kids will put their own touch on their gingerbread creation, watch as it becomes a piece of art, listen to candy-inspired music, smell the delicious scent of gingerbread in the air, and taste it, too! They'll also design their own gingerbread bead necklace. All chefs pose for a photo with their finished masterpiece, and even receive a personalized Certificate of Accomplishment. For ages 2-14. $30 per child with accompanying adult. December 13. 10am-12pm, 1-3pm. Registration required; contact Chef Paula. Parent Resource Center, Landmark on Main Street, 232 Main Street (lower level), Port Washington. 516-338-0552. www.LilChefs.com.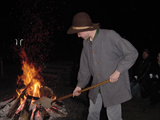 A 19th-Century Christmas
Step back in time to experience Christmas in the past with Holiday Candlelight Evenings. The buildings in the historic Old Bethpage Village Restoration will be lit by candlelight inside, while a bonfire will be burning at the village's crossroads. Nineteenth-century music will be playing, along with other holiday musical entertainment. Each night, families can enjoy Magic Lantern Shows, hear stories of Christmases past in the Manetto Hill Church, and during the last week of the month (December 26-30 only), watch as traditional American dances are performed. Families are encouraged to bring their own safe lighting device (no open flame candles or propane devices). All ages. $10; $7 ages 5-12 and seniors; under 5 FREE. December 19-20 and 26-30. 5-9:30pm. Old Bethpage Village Restoration, 1303 Round Swamp Road, Old Bethpage. 516-572-8400. www.nassaucountyny.gov/parks.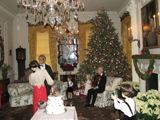 Vintage Christmas
Antique clothing and toys are on display at Old Westbury Gardens, where the house is decorated for Christmas in horticultural arrangements, and holiday activities including winter crafts, a Christmas Carol reading, and visits with Santa are offered throughout December. 71 Old Westbury Road, Old Westbury. 516-333-0048. www.oldwestburygardens.org.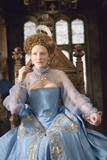 An Elizabethan-Style Holiday
If you loved the movie Elizabeth: The Golden Age, you won't want to miss the new Elizabethan Banquet on display throughout the holiday season at Planting Fields. The actual costumes that Cate Blanchett wore in the movie are displayed in Coe Hall, the Elizabethan Revival-style mansion. Families can also watch showings of the movie and kids can participate in special related programs. On select weekends, actress/singer/writer/director Ann Alford portrays Queen Elizabeth and roams about Coe Hall. For ages 3 and up. $10; $3 ages 3-12. Friday-Sunday (except Christmas Day) through January 3. 11:30am-3:30pm. Planting Fields Arboretum State Historic Park and Coe Hall, 1395 Planting Fields Road, Oyster Bay. 516-922-8676. www.plantingfields.org.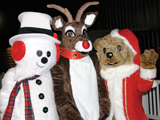 Holiday Adventure Park
Long Island has its own North Pole. At Bayville Winter Wonderland, you'll be dazzled by the park's animated Captain Bay's Yo Ho Holiday Light Show, which tells the story of the pirates' first Christmas. You can visit Santa's Toy Factory Funhouse in a 3D adventure, drink hot chocolate and roast marshmallows over a fire, hop aboard the Holiday Express train ride around the park, go ice skating with holiday characters, and enjoy indoor rock climbing. Kids can also tell Santa their wishes and pose for a holiday portrait. All ages. $10 day price; $12 night price (does not include Holiday Light Show); skating $8; indoor rock climbing $6.75. Open through January 3. Weekends only till December 13: Fridays 5-10pm, Saturdays 12-10pm, Sundays 12-9pm; then weekdays, too, from December 14, 5-9pm. Closed Christmas Eve and Christmas Day. Bayville Adventure Park, 8 Bayville Avenue (across from Ransom Beach), Bayville. 516-628-TOYS. www.bayvillewinterwonderland.com.
For more family events in Long Island and the NYC area, visit our full Online Calendar
Get the best Long Island events delivered to your inbox each week when you sign up for our newsletter