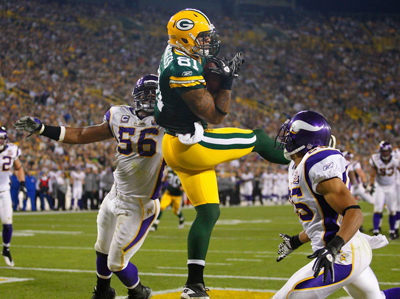 What do New York Islander Clark Gillies, Olympic gold medal figure skater Sarah Hughes, and Green Bay Packer Andrew Quarless have in common? Yes, they're all famous professional athletes (no points for that one), but all three are also Nassau County natives - a claim we're proud to make. In return for giving us a good name over the years, these three, along with sports broadcasters Mary Carillo and C.J. Papa and Arkansas Razorback D.J. Williams, will be honored at the Nassau County Sports Commission's 16th Annual Salute to Champions Awards Dinner on May 3 at the Woodlands in Woodbury, NY. The awards given will include Nassau County Athlete of the Year (Quarless), Nassau County Sports Hall of Fame Inductee (Gillies and Hughes), and the Broadcast Media Award (Papa).
Though the celebrity roster is impressive, the highlight of the event is the outstanding local student athletes and coaches that will be honored on the same stage. These 2011 Scholastic Honorees include:
High School Outstanding Achievement Award Recipients

Catherine Powell - Valley Stream South High School
Lauren Simicich - Floral Park Memorial High School
Barbara Sullivan - Garden City High School
Amanda Walsh - Our Lady of Mercy Academy
Gene Garay - Oceanside High School
Rahmik Perry - Hempstead High School
Christopher Shevins - Wellington C. Mepham High School
Kyle Zahradka - H. Frank Carey High School
Drew Zahradka - H. Frank Carey High School
NCSC High School Coach of the Year Award Recipients

Russ Cellan - Freeport High School
Debbie Rut - Plainview JFK High School
For more information and a full list of honorees, visit www.nassausports.org.