Check out some great family events happening this April in Nassau County, Long Island, including Easter egg hunts and other holiday events, an Earth Day celebration, and some kid-friendly shows.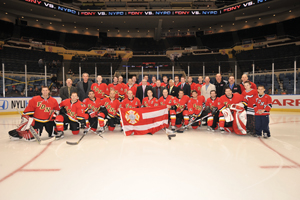 Hot Game on Ice
Watch the ice melt as the friendly rivalry heats up when New York's Bravest battle New York's Finest in the 38th Annual FDNY vs. NYPD Hockey Game. The teams face off as the Bravest try to retain their hold on the championship, and the Finest try to clinch this one. Expect fierce and loyal fans to show their support for their teams in unique ways as the puck flies across the ice. Proceeds support the FDNY and NYPD hockey teams and the charities they sponsor. April 9 at 1pm. All ages. $20. Nassau Coliseum, 1255 Hempstead Turnpike, Uniondale. 516-794-9300.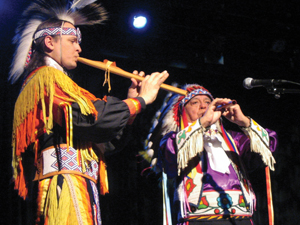 All-American Earth Day
Thunderbird American Indian Dancers celebrate Earth Day with a performance of drumming, songs, dances, and traditional regalia from various Native American peoples. Children can participate in a workshop with the group prior to the performance. April 9 at 3pm (children's workshop at 1pm). $7-$15; $10 for workshop. Adelphi University Performing Arts Center, 1 South Avenue, Garden City. 516-877-4040.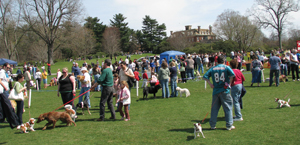 It's a Dog's Weekend
This is Fido's chance to shine. You and your dog can show off your skills when the Ladies Kennel Association sponsors Dog Games, Demonstrations, and Exhibits. There will be demonstrations by Long Island Agility and exhibits by animal welfare and rescue groups, not to mention the Canine Good Citizen test and a dog treat hunt. April 16-17. 11am-3pm. All ages. $8; $5 seniors, $3 children 7-17; FREE children 6 and under. Old Westbury Gardens, 71 Old Westbury Road, Old Westbury. 516-333-0048.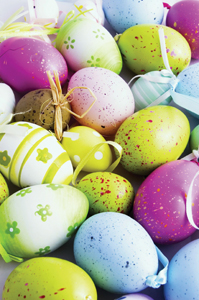 Green Eggs and Rabbits!
Hop over to these events with your little ones in tow to celebrate the Easter season.
Long Island Rabbit Show: The Long Island Rabbit Breeders Association showcases rabbits of various breeds and classes, including Holland Lops, Belgian Hares, New Zealands, English Angoras, and others. A competition takes place in the Long Island Fair Exhibition Hall. April 9. 10am-3pm. All ages. $10; $7 children 5 years and up; seniors are FREE. Old Bethpage Village Restoration, 1303 Round Swamp Road, Old Bethpage. 516-572-8400.
At What's Cooking?, take part in a delightful Passover/Easter Feast. The young chefs will make colorful cupcakes, Matzoh pizza, chocolate chip macaroons, a chocolate Easter egg nest with jellybeans, and pink lemonade, and then decorate a variety of Easter eggs. April 11. 4:30-6:30pm. $45; $49. What's Cooking?, 30 East Main Street, Oyster Bay. 516-922-2665.
Egg-stravaganza: An eggs-cellent way for 2- to 3-year-olds and their parents to spend the day. Decorate an Easter basket and join in the fun as you hunt for some unusual eggs along the trails. As the saying goes, "Finders, keepers;" you take home whatever is inside. Registration is required. April 17. 10:30-11:15am. $8 per child; adults FREE. Theodore Roosevelt Sanctuary & Audubon Center, 134 Cove Road, Oyster Bay. 516-822-3200. [email protected].
Spring Egg Hunt: Children will have fun searching for hidden eggs. Bring a basket to collect them. April 23 at 10am. $6; $4 children and seniors; FREE 2 and under. Cold Spring Harbor Fish Hatchery & Aquarium, 1660 Route 25A, Cold Spring Harbor. 516-692-6768.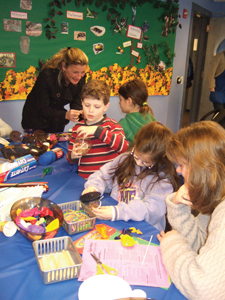 Rev Up Your Mind
Time to get the kids' minds in gear! Cyberchase Fun is a week-long program of activities that involve intricate patterns and problem-solving, inspired by Cyberchase-The Chase is On!, currently on view at the museum. Join in the fun with this mind-boggling way to experiment and explore the fun behind the patterns. And don't forget to wear your thinking caps. April 18-22 (except April 20) at 1pm. $10 museum admission. Long Island Children's Museum, 11 Davis Avenue, Garden City, NY. 516-224-5800.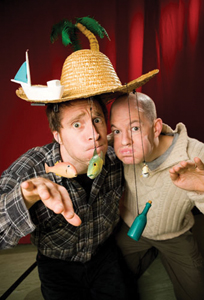 Don't Rock the Boat
Kids will be chuckling as they view the antics of two zany sailors, Jof and Nic, life-long friends who meet through bizarre circumstances involving a chicken, a deserted island, and a sombrero. Boats, a Terrapin Puppet Theatre production of their story, will leave a lump in your throat and a smile on your face - and surprise you with a twist at the end. April 22-23 at 2pm. $4 with $10 museum admission; $8 theater only. Long Island Children's Museum, 11 Davis Avenue, Garden City. 516-224-5800.
Oh No, Not You!
The pretty princess cannot seem to get away from the affections of the frog in The Tale of the Frog Prince, a side-splitting audience participation comedy based on the story of a bewitched frog prince who lives in a swamp on a large kingly estate. To break the witch's spell, the frog must be kissed by a beautiful princess, which is accomplished with hilarious results. Saturdays and Sundays (except April 24) at 1pm at Arena Players Second Stage Theatre, 294 Route 109, East Farmingdale. 516-293-0674.
Also see: March of Dimes' March for Babies in the New York Metro Area
Our Online Calendar, for even more upcoming family events on Long Island and throughout the New York metro area