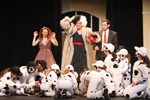 Dogs On Stage
Count all 101 Dalmatians in this theatrical performance about the adventures of one Dalmatian couple and a family of puppies in London who rescue other puppies from the fate of becoming dog-skin fur coats. All ages. November 7 and 14 at 2pm. $10. BroadHollow Theatre at Elmont, 700 Hempstead Turnpike, Elmont. 516-775-4420. www.broadhollow.org.

Oyster Bay Scavenger Hunt
Families can pick up an animal shopping list and search the trails of the Theodore Roosevelt Sanctuary & Audubon Center in Oyster Bay for autumn items, during the Fall Scavenger Hunt, November 8 at Noon. 134 Cove Road, Oyster Bay. 516-922-3200. http://ny.audubon.org/CentersEdu_TRoosevelt.html.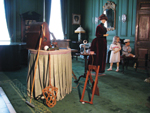 Antique Toys and More
See what's been up in the attic in storage at Old Westbury Gardens. The exhibit Items from the Attic (Museum) includes antique toys and other vintage items and household objects such as an old radio and rug beater from the Westbury House collection. All ages. November 8. 10am-4pm. $8; $5 ages 7-12 and ages 62+; FREE ages 6 and under. Old Westbury Gardens, 71 Old Westbury Road, Old Westbury. 516-333-0048. www.oldwestburygardens.org.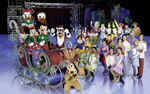 Disney Dazzles On Ice
Enjoy a winter wonderland when 50 characters from 16 Disney stories take to the ice with Disney on Ice's Let's Celebrate. Enjoy watching Mickey and Minnie, a Hawaiian luau with Lilo and Stich, a royal ball with the Disney princesses, and more. Don't forget to bring an unwrapped toy for Toys for Tots to donate in the designated boxes. All ages. $20, $27.50, $32.50, $55, $80. November 10 and 11 at 7pm, November 12 at 10:30am and 7pm, November 13 at 7pm, November 14 and 15 at 11am, 3 and 7pm. Nassau Coliseum, 1255 Hempstead Turnpike, Uniondale. 800-745-3000. www.nassaucoliseum.com.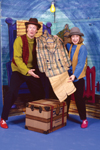 From Paper Bags to Pyramids
The Paper Bag Players perform an interactive show, The Great Mummy Adventure, with painting, drawing, mime, singing, and dancing. Using everyday household items, including cardboard boxes and crayons, the show starts off as a picnic and then turns into a dance-a-thon and an expedition to the lands of the pyramids in search of a mysterious mummy. November 21 at 2pm. For ages 4-9. $15-$18. Landmark on Main Street, 232 Main Street, Port Washington. 516-767-6444. www.landmarkonmainstreet.org.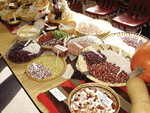 Thanksgiving, Native American-Style
Celebrate Thanksgiving by learning all about American Indian culture and archeology as it relates to the history of Long Island. The Garvies Point Museum celebrates the holiday with an American Indian Fest, as it has done for the past 25 years, featuring primitive cooking demonstrations, a Thanksgiving feast, and activities including fire-making, face painting, spear throwing, and pottery making. $3, $2 ages 5-12, FREE under 5. All ages. November 21 and 22. 10am-4pm. Garvies Point Museum & Preserve, 50 Barry Drive, Glen Cove. 516-571-8010. www.garviespointmuseum.com.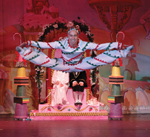 Sweet Holiday Performance
Celebrate the beginning of the holiday season with a performance of The Nutcracker/Land of the Sweets from Long Island's Leggz Ltd. Dance. Watch as Clara and the Nutcracker encounter a world on stage where everything is made of sugar and are mesmerized by brilliant dances by ballerinas and soldiers. November 29 at 2pm. All ages. $50; $25 ages 12 and under (includes museum admission). Parking $2. For tickets, call 516-484-9338, ext. 12 or email [email protected] Nassau County Museum of Art, One Museum Drive, Roslyn Harbor. 516-484-9337. www.nassaumuseum.com.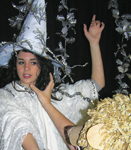 Escape to Narnia
Kids escape to the world of Narnia with the Plaza Theatrical Productions' presentation of the C.S. Lewis classic, The Lion, The Witch and The Wardrobe, at the Show Place at the Bellmore Movies, Saturdays in November. 222 Pettit Avenue, Bellmore.