Check out these local activities and events for children and families scheduled during the month of June in Nassau County, Long Island. Whether you're looking to celebrate Father's Day, catch a kid-friendly show, or just enjoy the great outdoors, we've got all the information a Nassau County family needs.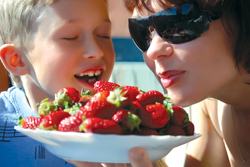 Sweet Strawberries!
Devour fresh ripe strawberries and enjoy strawberry concoctions as well as rides and live entertainment at the Nassau County Strawberry Festival.
June 2-3, 6-10pm; June 4, 6-11pm; June 5, 12-11pm; June 6, 12-8pm. All ages. $2 admission Friday-Sunday, kids under 5 FREE; additional fees for rides.
Bellmore Kiwanis and Lions Clubs, Newbridge Road at Jerusalem Avenue at the BOCES school grounds, North Bellmore. www.bellmorekiwanis.org.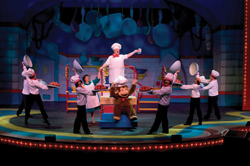 Catch Curious George!
The world premiere tour of Curious George Live! stops at the Nassau Coliseum June 4-6. Families can watch Curious George and the Man in the Yellow Hat live on stage in this musical journey, when they travel across the world to enter Chef Pisghetti's meatballs in the International Golden Meatball Competition. During this adventure, George learns more about friendship, travel, and meatballs than he'd ever imagined.
Suitable for all ages. Tickets are $15-$100. June 4 at 7pm; June 5 at 11am and 3pm; June 6 at 1pm and 5pm. Nassau Coliseum, 1255 Hempstead Turnpike, Uniondale. 800-745-3000. www.nassaucoliseum.com.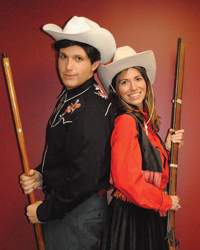 Annie Oakley Live On Stage
Featuring songs including "There's No Business Like Show Business," "Anything You Can Do" and "You Can't Get A Man with a Gun," the favorite musical, Annie Get Your Gun, about Ohio sharpshooter Annie Oakley, comes to the stage in Bellmore. June 6 and 13 at 2pm. $20 adults, $15 ages 6-17 and seniors. Showplace at the Bellmore Movies, 222 Pettit Avenue, Bellmore. For individual and group ticket information and reservations: Plaza Theatrical Productions at 516-599-6870 or www.plazatheatrical.com.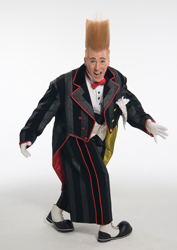 Bello Under the Big Top
The Big Apple Circus presents Bello is Back!, an all-new show featuring daredevil clown Bello Nock, with his gravity-defying hair and trademark tuxedo, along with a roster of exciting circus artists from around the world.
Returning to the circus after an absence of nine seasons, Bello will perform thrilling feats of derring-do with a stylish sense of whimsy for the delight of all ages. He'll be joined by the likes of spectacular acrobats from Italy, Russian wizards on the trampoline and flying trapeze, playful Chinese contortionists, and Picaso Jr., the sensational Spanish juggler. Audience members can take it all in under the Big Top, where seats are never more than 50 feet away.
Bello is Back! runs for 26 performances, through June 6, in Cunningham Park (Francis Lewis Boulevard and Union Turnpike) in Queens and June 11-July 4 in Eisenhower Park (1899 Hempstead Turnpike) in East Meadow. Tickets are $15 and up. For more information and tickets: 888-541-3750 or www.bigapplecircus.org.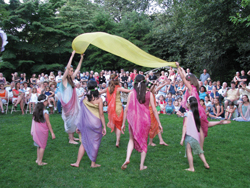 Celebrate Summer
Enjoy an enchanted evening of music and dance in gardens illuminated with lanterns and magical fairies during "MidSummer Night" at Old Westbury Gardens, June 12 at 6pm.
All ages welcome. Admission is $15 ($12 in advance); free for children 17 and under when accompanied by an adults. 71 Old Westbury Road, Old Westbury. 516-333-0048. www.oldwestburygardens.org.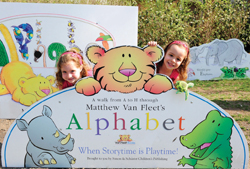 Wild Stories and Songs
Animal Tales Extravaganza is back with another month of live music from the top names in children's entertainment and readings from award-winning children's authors. Meet some of your favorite authors, like Holly Hobbie and Alex Beard, as they read their stories about animals. See top-rated children's entertainment like The Fuzzy Lemons and The Shushybyes perform their original music. Larger-than-life, interactive displays based on children's classics like The Very Hungry Caterpillar by Eric Carle allow children to walk through their favorite animal stories and experience them in a completely new way. Every weekend in June. $11-$15. The Bronx Zoo, 2300 Southern Boulevard, Bronx. 718-220-5100. www.bronxzoo.com.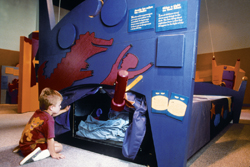 New Exhibits:
From Weddings to Bedtime Rituals to Nautical Art
Gold Coast Weddings Exhibition: 1890-1940
This new exhibit explores the world of glamorous weddings on Long Island's Gold Coast at a time when the great mansions on the North Shore were becoming famous. View a 16-foot archway of silk flowers that recreates a wedding flower display from 1897, and a newsreel featuring wedding dresses and other accessories. See an example of a wedding cake from the 1930s, and learn how wedding traditions began. Answer questions about the exhibit with a text messaging scavenger hunt. Children will enjoy a trunk full of wedding dress-up clothes. Through September 30. 11:30am-3:30pm. All ages. $3.50 per person; children under 12 FREE. Planting Fields Arboretum and Coe Hall, 1395 Planting Fields Road, Oyster Bay. 516-922-3200. www.plantingfields.org.
Night Journeys: An Adventure in the World Of Sleep And Dreams
Take a fascinating journey through the world of bedtime rituals and routines and into the nighttime experience of sleep and dreams in this new exhibit. Visitors enter a whimsical bedroom setting, where they are introduced to sleeping places from many parts of the world. Lie down on an ancient Egyptian bed, try out a headrest from Japan or Somalia, or carry dolls using a Mexican rebozo. 10am-5pm. All ages. $10. Long Island Children's Museum, 11 Davis Avenue, Garden City. 516-224-5800. www.licm.org.
9th Annual Benefit Art Show
Families can view nautical artwork by local artists in the Keepers Quarters at the lighthouse. All artwork is for sale with a portion of the proceeds being donated to the lighthouse. On display through July 18. Opens 10am. FREE. Fire Island Lighthouse, Robert Moses State Park, parking field 5, Fire Island. 631-661-4876. www.fireislandlighthouse.com.
Scales and Stories
Go on an aquatic adventure as you explore the fascinating world of life under the sea and popular children's stories at Fish Tales Extravaganza. Throughout the month, children get to meet their favorite authors and listen as they read their new and classic works. In addition, an entire schedule of live family entertainment, including popular children's talent like Gigi and the Lend Me a Hand Band and John Tartaglia's ImaginOcean will be available. Plus, children can make their very own "fish tale" books. Every weekend in June. Times vary. $17; $13 children. Wildlife Conservation Society's New York Aquarium. Surf Avenue and West 8th Street, Brooklyn. 718-265-FISH. www.nyaquarium.com.
For event more family events in Suffolk County, visit our Online Calendar.