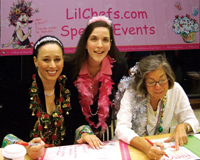 Feel the Love on Valentine's Day
It may be cold outside, but there are all kinds of Valentine's Day activities that are sure to warm your heart. Here are some nearby suggestions.
From the Heart Month
At the Long Island Children's Museum, kids decorate and assemble a heart-shaped spinning mobile to share with someone they love. Offered Tuesdays-Fridays, February 2-26 (except the week of February 15-19). 2:30pm.
On February 13, ages 7 and up get inspired by the Tin Man from The Wizard of Oz, and make their own moving sculptures. 3pm.
At the museum's Healthy Heart Station, kids assemble a puzzle of the heart, discover how the heart pumps blood, listen to their heartbeat, examine an actual preserved heart, and learn what foods keep the heart healthy. February 27. 2pm. All ages.
All activities FREE with $10 admission. Long Island Children's Museum, 11 Davis Avenue, Garden City. 516-224-5800. www.licm.org.
Valentines In Nature
On Valentine's Day, the Animals in Love 45-minute indoor live animal presentation will be followed by a 45-minute trail walk to find and observe animals in love and their habitats. February 14. 1pm. All ages. $3. Theodore Roosevelt Sanctuary and Audubon Center, 134 Cove Road, Oyster Bay. 516-922-3200. [email protected].
Valentine Treats
Valentine's Day Cookie Workshop: Kids learn to bake cookies with Oyster Bay's master baker, Kieran Shea of the Baykery Cafe. Registration required. February 9. 4pm. $15. Raynham Hall Museum, 20 West Main Street, Oyster Bay. 516-922-6808. www.raynhamhallmuseum.org.
Valentine's Day Feast: Sharing A Loving Holiday: Little cupids will create Valentine's Day art projects and whip up candy, Cupid's cupcakes, lasagna roll-ups with garlic love knots, and more. $55 includes meal, craft, and story time. February 9, 12:30-2:30pm and 5-7pm at Little Chefs in Port Washington; February 10 at the same time in Syosset. 9 Soundview Market Place, Port Washington; 516-767-7633. 33 Jackson Avenue, Syosset; 516-496-0754. [email protected].
Valentine's Day Dinner Party: Kids learn to cook heart-shaped meatballs and spaghetti, heart-shaped pizza, Eat-Your-Heart-Out cookies, chocolate-dipped strawberries, and a Love Potion smoothie. February 11. 4-6pm. $49. What's Cooking, 30 East Main Street, Oyster Bay. 516-922-COOK. www.whatscookingny.com.
Fancy Nancy Soiree
Fancy Nancy book fans enjoy a book reading, tea party, Valentine's craft session, and more surprises at this LilChefs.com workshop. Come dressed like Nancy and compete for a prize. For girls ages 3-8. Call Chef Paula for reservations. February 14, 10am-12pm and 1-3pm. $40 includes accompanying adult. Landmark on Main Street, Parent Resource Center, 232 Main Street, Lower Level, Port Washington. 516-338-0552. www.LilChefs.com.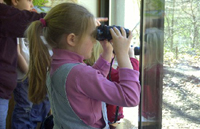 Winter Bird Watching
Bird watchers of all ages won't want to miss the annual Great Backyard Bird Count, where they'll learn to count birds and create a snapshot of where the birds have migrated to across the continent. All ages. FREE. February 12-15. 11am. Theodore Roosevelt Sanctuary and Audubon Center, 134 Cove Road, Oyster Bay. 516-922-3200. [email protected].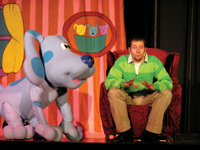 Stage Cues and Clues
During February winter break, kids are treated to Plaza Theatrical Production's performance of Blue's Clues - Live on stage, where the audience can get involved with Host Steve's daily routine and help solve problems and puzzles. Steve's animated puppy, Blue, leaves a series of clues. After the one-hour performance, kids can meet the cast. For toddlers and up. February 15-19. 11am. $10 (includes popcorn and soda). Showplace at the Bellmore Movies, 222 Pettit Avenue, Bellmore. 516-599-6870. www.plazatheatrical.com.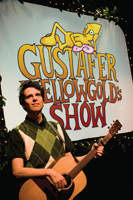 That Little Guy from the Sun
Catch the lovable creature from the sun, Gustafer Yellowgold, in a multimedia presentation of original story songs and animated illustrations, at the Friedberg JCC on February 17, 11am. All ages. $9; an additional $1 at the door. 15 Neil Court, Oceanside. 516-766-4341. www.friedbergjcc.org.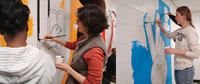 Family Mural Workshop
Families can decorate a mural together with the help of community artist Iandry Randriamandroso, who leads a workshop at the Nassau County Museum of Art on February 18, 10:30am-1pm. All ages. $30 for one adult, one child. $10 additional child. To reserve, email [email protected]. One Museum Drive, Roslyn Harbor. 516-922-3200. www.nassaumuseum.org.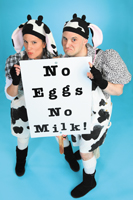 Typecast on the Farm
TheatreworksUSA brings a new children's musical, Click, Clack, Moo: Cows That Type, to audiences on Long Island. Based on the award-winning children's book by Doreen Cronin and Betsy Lewin, this humorous story about compromise and collaboration centers around Farmer Brown, who declares the farm a "tech-free zone." See what happens when the cows get a hold of his granddaughter's computer, resulting in sounds of "click clack moo, clickety clackety moo" from the barn! Ages 4 and up. February 27. 2pm. $18. Landmark on Main Street, 232 Main Street, Port Washington. 516-767-6444. www.landmarkonmainstreet.org.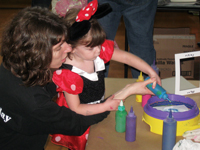 Purim Fun
Celebrate the Jewish holiday of Purim with a family Purim Carnival. Families can enjoy water rides, game booths, hair braiding, spin art, and more. Come dressed in costume and watch a Purim parade. February 28. 1-4pm. All ages. $10 children (extra fees apply for hair braiding and spin art), adults FREE. Mid-Island Y Jewish Community Center, 45 Manetto Hill Road, Plainview. 516-822-3535. www.miyjcc.org.