Check out these great activities and events for children and families scheduled during the month of May in Nassau County, Long Island. Whether you're looking to celebrate Mother's Day or Memorial Day, catch a kid-friendly show, or just enjoy the great outdoors, we've got the information a Nassau family needs.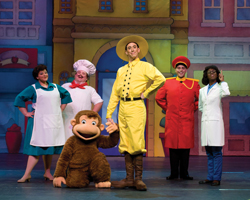 Live On Stage

Check out what's showing around the county this month.
The Jungle Book
Kids can watch their favorite characters from The Jungle Book, Mowgli, Baloo, King Louie and the gang, live on stage as they swing their way through madcap adventures and thwart the ferocious tiger, Shere Khan, in a theatrical performance. May 1, 15 and 22. 2pm. All ages. $10. BroadHollow Theatre at Elmont Children's Theatre, 700 Hempstead Turnpike, Elmont. 516-775-4420. www.broadhollow.org.
Taylor Swift Live in Concert
Families can see pop/country star Taylor Swift live in concert May 14 and 15 at 7pm. Call for pricing. Nassau Coliseum, 1255 Hempstead Turnpike, Uniondale. 800-745-3000. www.nassaucoliseum.com.
Annie Get Your Gun
This musical about Annie Oakley will be performed live on stage. For individual and group ticket information and reservations, call Plaza Theatrical Productions or visit the website. May 23, June 6 and 13. 2pm. $20, $15 ages 6-17 and seniors. Showplace at the Bellmore Movies, 222 Pettit Avenue, Bellmore. 516-599-6870. www.plazatheatrical.com.
Curious George Live! World Premier Tour
See Curious George and the man in the yellow hat live on stage in this musical journey. Watch as Curious George and Chef Pisghetti's famous meatballs go across the world for the International Golden Meatball Competition. George learns more about friendship, travel and meatballs than he'd ever imagined. June 4 at 7pm; June 5 at 11am and 3pm; June 6 at 1pm and 5pm. All ages. $15, $22, $27, $37, $52, $100, plus $3.50 county/facility fee. Nassau Coliseum, 1255 Hempstead Turnpike, Uniondale. 800-745-3000. www.nassaucoliseum.com.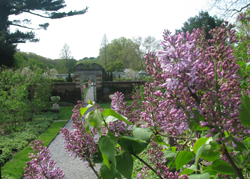 Celebrate Mother's Day
These events are all about making moms feel special.
Mother's Day Celebration
Celebrate Mom's special day with plenty of take-home treats filled with love. Children will create strawberry stuffed French toast with warm syrup, blueberry muffins, teapot and heart-shaped cookies, chocolate-dipped strawberries, long-stem chocolate roses, and pink lemonade. May 3. 4:30-6:30pm. All ages. $49. What's Cooking, 30 East Main Street, Oyster Bay. 516-922-COOK. www.whatscookingny.com.
Gingerbread & Giggles' Cookie Decorating Celebration
Honor Mom and Grandma in a sweet way this year. Join this no-bake-just-decorating cookie party. The celebration includes a cookie bouquet and chocolate mom heart, icing in kid-proof decorating bags, edible markers, and an all-you-can-eat candy buffet. Plus make a customized jumbo Mother's Day card. All moms receive crowns. Reservations required. May 3 and 10. 4pm. All ages. $20 children; adults FREE. Long Island Children's Museum, 11 Davis Avenue, Garden City. 516-320-4752. www.gingerbreadandgiggles.com.
Tea Party
Come have a Mommy and Me tea party with your darling little chef and whip up French toast with fresh berries, Mother's Day soufflé, tea sandwiches, chocolate truffles, lemon squares, and scones with homemade jam. Registration available as well as private play groups for four or more children. May 5. 12:30-2:30pm, 5-7pm. Call for pricing. Little Chefs-Syosset, 33 Jackson Avenue, Syosset. 516-496-0754. And May 6, Little Chefs-Port Washington, 9 Soundview Market Place, Port Washington. 516-767-7633. www.littlechefs.com.
Bouquet Project and Lilac Walk
Create a floral gift for Mom or Grandma for Mother's Day. Then go out on a Lilac Walk. All female visitors ages 18 and older will receive a complimentary lavender plant (while supplies last). Registration required. May 8 and 9. 11am; Lilac Walk 1pm, 2pm, and 3pm. All ages. $10. Old Westbury Gardens, 71 Old Westbury Road, Old Westbury. 516-333-0048. www.oldwestburygardens.org.
Cook with Mom
Kids learn to make spaghetti and meatballs, antipasto salad, garlic bread and dessert for Mother's Day. May 8. 4:30pm. Call for pricing. Kitchen Time's Party Place, 691 Broadway, Massapequa. 516-795-4980. www.kitchentime.net.
Animal Moms
Celebrate Mother's Day by learning about the parenting skills of feathery, fluffy, scaly and slimy moms around the world. Enjoy an indoor live animal presentation followed by a short trail search for animal moms. May 9. 1pm. All ages. $3. Theodore Roosevelt Sanctuary and Audubon Center, 134 Cove Road, Oyster Bay. 516-922-3200. [email protected].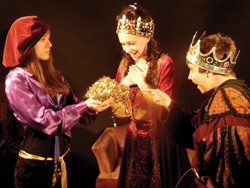 Two Tellings of a Tale
Don't miss the live production of Rumpelstiltskin at two venues this month. Arena Players Repertory Theater Company presents the story of a princess who can spin straw into gold, and the strange bargain she makes with a mysterious little man. The play includes audience participation.
Showing this month at:
Arena Players Second Stage Theatre, 296 Route 109, East Farmingdale. Saturdays and Sundays through May 16.
Suffolk County Vanderbilt Museum, 180 Little Neck Road, Centerport. Saturdays at 3pm through May 15.
Appropriate for all ages. $10. For more information: 516-293-0674 or www.arenaplayers.org.
Foam Fun
Kids in grades 7 and up can get wet, splash around, and dance the night away through soap and suds during a Foam Party at the Mid-Island Y JCC in Plainview on May 16. 7-9pm. $8. 45 Manetto Hill Road, Plainview. 516-822-3535. www.miyjcc.org.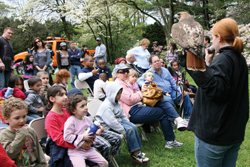 Gardening and Science
Garden Explorers
Through hikes and hands-on activities, children ages 6-12 learn about plants and animals native to Long Island. Registration required. $10 per session or $50 for all six classes. Includes one accompanying adult. Fridays through June 18. 4pm. Old Westbury Gardens, 71 Old Westbury Road, Old Westbury. 516-333-0048. www.oldwestburygardens.org.
Super Science Kids Day
Kids receive FREE admission to the New York Hall of Science (NYSCI) on May 15 (with paid adult admission). Visitors will enjoy access to more than 450 interactive exhibits and games. They can also enter to win some great prizes, like a Super Science Birthday Party at NYSCI. 11am-4pm. All ages. FREE for kids with $11 adult admission. New York Hall of Science, 47-01 111th Street, Flushing Meadows Corona Park, Flushing. 718-699-0005. www.nyscience.org.
Eco Fest
Established in 2006, this 'green' festival hosted by the Town of Hempstead offers crafts, games and musical performances in celebration of the environment. Kids can also have their faces painted as their favorite animal and get close to wildlife, supervised by volunteers. May 15-16. 10am-4pm. All ages. FREE. Clark Botanic Gardens, 193 I.U. Willets Road, Albertson. 516-829-8374.
Gardening: A Lesson in Life
Join the Children's Garden Club at the Rock Hall Museum. Each Tuesday, kids learn how to cultivate a vegetable and herb garden. Registration required. May 25-August 24. 4:15pm. $80. Rock Hall Museum, 199 Broadway, Lawrence. 516-239-1157. www.toh.li/content/rc/rockhall.html.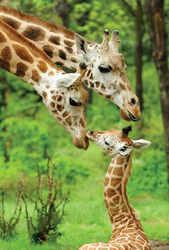 An Animal-tastic Festival
Experience a full lineup of readings from award-winning children's authors and live music from the top names in entertainment at Animal Tales Extravaganza at the Bronx Zoo. Meet popular authors and illustrators like Anna Dewdney and David Ezra Stein, and listen as they read from their new and classic works during special story-time sessions. Larger-than-life interactive displays based on children's stories like The Very Hungry Caterpillar by Eric Carle allow children to walk through their favorite classic animal stories. At Bear Overlook, take a stroll through Moon Bear, a new children's book by Brenda Z. Guiberson. Children can also make their own "animal tale" book and "animal tail" bookmarks. Plus, John Farrell, Aaron Nigel Smith, Dog on Fleas, and Dave Grover and Grover's Gang are among the many original performers slated to bring their unique songs and family-friendly shows to the event. Saturdays and Sundays throughout May. Times vary. $11-$15. The Bronx Zoo, 2300 Southern Boulevard. 718-220-5100. www.bronxzoo.com.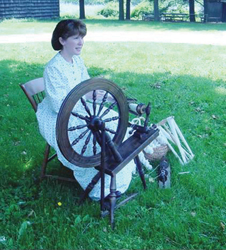 Museum Exhibits and Shows
5th Congressional District High School Art Show
Organized by the office of U.S. Representative Gary Ackerman, this annual exhibition at the Nassau County Museum of Art showcases art by students from the 39 school districts within the fifth district. Through May 16. 11am-4:45pm. All ages. $10, $4 children ages 4-12 and students, includes admission to the Ridder MiniArtMuseum for Children; $5, $4 MiniArtMuseum only. Nassau County Museum of Art - Ridder MiniArtMuseum for Children, One Museum Drive, Roslyn Harbor. 516-484-9337. www.nassaumuseum.com.
Under the Big Top
This exhibit at the Ridder MiniArtMuseum for Children, in the Nassau County Museum of Art, features reproductions of circus art by Seurat, Léger, Prendergast, Toulouse-Lautrec, Picasso, Chagall and others, showcasing them alongside displays that will guide the museum's young visitors through explorations of circus skills, endangered animals and memory games using circus characters and activities. Through May 24. 12-4:30pm. All ages. $5, $4 ages 4-12 MiniArtMuseum only. Nassau County Museum of Art - Ridder MiniArtMuseum for Children, One Museum Drive, Roslyn Harbor. 516-484-9337. www.nassaumuseum.com.
Sheep to Shawl, Band Concerts and Dancing
During this Memorial Day festival, families can view sheep shearing, wool carding, wool spinning and weaving, and enjoy brass band concerts, old-time baseball, horse drawn carriages, games, traditional dancing, and Model A Fords on display. Historic craftsmen work on everyday items from the 1800s. May 29-31. 10am-5pm. All ages. Call for pricing. Old Bethpage Village Restoration, 1303 Round Swamp Road, Old Bethpage. 516-572-8400. www.nassaucountyny.gov/parks.
9th Annual Benefit Art Show
Families can view nautical artwork by local artists in the Keepers Quarters at the Lighthouse. All artwork is for sale, with a portion of the proceeds donated to the lighthouse. On display through July 18. Open at 10am. FREE. Fire Island Lighthouse, Robert Moses State Park, Parking Field 5, Fire Island. 631-661-4876. www.fireislandlighthouse.com.
Daily Upstairs/Downstairs Tours of Coe Hall
Hour-long tours of the servants' quarters are offered daily. Families see how servants lived in the 1920s, and view the kitchen areas, wine vaults, flower room and more. Offered daily through September 30. 12:30pm, 2:30pm. All ages. $3.50; under 12 FREE. Planting Fields Arboretum State Historic Park and Coe Hall, 1395 Planting Fields Road, Oyster Bay. 516-922-8682. www.plantingfields.org.
The West Wing: Workshop of Democracy
Families can view this exhibit of recently uncovered photographs of the renovation of the White House and the building of the West Wing during Theodore Roosevelt's presidency. Through December 31. Wednesday-Sunday, 9am-5pm. FREE. Sagamore Hill, 20 Sagamore Hill Road, Oyster Bay. 516-922-4788. www.nps.gov/sahi.
For more family activities and events in Nassau County, Long Island, visit our Online Calendar.