SEE OUR MOST RECENT BIRTHDAY PARTY GUIDE FOR NASSAU COUNTY, LONG ISLAND
---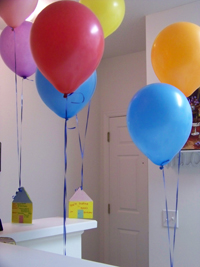 Check out our 2010 children's birthday party guide for Nassau County, Long Island, including all the resources a parent needs to throw a fabulous celebration! Consult our comprehensive guide for fun party ideas, party venues and spaces, caterers, magicians, clowns, and more, all in Nassau County, Long Island.
300 LONG ISLAND
895 Walt Whitman Rd, Melville
(631) 271-1180

Throwing your child's birthday party at home? Well, take a break this year and let someone else take care of the details. Invitations. Decorations. Catering. Games. At 300 Long Island, it's all here so you and your guests can celebrate exactly the way you want. Choose from a variety of birthday packages or consider reserving Back 9, a private suite soundproofed for kids. To get your party rolling, visit 300longisland.com.
ADVENTURELAND
2245 Route 110, Farmingdale
(631) 694-6868

Adventureland Amusement Park, family owned and operated since 1962, has been the birthday party mecca of the Long Island area for 47 years. That's generations of family birthday party fun! Adventureland caters to birthday parties of all ages and sizes -from 10-500 people. We have spacious and VIP private party rooms. We cater to most requests. All parties include use of amusement park rides, and a hosted lunch or dinner. Call the Adventureland birthday party doctor with question and reservations: 631-694-6300. For VIP birthday party rates of 75 or more, call 631-694-6868.
ARTY'S PARTIES
(516) 705-6507

Arty's Parties is a family owned and operated children's entertainment company that brings smiles to little faces! Our experienced and reliable staff will create unforgettable memories at your special event. Our services include colorful, silly clowns; friendly magicians who use live animals; musical puppet shows; clean and safe inflatable rides; along with delicious cotton candy, popcorn, sno-cones and much more! All customers have the flexibility to customize a package to meet their budget. Arty's Parties is dedicated to customer satisfaction and ensuring your day will be tons of fun!
BORELLAS FARM STAND
485 Edgewood Ave, St. James
(631) 862-7330
Pick-A-Pumpkin party, take a hayride through a real farm, and pick your own pumpkin off the vine. You can even decorate your pumpkin. Enter our crazy corn maze and maybe get lost. Oops; don't worry, we'll find you. Come back to our bounce and slide inflatable and have fun. After you finish, you can enjoy a slice of pizza/juice and finish with a birthday cupcake. Total time: 90 minutes. Call for more information. Only available in the month of October.
BOUNCE U
101 Carolyn Blvd, Farmingdale
(631) 777-JUMP (5867)

The hottest trend in family fun and private birthday party excitement! Impeccably clean, BounceU boasts safe and controlled fun with gigantic inflatables, enormous slides, obstacle courses, and more! Parents can join the fun, because the staff sets up, cleans up, and packs up! Customers are raving: it's the greatest place on Long Island to host birthday parties, team parties, youth group functions; even field trips, and fundraisers. Our mission is to "create a memory that will last a lifetime." Call now to reserve your next private party.
THE CANDY STORE ON MAIN STREET
41A Main St, Port Washington
(516) 708-9581

Every child's wish to have their birthday party in a candy store is now available to Long Island parents. You are in good hands with The Candy Store on Main Street. Every child's party is planned to the finest detail and mentored by our professional staff. We can provide many extras to enhance your party including Goodie Bags, a Chocolate Fountain and Piñatas. We also make custom baskets for any occasion.
CATZ OF LEVITTOWN
148 Gardiners Ave, Levittown
(516) 513-0573

The best thing about holding a birthday party at CATZ is that your kids and their friends are going to have a blast--yet they will be exercising the whole time! Each party has game-oriented exercises that will teach the children to work together! Over the 1 hour training portion of the party, your child will help our coaches lead the group warm-up as well as demonstrate and assist in various exercises. The kids will then go to our private party room for food and cake. Call 516-513-0573 or Email [email protected] for more information.
CHILIBEANS PARTY PLACE
103 Meade St, Hempstead
(516) 680-3024

A private party wonderland for infants, toddlers, and children under 10 years old! Fabulous playrooms. Affordable party packages. Exciting add-ons include crafts, the Story Lady, and music fun. Invitations, balloons, party leaders, juice boxes, water bottles and all paper goods included. No charge for the birthday child or adults. Bring in your own refreshments if you wish. Visit our website for more information and pictures.
THE CUPCAKE CORNER
61 New Hyde Park Rd, Garden City
Hours: M-Th 9-8, Fri & Sat 9-10, Sun 9-8
The Cupcake Corner is a whimsical café/bakery in Garden City that also specializes in fun-filled children's parties, bridal showers, baby showers, and Ladies Night Out events. Activities for children's parties include ceramic painting, scrapbooking, jewelry-making, or afternoon tea; also includes nails and tattoos, pizza and juice, favors, a gift for the birthday child, invitations, coffee and tea for the adults, and all paper goods. Adults can enjoy jewelry-making, knitting and/or crochet classes, light fare, or weekend brunch. Stop by and enjoy our gourmet baked goods, all made on-premises by our chefs.
DAVE & BUSTER'S
The Mall at The Source, 1504 Old Country Rd, Westbury; (516) 542-8501
261 Airport Plaza Blvd, Farmingdale; (631) 249-0708
1856 Veteran's Memorial Highway, Islandia; (631) 582-6615

Dave & Buster's is the leader in cutting edge entertainment - We pair Classic American cuisine with entertainment that the entire family can enjoy! Offering the latest in interactive games and simulators, as well as tried and true favorites that everyone can enjoy. Whatever outing you are looking for, Dave & Buster's is your ultimate destination to "Escape into Play" Call our special events team to book your event today.
DAVID FUNN
(516) 334-6636

Children Love David FunN! David FunN has been entertaining children and adults for over 25 years! Children's birthday parties are his specialty, featuring a LIVE BUNNY, free magic wands, balloons and plenty of FunN. David's show uses child psychology to keep the children involved, entertained and under his constant control. David also weaves humor throughout the show to keep the adults entertained as well. The show truly is entertaining for the whole family.David FunN also entertains at corporate events, bar or bat mitzvahs and social groups.
FINE PHOTOGRAPHY BY STEPHANIE
(516) 621-8223; [email protected]

Fine Photography By Stephanie is contemporary lifestyle portraiture by photographer Stephanie Faust. As a mom of three and with years of photography experience, Stephanie has been able to capture some of the most special moments in life. Maternity, newborn, children, and families are her passion while locations are up to you. Remember those precious times in your life with beautiful images. Contact Stephanie to schedule your session.
FUN STATION USA
40 Rocklyn Ave, Lynbrook
(516) 599-7757

Fun Station USA is Long Island's number one indoor family entertainment center. We offer the latest video games and attractions, including Lazer Tag, Bumper Cars, Carousel, Multi-Level Play Maze, Max Flight and Safari Turtle Train. We have a full restaurant and specialize in birthday parties, sweet sixteens, bar & bat mitzvahs, camp trips, fundraisers, school events and field trips. Come join us for a day of fun or to celebrate your birthday. For more information, please call us or visit our website.
GET HEALTHY AMERICA!
148 Manetto Hill Rd, Plainview
(516) 931-1900

We are the source for your gluten-free products for your upcoming birthday party. Get Healthy America is a gourmet diet food market and wholesale distributor. We offer an extensive variety of naturally wholesome, delicious prepared foods & snacks. Get Healthy America offers one of the largest selections of gluten-free products. Many of our products are certified Kosher, low calorie, low fat, low carb, and sugar free. Come in and enjoy our full line of wholesome and great tasting foods designed to meet your nutritional needs and support a healthy lifestyle.
ICELAND
3345 Hillside Ave, New Hyde Park
(516) 746-1100
Our birthday parties are the best. Come to IceLand for a fun-filled party experience. The party includes admission, skate rental and choice of pizza or hot dog. Party includes all paper goods and invitations as well. Our party hostess will make sure your birthday party is special. Call us to reserve the date.
IMAGINE TOMORROW COMPUTER CLASSES
Parties in Bellmore, Syosset, Smithtown, or in your home
(516) 220-8480

For an exciting and NEW twist on children's birthday parties, check out Imagine Tomorrow® Computer Classes for Kids, powered by Kiddie Computer World. This is a unique and interactive party. An Imagine Tomorrow® teacher will guide children ages 4-8 on a fun-filled computer adventure that is sure to "wow" guests and parents! The birthday child's picture, name, and age will be included in the mission. Children take home a birthday password to log in to software activities at home! Your child will have a birthday that others will "imagine" about today and tomorrow.
INTERACTIVE MUSIC WITH PAUL HELOU
(888) 467-7687

Book an interactive musical event/party with Parents' Choice Award-winner Paul Helou! With a warm and welcoming spirit, Paul is up on his feet with his guitar, picking up on clues and cues from his participants/audience and engaging children through energetic music, movement, improvisation, and storytelling. Kids love to be part of Paul's "marvelous and interactive" performances and workshops! For sound and video samples, go to www.paulhelou.com or call 1-888-467-7687 (improvs) for more information.
ISLAND ROCK GYM, INC.
60 Skyline Dr, Plainview
(516) 822-ROCK; [email protected]

Island Rock offers the most exciting and talked about birthday parties on Long Island. At our state-of-the-art 9000-square-foot climbing facility, children will have an hour and a half of climbing time enabling them to fully explore their inner monkey. Our expert and courteous staff will show participants "the ropes" and guide them in this terrific and active party. Food and refreshments are included to replenish the climbers. Recommended for ages 6 and up. For the party experience of a lifetime! Smiles and amazing memories guaranteed!
JUMP AND JAM LONG ISLAND
(516) 481-9067; [email protected]

Call us for all of your party needs! We offer Bounce Houses, Inflatable Slides, Castles, Combo Units, Obstacle Courses, Dunk Tanks, Sno Cone Machines, Popcorn Machines, Cotton Candy Machines, DJ, and much more. We're not just inflatable rentals. Have a movie night at home with 12 and 20 foot screens available. Relax and enjoy your party! Delivery, set-up, and take-down of all inflatables included. We serve all of Long Island and we'll beat competitors advertised prices. Call or visit our website for more details.

JUST FABULOUS & OUTRAGEOUS EVENTS
(631) 486-5130

Just Fabulous & Outrageous Events creates trendsetting events, exciting private parties and catered affairs for boys, girls, teens, and adults. Whether you're planning a small party or big event, the private and trendy party room offers full-service catering and customized menu planning for any budget. This uniquely designed party room offers two intimate lounge areas, a spacious dance floor with lighting and a sound system, large-screen TVs, and seating for up to 75 guests. Teens get special treatment with our "outrageous events" for sweet 16s and bar/bat mitzvahs.
KAM-KAMLET PHOTOGRAPHY
(516) 967-3438; [email protected]

Kam-Kamlet Photography was designed to provide a fresh, creative and affordable alternative to traditional photography. Families and friends get to spend quality time with each other at their special events, culminating with wonderful pictures and memories to share for generations to come. We offer on-site portraits for individuals and families. By using a location of your choice (we have plenty to choose from should you need suggestions), your photographs have a more natural, timeless look. We look forward to seeing you soon.

(718) 644-6518; [email protected]
Kidz Party Fun brings the party to you! We customize your party package to suit any budget! Themed party packages include your favorite Disney princess or mascot character, Barbie Ballerina, Spiderman, or clown of your choice! Services include face painting, balloon sculpting, temporary tattoos, arts & crafts, musical games/dancing and more! DJ services and magician are also available by request. Affordable rates! Call us today to book your party!
KITCHEN TIME'S PARTY PLACE
691 Broadway, Massapequa
(516) 795-4980
We're all about COOKING! And with 30 years of children's cooking party experience, we do it right! For 2 hours, in addition to cake decorating, little chefs cook an entire meal, form chocolate, bake pretzels & teddy cakes, or create craft/food combos. Many choices; so much fun! Kids measure ingredients, break eggs, shred cheese, slice cucumbers, and decorate with a pastry bag. Real cooking, just like the chefs on TV and your birthday child is the star! Call Terry for details and a kitchen tour!
LILCHEFS.COM SPECIAL EVENTS
Serving Long Island, NYC, Westchester, and beyond
(516) 338-0552; [email protected]

LilChefs.com Special Events has been voted "Best Children's Party Place 2008 & 2009." Popular themes include: pizza making, dress-up tea, retro, taco, and "I Love Lucy" Chocolate Factory. Children 4+ may create delicious dishes, decorate chef outfits, play food related games, and learn the essentials of food preparation, safety, and hygiene. All 2.5 hour parties include custom invitations, photography, and video. Parties can be hosted either at home or a partner location. Available for seasonal workshops, field trips, private lessons, scout programs, camps, charity, special needs, and corporate events.
LITTLE CHEFS LTD.
33 Jackson Avenue, Syosset; (516) 496-0754
9 Soundview Market Place, Port Washington; (516) 767-7633
[email protected]

Established in 1995, Little ChefsTM has the perfect recipe and delicious ingredients to make a cooking party the most wonderful and exciting, memorable experience. It creates 1½-hour parties to serve everyone's taste. Party menus offer creative and fun themes. Additional packages include a Little Chefs personalized and painted apron; decorating take-home Lucite cookie boxes; make-your-own ice cream sundaes; dips into fondue fountains; or fill your personal loot bag. Call or visit for more information on very special birthday parties, creative cooking classes, and Scout and camp programs.
THE LITTLE GYM OF MERRICK
2128 Merrick Mall, Merrick
(516) 223-4008

Throw a party your child and their friends will never forget! An awesome birthday bash at The Little Gym is the perfect way to make this big day extra special. Your birthday child and their friends will have the entire facility to themselves to take part in games, music, and fun activities created especially for them. Our facility and team members are bright, cheerful, and friendly. A party at The Little Gym is a "no-stress" birthday party for parents. We handle everything from invitations to clean up so you can rest easy!
LONG ISLAND LASER BOUNCE
2710 Hempstead Tpke, Levittown
(516) 342-1330

Long Island's newest and wildest spot for fun and games! Open to the public seven days a week. Fun For All Ages! Come enjoy our arcade, Stuff-a-Bear, laser tag, bouncers, games, and prizes. Birthday parties are our specialty. Also great for fundraisers, camps, Bar/Bat Mitzvahs, Sweet 16 parties, and corporate events. Large party rooms available for catered events. Open Bounce time available. Mommy & Me open Monday-Friday. Call us to book your next party or just join us having fun!
N.Y. PARTY ZONE
1270 Broadhollow Rd (Rte 110), Farmingdale; (631) 325-7529
15 Frowein Rd, Center Moriches; (516) 694-0079
(888) LETS-JUMP

NY Party Zone...exciting, interactive, indoor birthday party facilities. The most unique rides and attractions anywhere, "Crazy Cow" mechanical bulls, giant, 28-foot volcano, speed down an exciting tropical inflatable slide and challenge yourself on amazing obstacle courses. Enjoy many of our one-of-a-kind activities including Black Light Karaoke, Live DJ's, amazing arcade games, rides, and more! Enjoy your private party in an air-conditioned room where the birthday child sits on a giant inflatable throne. Having a party at home? All the rides are available for rental. Call us today!
NOT JUST ART
183 South St, Oyster Bay
(516) 922-8300

Lovely, creative parties for babies and beyond! A memorable way to celebrate birthdays and other special occasions with family and friends. Not Just Art's relaxed, child-friendly environment and approach accommodates a wide range of ages and needs. More than a dozen music, art, and science parties for ages 1-12 years. Staffed by teachers, each party is a unique and personalized experience! Parties can be customized for play groups, scout troops, and other special events.
OIL CITY SKATE PARK
3565 Maple Ct, Oceanside
(516) 280-2100

Oceanside's Oil City Skate Park is Long Island's only indoor park catering to both beginners and serious skateboarders. Oil City is family-friendly with skaters and parents lounges, and a shop with the best selection and prices anywhere. Oil City is open seven days and also welcomes BMXers and inline skaters. Oil City hosts birthday parties, has lessons on weekend mornings and a Christmas Week 3 day Mini-Camp. Improve your skateboarding skills. For schedules and rates, go to our website or call 516-280-2100 days, 516-442-0703 evenings and weekends.
ONE POTATO TWO TOMATO
9 Albertson Ave, Albertson/Roslyn Heights
(516) 286-5255

Tired of warm flat fruit punch and cold sliced pizza at your kids, tweens or teens birthday parties? Try One Potato Two Tomato's all new "Happy Healthy & Fit Birthday Parties," featuring Tween & Teen Healthy Cooking, Nutri-Fit Kids Party, and fun youth fitness training workouts. One Potato Two Tomato's birthday packages are perfect for private small groups up to 12 with unique custom designed youth fitness training workouts, healthy brunch, lunch, and dinner menus with American and multi-cultural themes, vegan, and vegetarian varieties. 1.5 or 2.0 hour celebrations available.
PARTY PLANNING AT YOUR LIKING
(516) 620-0999

Relax and enjoy your child's birthday party with our expert planners & decorators! Party Planning at Your Liking offers an array of services to help make your event planning as smooth as possible! We do it all from invites to cake! Our services also include tent & inflatable rentals, popcorn & cotton candy machines, music & entertainment, clowns & magicians, balloon arches & sculptures, linens, furniture rental, and much more. We do adult parties too! Please call or visit our website for more information.
PROFESSIONAL ATHLETIC PERFORMANCE CENTER
645 Stewart Ave, Garden City
(516) 794-FAST (3278)

Looking for a unique idea for your child's birthday party? The Professional Athletic Performance Center will provide fun-filled activities that include sports-specific skills for all sports including relay races, obstacle courses, and a tug of war! We cater to your child's favorite sport! After playing we will continue to celebrate in our party room. Come play where the Professional Athletes Train! Call today and book your child's unique birthday party. The Birthday Boy or Girl will also receive one authentic autographed item from a Professional Athlete.
QUEENS COUNTY FARM MUSEUM
73-50 Little Neck Pkwy, Floral Park
(718) 347-3276

Dating back to 1697, the museum is NYC's only working historical farm. The site includes historic farm buildings, a greenhouse complex, livestock, farm vehicles, planting fields, an orchard, and herb gardens. Our farm animals and tranquil agrarian environment provide the opportunity for an enjoyable visit to a farm without leaving the city. Visit us seven days a week; come on the weekend to enjoy tours of the farmhouse, hayrides, and feed our sheep and goats! We offer educational programs for children and adults. Come join us for fall fun.


SPORTIME - NASSAU
Bethpage Multi-Sport (516) 731-4432
Bethpage Tennis (516) 933-8500
Lynbrook (516) 887-1330
Manhattan (212) 427-6150
Massapequa (516) 887-1330
Roslyn (516) 484-9222
Syosset Tennis & Multi-Sport (516) 364-2727

Does your child love sports? Treat your child to the greatest sports birthday party ever, at SPORTIME! The birthday child spends his or her birthday playing soccer, hockey, basketball, baseball, or a multi-sport combination of his or her favorites. SPORTIME also offers tennis, dance, rock climbing, and pool parties at selected locations. All you need to do is bring the cake! Visit us online and click on "PARTIES" to find out more.
STRIKE LONG ISLAND
1350 Union Tpke, New Hyde Park
(516) 354-1222; [email protected]

With dramatic architecture, exceptional food and drinks, and incredible lane-side service, bowling is just the beginning at Strike Long Island. Our 27 lanes of glow-in-the-dark bowling feature big screen video walls with a thumping sound system and amazing audio visual capabilities. The perfect nightlife destination, Strike is also ideal for small and large scale events, specializing in corporate events, children's birthday parties, and Bar/Bat Mitzvahs. Our extensive catering menus and party package options are completely customizable, and our experienced event coordinators make planning a breeze.
TWISTER GYMNASTICS CENTER
492 Grand Blvd, Westbury
(516) 333-0010
Enjoy an action-packed, fun-filled birthday party in our 6,200 sq. ft gym. Let us throw your child one of the best birthday parties they've ever had. Choose from a Gymnastic Party or Color War Party. Parties are 1 ½ hours and include one hour of professionally supervised gymnastics or color war fun. Afterwords, there is a half-hour in the party room. We provide the invitations, party goods, juice, pizza, and coffee for the adults. Parents only need to bring the cake & goody bags. Call for details and availability.
UNCLE BACALA'S RESTAURANT
2370 Jericho Tpke, Garden City
(516) 739-0505

Fine Italian cuisine in a warm, friendly setting. Parties are our specialty, including Bar/Bat Mitzvahs, communions, anniversaries, retirements, bridal showers, birthdays, confirmations, baby showers, and christenings. Off premise catering available.
VELOCITY-17
87 Route 17 North, Maywood, NJ
(201) 994-1200

Race over to Velocity-17 and give your child a birthday party they will never forget! At V-17, our 100,000 square foot indoor facility, offers parents a number or packages, activities and options to plan a birthday the kids will be talking about for a very long time: High performance go karts, pedal karts, LaserMaze and laser tag, roller skating, virtual auto racing and more. Pizza, beverages, paper goods and a party host included. Other options including party platters, cakes, invitations and decorations can be added. Just south of Garden State Plaza Mall.
VITAL CHILDREN'S THEATRE
2162 Broadway, 4th Floor
(212) 579-0528

Give the gift of theatre! Celebrate a birthday with Vital Theatre Company. Groups of ten or more receive a discount on "Angelina Ballerina The Musical," "Velma Gratch and the Way Cool Butterfly," and "Awesome Allie, First Kid Astronaut" at 76th Street and Broadway, and our hit production of "Pinkalicious, The Musical," running at the Bleecker Street Theatre. Our cast will then sing "Happy Birthday" to your child from the stage after the show!
WHAT'S COOKING?
30 E. Main St, Oyster Bay
(516) 922-COOK (2665)

"What's Cooking?," a Culinary School and Party Place for children ages 24 months to 15 years allows children of all ages to explore their creativity and skills in culinary arts. We ensure the birthday child is made to feel extra special and the center of attention by our friendly and professional staff. Catering to all of your party needs, "What's Cooking?" offers everything from our renowned cupcake and cookie parties to princess tea parties with characters, firehouse tours and chocolate fountains to make your child's birthday memorable.
WOOD KINGDOM
111 Milbar Blvd, Farmingdale
(631) 845-3804

Wood Kingdom has the best birthday party for your active child. Kids climb, slide and play in completely renovated party rooms and enjoy a magic show, all in an exclusive indoor party playground. Wood Kingdom takes care of everything so you can relax; all you need to do is take the kids and a camera. Finally, a party where you can feel like a guest! Available seven days a week. Call today for reservations and information. Remember, your party playground is exclusive to you and your guests.