Find great family events happening this May throughout Nassau County, Long Island, including kid-friendly shows, Mother's Day activities, and fundraisers.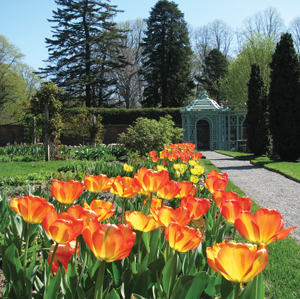 Pretty Flowers For a Pretty Lady
On this Mother's Day, there are many ways to tell Mom or that special lady in your life how much you love her. Here are a few nearby options.
Mother's Day Floral Bouquet Workshop: In this indoor, all-weather event, children will work alongside a floral designer to create a personal flower arrangement that will delight Mom, Grandma, or anyone else. Registration required. May 6, 4pm. All ages. $10 with $10 museum admission, includes accompanying adult and all materials. Old Westbury Gardens, 71 Old Westbury Road, Old Westbury. 516-333-0048.
Mom & Mother Nature: Spend the day with Mom. Celebrate Mother's Day with a nature walk and refreshments. May 7, 10am-12pm. $8; moms are FREE. Center for Science, Teaching and Learning, 1 Tanglewood Road, Rockville Centre. 516-764-0045.
Mother's Day Brunch: The whole family can enjoy an elegant brunch and feast on delectable scones, finger sandwiches, yogurt parfaits, fruit platters, mini cupcakes and cookies, fine teas and gourmet coffees, and raspberry lemonade. Kids do a themed craft and each mom receives a gift. Reservations are required. May 8, 11am-1pm. All ages. $29.95; $12.95 children, infants are free. Cupcake Corner Too!, 62 New Hyde Park Road, Garden City. 516-328-2253.
Mother's Day at the Museum: Mothers and grandmothers are invited to visit the Heckscher Museum admission-free on their special day. May 8, 11am-5pm. All ages. $8 adults other than moms; $6 seniors (62 years); $5 students ages 10 and over; free children under 10; reduced admission Town of Huntington residents. The Heckscher Museum, 2 Prime Avenue, Huntington. 631-351-3250.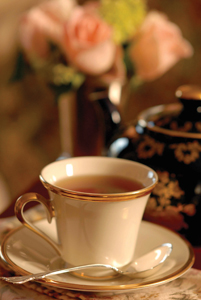 Tea For Two
Treat her like the princess she truly is at the Royal Tea Cup's Spring Mother Daughter Tea. Mothers and daughters, whatever their ages, will enjoy this celebratory event as they sip tea together and create special memories of this time-honored tradition. Elegant silver tiers, fine bone china, linens, imported Devonshire cream, preserves, English scones, cucumber sandwiches, Gourmet Harney & Sons fine teas, and delightful sweets await you in a beautiful, historic setting. May 15, 2-4pm. Reservations and deposit required; space is limited. $35; $25 children up to 12 years old. The Royal Tea Cup Inc., Orchard Hill, Old Westbury Gardens, 71 Old Westbury Road, Old Westbury. 866-223-3914. [email protected].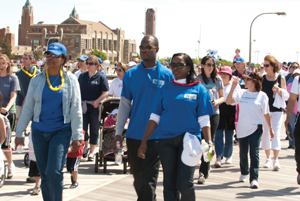 Walk For Women
Join hundreds of women, their families, and communities for the second annual Every Woman Matters: A Walk for Women and Their Families. Learn about women's health and wellness programs and participate in fun hands-on activities. Proceeds from the 5K walk will benefit the new Katz Institute for Women's Health and Katz Women's Hospitals of North Shore-LIJ Health System. The event, which will be held rain or shine, features exhibitions, giveaways, refreshments, and musical entertainment. May 22; check-in 8:45am, walk begins 10am at Jones Beach State Park, Field 5, Wantagh. For more information and to register, visit www.everywomanmatterswalk.com.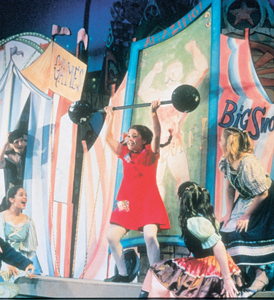 Pippi in Pigtails
American Family Theater presents Pippi Longstocking, the beloved childhood story, and brings it to life with original music, lyrics, and full-scale sets and costumes. This contemporary production will engage children and adults alike. May 22 at 2pm. $18. Landmark on Main Street, 232 Main Street, Suite 1, Port Washington. 516-767-6444.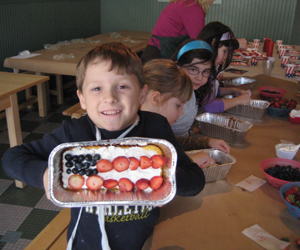 Show Your True Colors
Have a Memorial Day Bash at What's Cooking?. Enjoy this patriotic party as you feast on homemade macaroni and cheese, garlic knots, red-white-and-blue cupcakes, flag and star chocolate lollipops, apple crisp, and patriotic punch all done up in red, white, and blue. May 26, 5-7pm. $45. What's Cooking?, 30 East Main Street, Oyster Bay. 516-922-2665.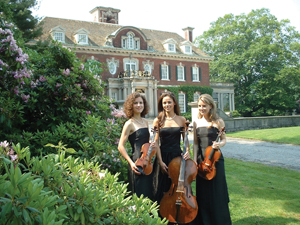 Music, Music, Music
The Kende Trio (pictured) keeps it all in the family. The three Kende sisters, Alexis, Crista, and Daniela, started their music studies at ages 2, 4, and 6, respectively, and now enjoy introducing young children to classical music through concerts at schools, libraries, and at the Long Island Mozart Festival at Old Westbury Gardens. The sisters attended the Juilliard Pre-College and Princeton University and have teaching studios on Long Island and in Manhattan where they offer private instruction in violin, viola, cello, and chamber music to students of all ages. Bring your kids and join them for a delightful musical introduction. May 29, 1pm. $10; $8 seniors; $5 children 7-17; free children 6 and under. Old Westbury Gardens, 71 Old Westbury Road, Old Westbury.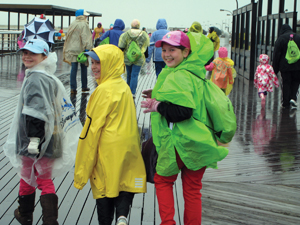 To Your Health!
Sign up for the Girls Scouts of Nassau County's (GSNC) Girls Go the Distance, a two-mile walkathon and fundraiser with entertainment, activities, and education. Families, Troops, community, and local corporations join to support GSNC's Healthy Living Initiative, which brings a unique perspective to keeping girls healthy. Through the initiative, girls learn to define health in their own terms, placing as much emphasis on emotional and social wellbeing as on physical health, nutrition, and fitness. To be a sponsor or volunteer, or to participate on June 5, visit www.gsnc.org/walk.
Also see: Eight Annual Jones Beach Air Show Welcomes Summer on Long Island
Our Online Calendar, for even more upcoming family events on Long Island and in the New York metro area