We've rounded up the best events for families happening this November in Nassau County, Long Island. From kid-friendly theater and shows, to Thanksgiving celebrations, to seasonal outings, you'll find all the details here.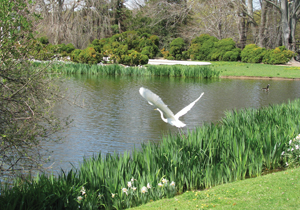 Autumn's Aviators
Before the snow starts to fly, take a seasonal Saturday stroll through Old Westbury Gardens to appreciate fall's colors and wildlife. During the Gardens' Early Bird Walk, nature-lovers will have the opportunity to spy fall resident and feeder birds; bring binoculars for a closer look. A wildlife expert from the Theodore Roosevelt Sanctuary and Audubon Center will lead the tour. November 6 at 9am. $8; $5 seniors; $3 ages 7-17; FREE children 6 and under. Old Westbury Gardens, 71 Old Westbury Road, Old Westbury. 516-333-0048.
The Toys Are Back in Town
One of this summer's biggest family movies will come to life at Disney on Ice Presents Disney/Pixar's Toy Story 3. Watch Woody, Buzz, Jessie, and the whole gang as they embark on new adventures at Sunnyside Day Care and meet new characters like Lots-o'-Huggin' Bear. Then cheer the toys on as they band together to return to their true home with Andy, a mission that takes them on an action-packed adventure full of humor and friendship. The show will also include memorable moments from Toy Story and Toy Story 2, featuring loveable characters like Rex, Slinky Dog, Bullseye, Ham, and Mr. and Mrs. Potato Head. November 9-14 at 7pm. Nassau Coliseum, 1255 Hempstead Turnpike, Uniondale. 800-745-3000.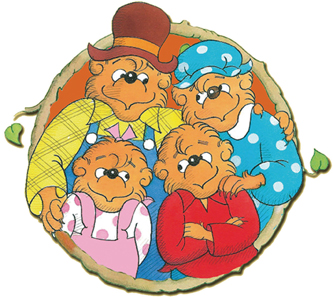 Bears on Stage
See the Berenstain Bears musical at Landmark on Main Street, November 13 at 2pm. Theaterworks USA's Berenstain Bears is a fun-filled new musical that weaves together three of Stan and Jan Berenstain's most popular books: The Berenstain Bears Learn about Strangers, The Berenstain Bears and Too Much Junk Food, and The Berenstain Bears Trouble at School. $18. Landmark on Main Street, 232 Main Street, Suite 1, Port Washington. 516-767-6444.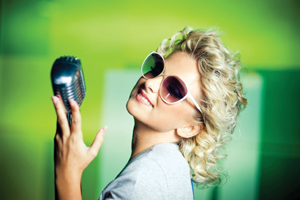 Gone Country
Long Island's largest ever country singing talent search, Long Island's Got Country, will hold its grand finale at the Inn and Spa at East Wind. Audience members will have a chance to hear local singers as they compete in a "Ho Down Sho Down" for the title of top country singer on Long Island. In addition, the grand finale showcase will feature a large dance floor where attendees can participate in an authentic country ho-down, complete with line dancing. November 13. Doors open 6pm, show time is 7-10pm. Tickets are $25, available at www.longislandsgotcountry.com or www.walkradio.com. The Inn and Spa at East Wind is located at 5720 Route 25A in Wading River.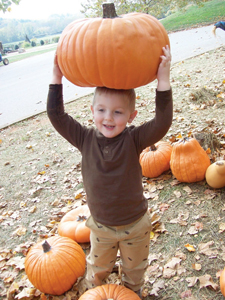 Bye Bye, Pumpkin
Bring your leftover pumpkins to the Cradle of Aviation Museum for the Annual Pumpkin Drop & Toss. Visitors can drop pumpkins from the museum's balcony to the atrium floor, or participate in a pumpkin toss in the parking lot, which will feature a medieval catapult. November 21, 9:30am-5pm. Museum admission: $14; $12 seniors and children ages 2-12. Cradle of Aviation Museum, Charles Lindbergh Boulevard, Garden City. 516-572-4012.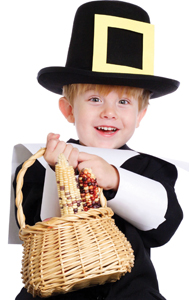 Happy Thanksgiving!
Celebrate America's day of thanks with these local events:
Kitchen Time: Thanksgiving Traditions: Make soup, turkey, cranberry sauce, and sweet potato puff pie as you experience the traditions of this special day. Preregistration required. November 18 at 4pm. $40. Kitchen Time's Party Place, 691 Broadway, Massapequa. 516-795-4980.
Thanksgiving Feast: Share a hearty Thanksgiving meal at What's Cooking?. The menu will include turkey stuffing burgers, garlic mashed potatoes, cranberry sauce, cornbread, and chocolate turkey lollipops. November 18 at 4:30pm. $49. What's Cooking?, 30 East Main Street, Oyster Bay. 516-922-2665.
1863 Thanksgiving Celebration: Enjoy demonstrations of a traditional Thanksgiving dinner prepared in old-fashioned wood-burning stoves, beehive ovens, and open hearths. Historical musical programs are offered in the afternoon. November 20-21, 27-28. 10am-4pm. $10; $7 seniors and ages 5-12. Old Bethpage Village Restoration, 1303 Round Swamp Road, Old Bethpage. 516-572-8400.
Giving Thanks to Nature: Look at wildlife and nature a little differently this Thanksgiving season. Join wildlife care coordinator Alice Bryant as she shares traditional Native American tales of how animals and people show their thanks and appreciation for Mother Nature. November 27 at 1pm. $3. Theodore Roosevelt Sanctuary & Audubon Center, 134 Cove Road, Oyster Bay. 516-922-3200.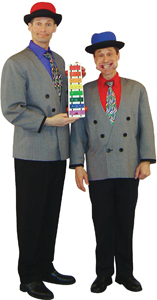 A Gravity-Defying Treat
Catch The Gizmo Guys, an award-winning comedic juggling duo composed of entertainers and teachers Allan Jacobs and Barrett Felker, when they arrive at the Long Island Children's Museum this month. Their zany act is a fast-paced mixture of original routines and quick-witted verbal repartee that revolves around the pair's world-class juggling skills. November 26 at 1pm and 3pm. $4 plus $10 museum admission. Long Island Children's Museum Theater, 11 Davis Avenue, Garden City. 516-224-5800.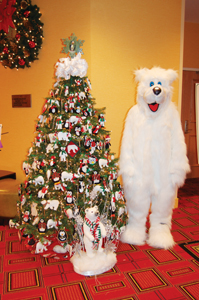 Oh Christmas Tree, Oh Christmas Tree...
The United Cerebral Palsy Association of Nassau County (UCPN) presents this year's Long Island Festival of Trees at the Cradle of Aviation Museum. Visitors can stroll through a gallery filled with beautifully and creatively decorated holiday trees. Admission to the gallery also includes entry to the museum, a ride on the carousel, children's activities, entertainment, and access to vendors selling a variety of holiday items. November 26-28. 9:30am-5pm. $10. Cradle of Aviation Museum, Charles Lindbergh Boulevard, Garden City. 516-572-4012.
Find even more family activities and events in Nassau County, Long Island, and the New York metro area in our Online Calendar