Check out these new businesses and services on Long Island that cater to kids and families in the Nassau County area.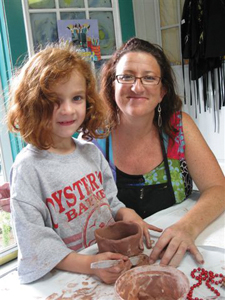 Going Outside the Lines
This fall, The Garden Art Studio in Mineola will offer one-day workshops for both children and adults to stretch their creative muscles. Art Director and founder Lisa Fazio says all of the available programs introduce fundamentals of art and design. Workshops such as Mandela Art, Zen Doodles and Transparent Collage will be available for kids ages 6 through 18 and adults as well. These one-day programs will run a few times each month for the next six months, so act now. All supplies are included, so you don't need to bring anything but your artistic ideas and an open mind.
"It is our goal to help people fit art into their busy schedules and make time to relax and explore their creative side, even if it's just for a day," Fazio says. "Nothing is more satisfying then challenging yourself and coming up with an original idea. We just ask that you think outside the box and use your creative noodle!"
For more information on The Garden Art Studio, visit www.thegardenartstudio.com. To schedule a tour or trial class call 516-742-7662 or send your questions via e-mail to [email protected].
Center Moriches Gets in the Zone

NY Party Zone opened its doors to a new location at 15 Frowein Road in Center Moriches to meet the needs of clients who were traveling to the original spot in Farmingdale. Director Joe Ciminna says plans are in the works for another location in western Nassau County as well. The newest party zone offers the traditional services for both children and adults to let loose-DJ and karaoke entertainment, inflatable mobile rides, lounge facility, and banquet hall for special events. Indoor rides are changed every four to six months to keep the excitement going.
All NY Party Zone locations now offer "Tween and Teen L.E.D. Longue Night," equipped with a live music video DJ, L.E.D. lights surrounding the seating area and inflatable rides. The program runs from 6-10p.m. every Friday. "We also are starting a 'Bear & Bounce' party program for our preschool-aged children where they can make their very own stuffed animal and take them on a magic journey into our unique inflatable adventure," Ciminna says.
For more information about NY Party Zone or to speak with a party coordinator, call 888-LETS-JUMP (888-538-7586).