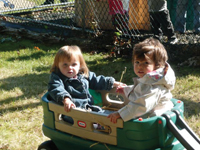 Where Kids Learn at Their Own Pace
With locations in Wantagh, Plainview and Levittown, Teacher's Pets Child Care maintains small centers so that those involved become a family. At this not-for-profit that has been in business for 17 years, the directors and teachers have built and maintained relationships with the children. In addition, the small class sizes offer great staff to child ratios that are better than the state requirement. Each day children are provided with breakfast, lunch and snacks in a warm and loving environment where they can learn at their own pace with an individualized program. Designed for kids from six weeks through five years old, every week is based on a theme such as healthy bodies, dinosaurs, insects, community helpers or planets. Computer education is also available at all locations.
The Wantagh and Plainview centers are open Monday through Friday from 7am to 6pm, and the Levittown center is open Monday through Friday from 7am to 6:30pm. Teacher's Pet Child Care. 3510 North Jerusalem Road, Wantagh, 516-520-7721; 2 East Village Green, Levittown, 516-731-3263; 270 Washington Avenue, Plainview, 516-931-8204.
The Academic and Social Development of Children
Little Scholars nursery school focuses specifically on the academic and social development of children. To accommodate the schedules of working parents, the school offers an extended day of 8am to 6pm and part-time and full-time schedules are available. Since opening its doors in 1994, the interdisciplinary program has incorporated math, science, language arts, music and foreign language. The curriculum meets the specific needs of: Toddler 2s, Nursery 3s and Pre-K 4s who are reading and ready for kindergarten. Individual piano lessons begin in the Nursery 3s and Pre-K 4s program and piano lessons can be continued at Little Scholars School of Music. Recently, the Little Scholars Art Studio began offering lessons for more serious young artists from ages 6 to 11. Students receive instruction in contour drawing, shading, light, composition, perspective and other techniques.
Sessions take place on Monday, Tuesday, Wednesday or Thursday from 3:30-4:30pm or 4:30-5:30pm. Little Scholars is located at 6557 Northern Boulevard, East Norwich, 516-922-6819; and 112 Glen Head Road, Glen Head, 516-674-4037.
Self-Defense for Kids and Adults
The art of Shaolin Kempo Karate developed from a combination of Shaolin Temple boxing, jujitsu, kung fu, kempo, different styles of karate, as well as the secret art of the White Tiger (Chin Na). This martial arts system incorporates the movements of the original five animals: tiger, leopard, dragon, crane, and snake. It is based upon effective multiple strikes off a powerful mobile base with linear, angular, and circular offensive and defensive motions and simultaneous manipulation of the opponent's upper and lower body masses. Master Kadir Kadri of Shaolin Self Defense in Seaford has been training in the art of Shaolin Kempo Karate since 1992 and holds the rank of 5th degree black belt.
Classes at the center are divided into age ranges: Pee Wees 4-7, Juniors 7-12, Teens 12-16, and Adults 16 and over.
Shaolin Self Defense Center is open Monday through Saturday for scheduled classes and private lessons are also available. The Center can be found at 1230 Hicksville Road (Route 107), Seaford. 516-799-5425.