Check out some new additions to Nassau County, Long Island, that cater to kids and families.

A Special Bond with Horses
With the goal to introduce riders to the special bond they can have with horses, SHINE - Special Horses Instructing Noble Equestrians has served individuals with special needs for over three years. The program recently relocated from Old Bethpage to Sweet Hills Riding Stable, just off Route 110 in Huntington, and the central location is convenient to both Nassau and Suffolk Counties. The stable provides riding experiences for individuals on the autism spectrum, those with Down syndrome, fragile X syndrome, mild forms of cerebral palsy, learning disabilities, ADD/ADHD, sensory integration dysfunction, low muscle tone, and for those who are emotionally fragile, or hearing and vision impaired. Participants range in age from 3 to 103, and both group and private lessons are available. Group lessons take place on Mondays and Fridays from 4:30pm to 6pm, Wednesdays from 5pm to 6:30pm, and Saturdays from 9:30am to 11:30am. 516-551-1491. www.myshineprogram.com.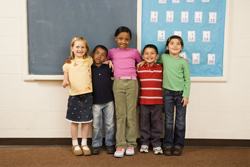 A Multisensory Reading Program
Keen Kids is a new reading program for 4- to 5-year-olds offered by Keys to Reading in Great Neck. The program's curriculum is research based and multisensory, giving young children a jump-start into reading. Keen Kids addresses the five essential reading components: phonemic awareness, phonics, vocabulary, fluency, and comprehension. Lessons are carefully sequenced and cumulative, and critical thinking, speaking and listening skills are also practiced. Rhonda, an experienced reading teacher, leads the program and has worked with a wide range of children from pre-K through high school. The curriculum also provides song, dance and art activities to reinforce the concepts being taught. Each child is given a booklet containing all of his work and a graduation certificate at the end of the program. Classes are 45 minutes each, and are offered once or twice weekly with a choice of morning or afternoon sessions. Contact Rhonda at 516-773-1049.

Six Weeks of Scouting Fun
The Theodore Roosevelt Council Boy Scouts of America is offering a Cub Scout Day Camp from July 5th through August 13th. The camp is six weeks long and each day's program features a range of activities including field sports, archery, nature walks, fishing, BB guns, campfires and a weekly special event. Scouts also swim and play water games four days a week. Day campers receive a light breakfast upon arrival, lunch, and a snack before departing camp. The camp provides busing from centrally located stops in Nassau County that is included in the day camp fee, and Cub Scout Day Camp staff members are on each bus to and from camp. Cub Scout Day Camp is located at the Schiff Scout Reservation in Wading River and will take place Monday through Friday from 9am to 4pm. The Theodore Roosevelt Council, located in Massapequa, can be reached at 516-797-7600. trcbsa.org.