Historic Old Westbury Gardens, a north shore oasis now open for its 51st season, provides many opportunities for family-friendly outdoor fun that's also educational.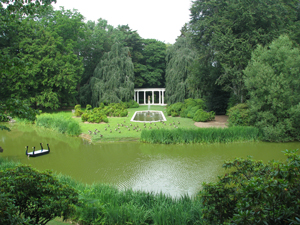 April marks the start of the 51st anniversary season of Old Westbury Gardens, which first opened to the public in 1959 and is listed on the National Register of Historic Places.
The former home of John S. Phipps and his wife and four children, the Westbury House is a Charles II-style mansion, which hosts tours, talks, and lectures related to horticulture, art, and architecture, as well as classical concerts, antique car shows, and other family and gardening programs throughout the year. Families can tour the house, which is filled with fine English antiques and art.
Most impressive is the 200 acres of formal gardens and grounds, which feature ponds, lakes, colonnades, fountains, woodlands, brick walkways, and the thatched cottage, which was a 10th birthday present for Peggie Phipps in 1916. On Sundays this month, beginning April 11 at 2pm, families can enjoy an Early Spring Stroll and view the wildflowers, daffodils, and perennials in the Walled Garden before the deciduous trees are in full bloom.
Info
Where: 71 Old Westbury Road, Old Westbury
When: Open Saturdays and Sundays through April 25, then daily (except Tuesdays) beginning April 26. Grounds open 10am-5pm; Westbury House open 11am-5pm
How much: $8; $3 children 7-12; FREE 6 and under
For more information: 516-333-0048; www.oldwestburygardens.org
Many plants are on sale April 30-May 2, including perennials and select annuals. Master gardeners from the Cornell Cooperative Extension Nassau County will be conducting soil testing and answering gardening questions.
Bring your furry friends along for Dog Days during the weekend of April 17-18 and take a walk with your leashed dog in designated garden areas. Also on April 17, the Ladies Kennel Association is sponsoring dog games, demonstration, and exhibits, and offering a dog treat hunt and Canine Good Citizen Test. Walk through exhibits and receive information from animal welfare and rescue groups.
Finally, if you're a lover of classical music, enjoy a piano concert by Suzuki on the Island, the local Long Island chapter of musicians. Students perform April 17 at 4pm; a faculty concert takes place April 25 at 2pm.