First-grade students of Portledge School in Locust Valley win the "Rock the Statue Green" art contest that celebrates the Statue of LIberty's 125th birthday.
What if one simple song about being kinder to our world could really make a difference? Not just for the world, but for local community and education programs as well? That's exactly what happened to Maureen Husing and the students and staff at the Portledge School in Locust Valley.
Late last fall, Husing, a music teacher at Portledge, was notified through the school's foreign language department about a fun and promising contest: "Rock the Statue Green: A Transatlantic Art Contest" had a beautiful message and a mission Husing could get on board with. The contest strove to celebrate "the Statue of Liberty's 125th birthday, the environment, and Franco-American friendship" through art, music, and other creative mediums.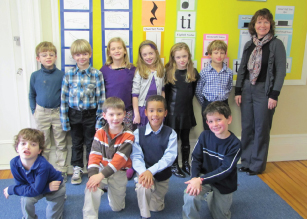 Maureen Husing's first grade music class, winners of the "Rock the Statue Green" contest, includes Finlay Austin, William Barnett, James Bodian, Noah Capps, Jack Fentress, Ava and Olivia Leone, Logan Mott, Tucket Ort and Lindsey Weis. Courtesy Portledge School
"Rock the Statue Green," which boasted such sponsors as Air France and the Museum of Ellis Island, received innovative entries from more than 4,000 students from across the United States and France. Despite having only a few weeks to plan, rehearse, and submit their original song entry, Husing's first-grade class was awarded the $500 prize for first place in the K-3 category at the contest's close in December.
Husing arranged the music, drawing inspiration from the popular Muppets tune "It Ain't Easy Being Green," sung by Kermit the Frog. But she gave lyrical license to her students who contributed their own "green" experiences, from remembering to throw plastic bottles in recycling bins to turning out the lights when you leave a room.
The students worked hard, memorizing and rehearsing their version of "It Ain't Easy Being Green" three times a week before filming the video submission in only two takes. Their impressive efforts truly paid off when they were awarded the $500 prize, which will go toward the professional development of teachers at the Portledge School.
Watch the winning submission below:

Find more videos like this on Rock The Statue Green: A Transatlantic Art Contest